It's official: Florida Gov. Ron DeSantis is running for president
TALLAHASSEE, Fla. - Gov. Ron DeSantis finally confirmed his bid for the White House, ending months of speculation in a video announcement on his Twitter Wednesday evening.
DeSantis joined Elon Musk and David Sacks on Twitter Spaces after 6 p.m. Wednesday to discuss the announcement. Attempts to kickstart the audio-only livestream were delayed and eventually crashed, causing them to switch spaces from Musk's Twitter account to Sack's account.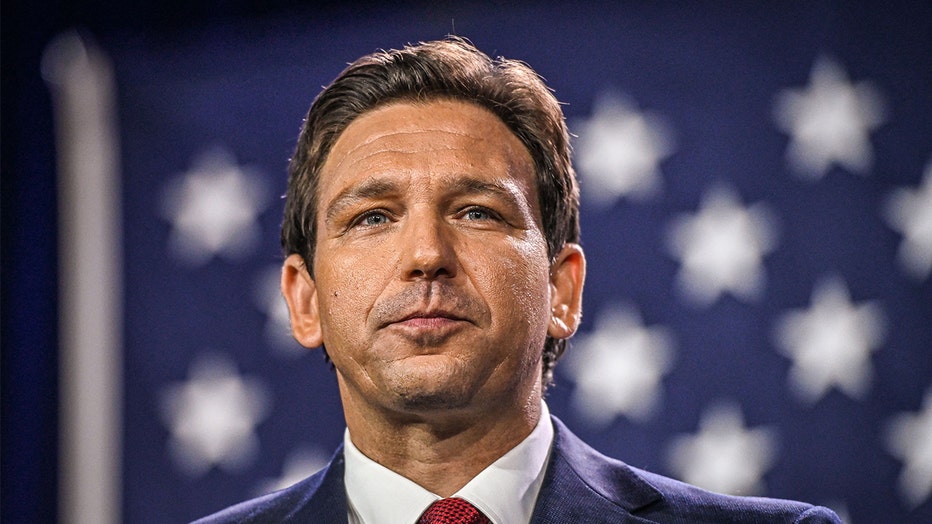 Ron DeSantis speaks during an election night watch party at the Convention Center in Tampa, Florida, on November 8, 2022, after winning a second term as governor. (Photo by Giorgio VIERA / AFP) (Photo by GIORGIO VIERA/AFP via Getty Images)
The 46th governor of Florida has witnessed widespread support among conservatives in both Florida and nationally. In November, DeSantis was re-elected to serve as the governor by 20 percentage points and won the vote in the usually blue Miami-Dade County. It was a stark contrast to the 2018 gubernatorial race when he narrowly won his first election as governor – in part to strong support from then-President Trump.
Trump, who announced last November that he would be making a third run for the White House, didn't have a positive reaction to the idea of DeSantis entering the presidential race. Before the governor announced his White House bid, Trump targeted DeSantis in a number of comments and posts made to Truth Social, his social media app.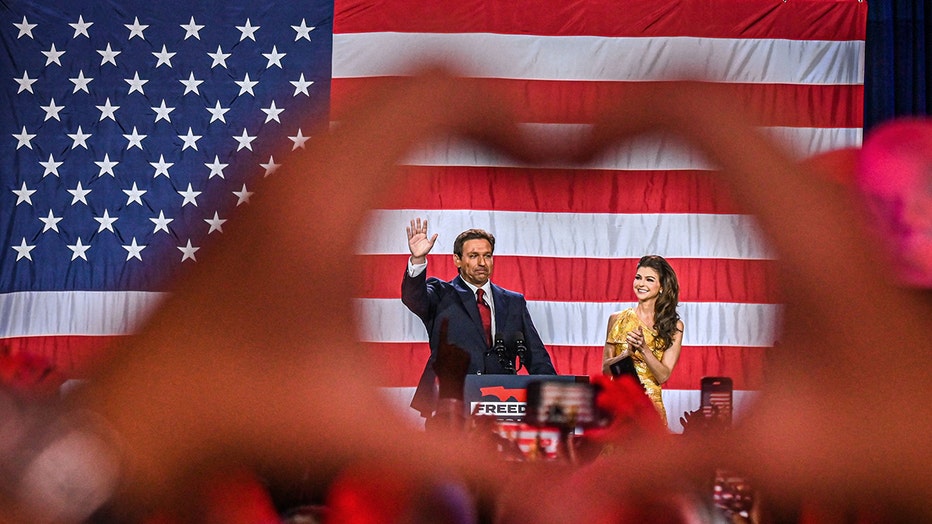 Florida Ron DeSantis walks onstage during an election night watch party at the Convention Center in Tampa, Florida, on November 8, 2022, after claiming his second term as governor. (Photo by Giorgio VIERA / AFP) (Photo by GIORGIO VIERA/AFP via Getty
DeSantis has watched his popularity rise within the past three years. In the early onset of the COVID-19 pandemic, DeSantis announced tight guidelines to control the spread of the virus, including closing all bars and nightclubs for at least a month. He dropped the news on St. Patrick's Day in 2020.
"We view that as something that could be problematic for the spread of the virus. If they're not meeting in these big groups, the chance that they will pass it on is less," DeSantis said at the time.
But as the months went by, he not only began easing back on the restrictions but pushing back. By the end of September 2020, Florida ended its restaurant and bar capacity.
FROM DECEMBER 2020: Gov. Ron DeSantis vows to 'stand in the way' if local leaders try to close restaurants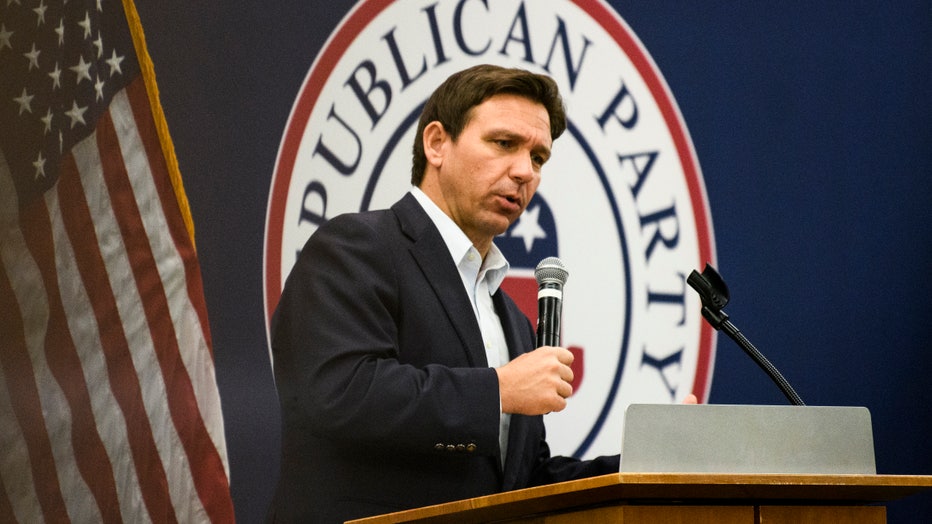 Florida Gov. Ron DeSantis speaks during an Iowa GOP reception on May 13, 2023 in Cedar Rapids, Iowa. Although he has not yet announced his candidacy, Gov. DeSantis has received the endorsement of 37 Iowa lawmakers for the Republican presidential nomi
He prohibited private businesses from enforcing face masks and vaccination requirements. DeSantis also committed to keeping restaurants open in the state and criticizing other parts of the country where indoor dining was suspended.
"If a local leader wants to put them out of work, you're damn right I'm hobbling them from doing that," he said during a news conference in December 2020. "If they want to shut down businesses, I'm going to stand in the way. ... I don't think the government has a right to put these people out of work."
During the 2022 legislative session, DeSantis signed many controversial bills into law, including the Parental Rights in Education Act. It prohibits educational instructors from teaching students about sexual orientation or gender identity from kindergarten to the third grade. 
After the bill's passage, Disney admonished the Florida government and vowed to help fight the law in court. As a result, DeSantis stripped "Walt Disney World" of its self-governing status in the state. 
MORE: Florida lawmakers approve changes that would shift control of Reedy Creek District to Gov. DeSantis
In August, he shocked Tampa Bay when he suspended Hillsborough state attorney Andrew Warren for "neglect of duty." It came after Warren signed pledges agreeing not to criminalize those seeking and providing abortions and gender-affirming cases. Warren sued, but he lost his legal fight to get his job back in federal court.
FROM AUGUST 2022: Gov. DeSantis suspends Hillsborough State Attorney Andrew Warren for 'neglect of duty'
DeSantis went on the offense against the College Board's AP African American studies course, saying the state objected to certain sections for being "woke." Changes were made, and Florida seemed to have claimed credit for it.
"In Florida's effort to engineer a political win, they have claimed credit for the specific changes we made to the official framework. In their February 7, 2023, letter to us, which they leaked to the media within hours of sending, Florida expresses gratitude for the removal of 19 topics, none of which they ever asked us to remove, and most of which remain in the official framework," according to a letter from the College Board, adding that there were no negotiations between the Board and Florida.
So far during this legislative session, DeSantis signed bills to expand his migrant relocation program and enhance the prosecutorial power of his election police unit, furthering key components of his conservative agenda. One of the new laws creates a dedicated program in the governor's office for migrant relocations and specifies that the state can transport migrants located anywhere in the country.
The program is almost certain to facilitate future migrant flights as DeSantis continues a focus on cultural flashpoints such as immigration, as well as near-constant criticism of the policies of Democratic President Joe Biden.
"Florida is using all tools available to protect our citizens from Biden's open border policies," DeSantis wrote in a previous Twitter post. "I am glad to have signed legislation to continue the program of transporting illegal aliens to sanctuary jurisdictions. I thank the legislature for maintaining this valuable tool."
During the 2023 legislative session, the governor signed a bill eliminating a requirement for unanimous jury recommendations before judges can impose death sentences.
PREVIOUS: Gov. Ron DeSantis signs migrant relocation, election fraud bills
The new law took effect immediately and represents a major change in Florida's death-penalty system. Lawmakers moved forward with the issue after Nikolas Cruz was sentenced to life in prison last year in the 2018 shooting deaths of 17 students and faculty members at Marjory Stoneman Douglas High School. The life sentence came after a jury did not unanimously recommend death.
He also tipped the United States into a majority constitutional carry nation with new gun rights law that eliminates the requirement for an individual to obtain a permit to carry a concealed firearm.
The law, which goes into effect on July 1, 2023, allows eligible citizens 21 years of age and up to carry without asking the government for a permit and without paying a fee. The legislation does not change who is eligible to obtain a carry permit, and those who still wish to get a permit may do so under the law.
 DeSantis also signed the "Heartbeat Protection Act", which prevents abortions after six weeks of pregnancy. However, whether the six-week limit takes effect will be determined by how the Florida Supreme Court decides a challenge to last year's 15-week law.
Seven abortion clinics and a physician filed a lawsuit arguing the 15-week limit violates a privacy clause in the Florida Constitution that has protected abortion rights since a 1989 Supreme Court decision. Under this year's bill, moving to a six-week limit would be contingent on the Supreme Court effectively upholding the 15-week law.
It is unclear when the court will rule on the challenge.
DeSantis was born in Jacksonville in 1978. He grew up in Pinellas County, where his 1991 Little League Team reached the quarterfinals of the Little League World Series, according to Dunedin city officials. 
He played baseball at Dunedin High where he graduated in 1997.
Before entering politics, DeSantis was a Navy lieutenant, an advisor for SEAL Team One, and was later deployed to Iraq. In 2008, he was appointed to the U.S. Attorney's Office in the Middle District of Florida to serve as a Special Assistant Attorney until 2010. DeSantis received his undergraduate degree at Yale and graduated from Harvard Law School.
From 2013 to 2018, DeSantis previously served in the House of Representatives for Florida's 6th district.