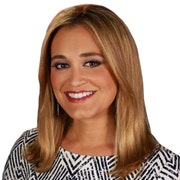 Sorboni Banerjee
Consumer reporter
Sorboni Banerjee is FOX 13's weekend anchor and consumer reporter, committed to helping viewers save money, time, and get the most out of their busy lives!
Sorboni spent a decade on the air in Boston, most recently as an anchor on the FOX 25 Morning News. Previously she was an anchor and reporter at WHDH in Boston. Born and raised in Rhode Island, she was also a morning anchor in Providence at ABC 6.
Sorboni got her start as a reporter, anchor and political correspondent at NBC 25 in Hagerstown, Md. She graduated summa cum laude from Boston University where she studied broadcast journalism and international relations and was honored to be the student commencement speaker.
Sorboni loves beach days with her husband and baby boy, runs with their dog, working on her young adult novels, and trying Tampa's awesome restaurants. She is very excited to be part of the FOX 13 family!
Have a consumer concern? Send out Sorboni! Send an email to sorboni.banerjee@fox.com, or post a video selfie with your question or issue on Facebook or Twitter @FOX13sorboni. Sorboni loves social media and wants to hear directly from you!
The latest from Sorboni Banerjee