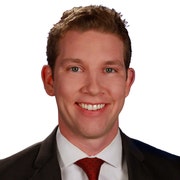 Tyler Eliasen
Meteorologist
Tyler Eliasen joined the FOX 13 team as a meteorologist in July 2017. You can see him during weekend evening newscasts and filling in during the week.
Tyler is a Chicago native and went to school at Valparaiso University where he received a B.S. in meteorology. While in school, he began his career working as an intern meteorologist at WAGA in Atlanta, WGN in Chicago, and WTTG in Washington, D.C.
After earning his degree, Tyler made a move to the Gulf Coast, working for WMBB in Panama City, Florida. He covered numerous tropical and severe weather events while serving as the morning and midday meteorologist. In February 2015, he was awarded the CBM (Certified Broadcast Meteorologist) designation by the American Meteorological Society.
When Tyler's not forecasting the weather, he loves to be out in it. You'll frequently find him on the golf course, out for an evening run, spending an afternoon on the beach with his wife Julie, and firing up the grill any chance he gets. If you see him out and about, be sure to say hi!
The latest from Tyler Eliasen