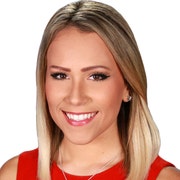 Elizabeth Fry joined the FOX 13 news team in October of 2018 as a multimedia journalist.  She is excited to share the stories of the Tampa Bay community.
Before coming to the Sunshine State, Elizabeth worked as an anchor-reporter for FOX 5 KRBK in Springfield, Missouri.  During her time there, she covered national news such as the scandal and resignation of former Missouri governor Eric Greitens, the tragic capsize of the 'Ride the Ducks' boat in Branson, and the widespread opioid epidemic overtaking the Ozarks.  
Before transitioning to on-air, she worked behind the scenes as an associate producer and web content manager.  Springfield is also home to Elizabeth's alma mater. She graduated cum laude from Evangel University with a degree in multimedia journalism.
After growing up in snowy Chicago winters and spending almost four years in the icy Missouri weather, Elizabeth is thrilled to call her longtime vacation spot her new home and is eager to get to know those who make the Tampa Bay community so special.  When she is not out in the field, you can find Elizabeth exploring local restaurants, trying out new recipes or soaking up the sun at the beach. 
If you have any story ideas for Elizabeth, she'd love to hear from you! You can email her at Elizabeth.Fry@foxtv.com or connect with her on Facebook, Twitter and Instagram.
The latest from Elizabeth Fry
As the nation's first female African American combat pilot, Vernice Armour is used to breaking barriers and challenging the status quo.
If you plan to spend your Fourth of July holiday out on the water, the Hillsborough County Sheriff's Office has a few words of caution for boaters along with a reminder that they too will be out on the water to make sure people are staying safe and following the rules. 
Hundreds showed up Saturday to march with Titus O'Neil and Dave Bautista for Saturday's 'Love Walk' through Tampa.
Parents in Hillsborough County have a better idea of the school district's reopening plan for the upcoming school year after Superintendent Addison Davis provided his recommendations for different scenarios, based on the spread of the coronavirus. 
They say baseball is America's game. However, for 24-year-old Taylor Duncan, he was forced to make the game his own.
A day after a mandatory mask ordinance went into effect across Tampa, the city is doing what they can to make sure residents can comply by handing out free masks to those who needed them.
Juneteenth is usually accompanied by a day of events in the Bay Area. This year, some events will still take place in person, however, many have also been made virtual, giving people the option to participate, but at home due to COVID-19.
For parents and students, as they look ahead to the upcoming school year, the big question is: What will next year look like? In Sarasota County, the 2020 school year will bring changes for students.
Athletes in the Pinellas County School District were able to return to the field Monday as the district kicked off summer practices. School officials have implemented a three-phase plan along with numerous guidelines in order to make sure their athletes and coaches are staying safe during the pandemic.