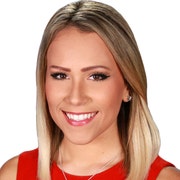 Elizabeth Fry joined the FOX 13 news team in October of 2018 as a multimedia journalist.  She is excited to share the stories of the Tampa Bay community.
Before coming to the Sunshine State, Elizabeth worked as an anchor-reporter for FOX 5 KRBK in Springfield, Missouri.  During her time there, she covered national news such as the scandal and resignation of former Missouri governor Eric Greitens, the tragic capsize of the 'Ride the Ducks' boat in Branson, and the widespread opioid epidemic overtaking the Ozarks.  
Before transitioning to on-air, she worked behind the scenes as an associate producer and web content manager.  Springfield is also home to Elizabeth's alma mater. She graduated cum laude from Evangel University with a degree in multimedia journalism.
After growing up in snowy Chicago winters and spending almost four years in the icy Missouri weather, Elizabeth is thrilled to call her longtime vacation spot her new home and is eager to get to know those who make the Tampa Bay community so special.  When she is not out in the field, you can find Elizabeth exploring local restaurants, trying out new recipes or soaking up the sun at the beach. 
If you have any story ideas for Elizabeth, she'd love to hear from you! You can email her at Elizabeth.Fry@foxtv.com or connect with her on Facebook, Twitter and Instagram.
The latest from Elizabeth Fry
MacDill Air Force Base hosted it's second Pitch Day on Wednesday, a concept that's much like the hit-show Shark Tank. 
The empty seats at Lecom Park in Bradenton will soon be filled as the Pittsburgh Pirates kick off their spring training. However, before that first pitch can be thrown, the Pirates have to make sure their singers can hit the right note. 
A Plant City police officer remains in the ICU at a local hospital after he was run over during a multi-county crime spree Wednesday. During a press conference Friday, Polk County Sheriff Grady Judd expressed his frustration over the suspects' criminal history and the fact that they took advantage of their second chance.
From the water to the sky, Tampa won't be able to escape this year's pirate invasion.
One person is dead and several children are injured after a pick-up truck crashed into a school bus Wednesday morning, according to the Florida Highway Patrol.
Hillsborough County deputies are investigating after an ATM exploded at a Regions Bank in Brandon. 
It's been one year since 15-year-old Josiah Pinner was killed by a Hillsborough County deputy while attempting to cross the street. Saturday, his family and friends spent the day celebrating his life with a game of basketball. 
The U.S. Women's National Soccer Team is a force to be reckoned with. This week, they're in Tampa to kick off their January training camp.
How long should you have to wait for an ambulance? Five minutes, 10 minutes, or how about an hour?