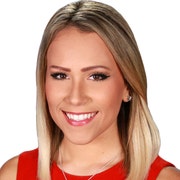 Elizabeth Fry joined the FOX 13 news team in October 2018 and reports on stories in Tampa and around the Bay Area.
Before coming to the Sunshine State, Elizabeth – known as Liz among her Good Day Tampa Bay crew – worked as an anchor-reporter for FOX 5 KRBK in Springfield, Missouri. During her time there, she covered national news such as the scandal and resignation of former Missouri governor Eric Greitens, the tragic capsize of the 'Ride the Ducks' boat in Branson, and the widespread opioid epidemic overtaking the Ozarks.  
Before transitioning to on-air, she worked behind the scenes as an associate producer and web content manager. Springfield is also home to Elizabeth's alma mater. She graduated cum laude from Evangel University with a degree in multimedia journalism.
After growing up in snowy Chicago winters and spending almost four years in the icy Missouri weather, Elizabeth is thrilled to call her longtime vacation spot her new home and is eager to get to know those who make the Tampa Bay community so special. When she is not out in the field, you can find Elizabeth exploring local restaurants, trying out new recipes or soaking up the sun at the beach. 
If you have any story ideas for Elizabeth, she'd love to hear from you! You can email her at Elizabeth.Fry@fox.com or connect with her on Facebook, Twitter and Instagram.
The latest from Elizabeth Fry