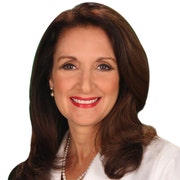 Dr. Joette Giovinco
Health reporter
Dr. Joette Giovinco is the medical reporter for FOX 13. She is a native Floridian, raised in Tampa, and is a graduate of Tampa Catholic High School. She graduated cum laude with a degree in microbiology from the University of South Florida. She obtained her M.D. and Masters in Public Health degrees from Tulane University in New Orleans, Louisiana.
She completed her residency training in Internal Medicine at both Tulane and the University of South Florida.
Working as an environmental medicine fellow through the Agency for Toxic Substances and Disease Registry, Dr. Giovinco became the first physician to complete the Occupational Medicine residency program at USF. She later served as deputy director of the same training program.
She earned board certifications in both Internal Medicine and Occupational Medicine. Clinically, her practice was at the workplace, providing on-site medical support to employers, and off-site, in clinics specializing in environmental and occupational health.
Most recently, her focus was in cardiovascular disease prevention, as the co-director of the Lipid Clinic at the University of South Florida College of Medicine. 
If you would like to contact Dr. Jo, you can email her at Joette.Giovinco@foxtv.com. You can also connect with her on Facebook and follow her on Twitter @DrJo_Fox.
The latest from Dr. Joette Giovinco
Dr. Joette Giovinco reports
It is best to watch someone who is proficient in making pignolata, rather than trying it on your own for the first time. This is clearly not a healthy recipe but it is one that has been passed down through Dr. Jo's family.