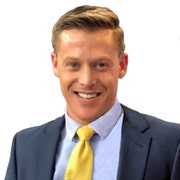 Justin Matthews joined the FOX 13 team as a multi-media journalist in April of 2020.  
He moved to the Tampa Bay are from Albuquerque, NM, where he was a general assignment reporter and fill-in weather and traffic anchor at ABC-affiliate KOAT.  He had previously worked as a multi-media journalist for CBS-affiliate KTVL in Medford, Oregon.
Justin's passion for journalism began when he was a student at the University of Arizona. Go Wildcats!
Justin has a keen interest in covering weather and natural disasters. He covered wildfires in New Mexico and Oregon and will use those skills in covering Tampa Bay's sometimes-threatening weather. 
When Justin is not at the station or reporting, he is outdoors appreciating nature and hiking. He loves music, craft beer, and is a self-proclaimed airplane geek.
As a southern California native, he enjoys now being near the Gulf waters and all that Bay has to offer. Even though he's a Los Angeles Kings fan, he's looking forward to rooting for the Lightning at Amalie Arena.
 
The latest from Justin Matthews
The Tampa Bay Beaches Chamber of Commerce is hosting a series of job fairs to help fill positions in the hospitality industry.
Eighty breweries throughout Tampa Bay are participating in Tampa Bay Beer Week, which runs March 6 through 14. Typically the event would draw at least 1,000 people, but, due to the pandemic, it's being held on a smaller scale.
The non-profit organization Queens of Domestic Violence Awareness hosted its first-ever First Friday fundraiser at the newly-named Queens Field on Orange Avenue and Martin Luther King, Jr. Way in Sarasota.
The Tampa Police Department has released body camera video of an officer who was fired for using "derogatory language" on two occasions last year.
The March-to-mid-April spring break travel period is expected to give the Tampa International Airport a much-needed boost after a tough year because of the pandemic.
The seven-day rolling average of positive COVID-19 cases in Florida is half of what the numbers were at the start of 2021, according to data from the Florida Department of Health.
The Spring Break tourism period between March and mid-April is crucial for bars, restaurants, and hotels, which make a significant amount of their annual revenue during those several weeks.
When they met, she needed a heart transplant to survive, but that couldn't stop their love. So Angela and Gary set off with their kids on a trip of bucket-list destinations. That's when Gary nearly died in a motorcycle accident. Now, she has a new heart and he is recovering from their injuries, so they decided to get married.
The six-week-long spring break travel period, between March and mid-April, is one of the busiest times of the year at the Tampa International Airport.