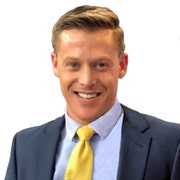 Justin Matthews joined the FOX 13 team in April 2020 and covers news and traffic around the Bay Area during Good Day Tampa Bay.
He moved to the Tampa Bay are from Albuquerque, NM, where he was a general assignment reporter and fill-in weather and traffic anchor at ABC-affiliate KOAT.  He had previously worked as a multimedia journalist for CBS-affiliate KTVL in Medford, Oregon.
Justin's passion for journalism began when he was a student at the University of Arizona. Go Wildcats!
Justin has a keen interest in covering weather and natural disasters. He covered wildfires in New Mexico and Oregon and will use those skills in covering Tampa Bay's sometimes-threatening weather. 
When Justin is not at the station or reporting, he is outdoors appreciating nature and hiking. He loves music, craft beer, and is a self-proclaimed airplane geek.
As a southern California native, he enjoys now being near the Gulf waters and all that Bay has to offer. Even though he's a Los Angeles Kings fan, he's looking forward to rooting for the Lightning at Amalie Arena.
Reach out to Justin with story ideas via email at justin.matthews@fox.com. You may also follow Justin on Facebook and Twitter.
The latest from Justin Matthews