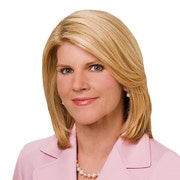 Kelly Ring is a co-anchor on FOX 13 6 p.m. and 10 p.m. News. She joined the FOX 13 team in October of 1985.
Kelly has always been filled with curiosity about the world around her. As a youngster growing up in Dardanel, Arkansas, her demands to know "why" caused her mother to jokingly remark that she would become a reporter someday.
By the age of 10, she knew she wanted to be a writer. Encouraged in her efforts by her teachers and family, Kelly's love of writing grew.
When it came to choosing a college, she chose the University of Missouri and graduated with a degree in journalism. She was actively involved with the university's on-campus television station and the Columbia, Missouri NBC affiliate while attending school. Kelly's first on-air appearance was with the university's television station.
Kelly's first professional television position was with WXII-TV in Winston Salem, North Carolina, where she was a general assignment reporter. She came directly to FOX 13 from WXII-TV.
Kelly has received three Emmy awards and many other awards for her work. She has traveled overseas to cover the crisis in Saudi Arabia, the Russian medical crisis, and the Cuban political crisis.
Kelly speaks regularly to civic groups and volunteers her time to various events throughout the Tampa Bay area.
Her work is demanding with long and hard hours. Her relaxation mirrors the appreciation of nature that her country upbringing taught her. She enjoys running along the Florida waterfront, reading and skiing. Kelly, her husband, and family enjoy a variety of activities together. 
If you would like to contact Kelly, you can email her at Kelly.Ring@FOXtv.com. You can also connect with her on Facebook and follow her on Twitter @KellyRingFox13.
The latest from Kelly Ring