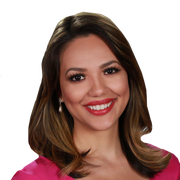 Vanessa Ruffes
Traffic reporter
Vanessa Ruffes is the traffic and entertainment reporter for Good Day Tampa Bay.  She joined the FOX 13 Team in June 2014 as a multimedia news reporter.
Born in Tallahassee, Vanessa is thrilled to cover stories that matter to her native Sunshine State. She's also particularly glad to be back in the Tampa Bay area, where she spent part of her childhood and many of her family members still reside.
Before coming to Tampa, Vanessa was a reporter in Fort Myers at WINK-TV, where her focus was highlighting people and organizations making a difference in Southwest Florida. Vanessa began her broadcasting career in Macon, Georgia at WMAZ-TV. Many of her favorite stories there came from covering the nearby Robins Air Force Base.
Vanessa graduated Magna Cum Laude from the University of Georgia. She has been recognized by the Georgia Association of Broadcasters.
When she's not working, Vanessa loves to try out new recipes, spend time with her family -- human and canine -- and root for the Rays.
If you would like to contact Vanessa, you can email her at Vanessa.Ruffes@FOXtv.com. You can also connect with her on Facebook and follow her on Twitter @Fox13Traffic or @RuffesFOX13.
The latest from Vanessa Ruffes