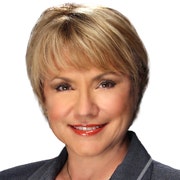 Cynthia Smoot is the Emmy award-winning co-anchor of the FOX 13 News at 5 p.m. and 11 p.m.
When she's not at the anchor desk, Cynthia's likely covering a story about Florida's fabulous wildlife or people and their pets. She's a nature lover with a passion for animals, including "Winter the Dolphin," whose story she covered from Winter's arrival as a baby with an uncertain future, to the development of her prosthetic tail and her amazing life and legacy.
She has also reported on some of the area's most notorious animal cruelty cases, following the story of "Casper," a boxer that was nearly starved to death, from the day he arrived at the county shelter to the day he went home with his new adoptive owner.
Cynthia has also traveled to the Everglades to report on the threat of Burmese pythons to our native wildlife, and to Boca Grande, where invasive spiny-tailed iguanas are pushing out threatened gopher tortoises and eating native birds.
In 1998, Cynthia received a prestigious Emmy award for "A Real Life Horse Whisperer," the story of Monty Roberts, who helped revolutionize horse training with his non-violent methods.
Cynthia grew up in Yorktown, Virginia and received her B.A. in communications from James Madison University. She's a 35+ year veteran of broadcast journalism, with a career that began in radio as an award-winning morning news anchor and news director and in television as a producer, reporter, and anchor.
Before coming to WTVT in 1997, Cynthia spent 13 years at the FOX owned and operated TV station in Greensboro/Winston-Salem/High Point, North Carolina as the 5, 6 and 10 p.m. news anchor. In North Carolina, she was deeply involved in children's issues and received a number of community awards and honor for her involvement and advocacy on issues relating to foster care and adoption, infant mortality, teenage pregnancy and working women.
Cynthia was also involved with the North Carolina chapter of "Operation Smile," and traveled with the medical teams to Panama and Ecuador  to report on the life-changing surgery they perform on children with facial and limb deformities.
Cynthia lives in Tierra Verde with her husband Bill, greyhound Karma, and Bo the cat. She's also the adopter of a bit of "living history," – a true American Mustang. You can follow her adventures at @Dreamthemustang on Facebook, Instagram and Twitter.
If you would like to contact Cynthia, you can email her at Cynthia.Smoot@fox.com. You can also connect with her on Facebook at FOX 13's Cynthia Smoot and Instagram @CynthiaSmootFOX13 and follow her on Twitter @CynthiaSmoot.
The latest from Cynthia Smoot