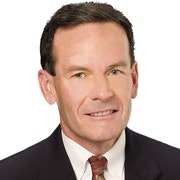 Ken Suarez is FOX 13's Polk County reporter, and his reports can be seen throughout the week. He joined the FOX 13 team in August 1998.
Ken graduated from Gettysburg College in Pennsylvania and received degrees in Spanish and biology. He continued his education at Columbia University in New York where he received his Master's degree in Journalism. He has also attended the Poynter Institute in St. Petersburg, Florida for classes in "Power Reporting."
Ken worked for WVII-TV in Bangor, Maine, WINK-TV in Ft. Myers, Florida and at WTOG-TV in St. Petersburg before joining FOX 13. He has also worked at various radio station and newspapers.
Ken has received an Associated Press Award for his stories on AIDS, an award from The Better Business Bureau for a half-hour show on consumer rip-offs and an award from the National Association on Adoptable Children for a series on adoption.
Ken lives on a small farm in East Hillsborough County. 
If you would like to contact Ken, you can email him at Ken.Suarez@fox.com. You can also connect with him on Facebook and follow him on Twitter @Kensuarez2.
The latest from Ken Suarez