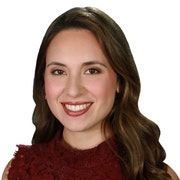 Hello, my name is Natalia Verdina and I'm a multi-media journalist at FOX 13.  
It's a dream come true to be part of the community and dedicate my time to telling stories that matter most to you.  
Before coming to the Tampa Bay area, I worked as a reporter for Univision in Raleigh, North Carolina and then as a weekend anchor and reporter at WBRZ in Baton Rouge, Louisiana.  
South Louisiana has a special place in my heart, and not just because of the food! I graduated in mass communications from Loyola University New Orleans and worked on the assignment desk at WWL-TV. 
My New Orleans heritage is a big part of who I am, but I'm also half Colombian. I've lived all around the world. If you ask me where I'm from, I usually ask if you want the long or short version. I was born in Spain and due to my father's diplomatic career, lived in Puerto Rico, England and Venezuela. I graduated from the International Baccalaureate program from Escuela Campo Alegre, the American International School in Caracas, Venezuela. 
Growing up in different cultures has been a blessing and is one of the reasons I love reporting the news. Meeting new people, hearing their perspectives, and learning about different topics is my passion. 
Now, this adventure we call life has brought me to Tampa and I couldn't be happier.
If you have any story ideas you would like to share with me (or any fun advice for Tampa-livin'), please feel free to email me at Natalia.Verdina@FOXTV.com and follow me on Facebook and Twitter.
The latest from Natalia Verdina