'Coming home': High school quarterback's journey brings him to Wiregrass Ranch for senior year
WESLEY CHAPEL, Fla. - It's been quite an unsettled journey for high school quarterback Luke Knight for the last two seasons. There have been a lot of moves with Wiregrass Ranch High School in Wesley Chapel being his third high school in 19 months.
"It's a lot of stuff to go through as a high school kid," Knight told FOX 13 Sports. "A lot of moving around, but I wouldn't complain about anything that I've been through."
After the high of leading Jesuit to an undefeated season and their first state football title in 53 years, Knight left abruptly for Merritt Island High School three weeks into the 2022 season due to a job opportunity for his father. 
Now, Knight is back and will play his senior year at Wiregrass Ranch.
READ: Lakeland Christian 7th-grader leads the way for Vikings softball
"My first thing is 'what are you doing?" said Wiregrass head coach Mark Kantor. "He's like 'we moved back. Mom didn't like to be at Merritt Island. We live in the district. This is where we are at.' I'm like, 'alright, dude, let's play football.'"
"It was a lot like coming home," said Knight. "My parents were ready to come with everything, and with everything with my dad's job, we ended up coming home. I grew up around here. My dad used to coach JV out here. I've known Kantor for a long time and all these guys that I went to middle school with. It's like family to me."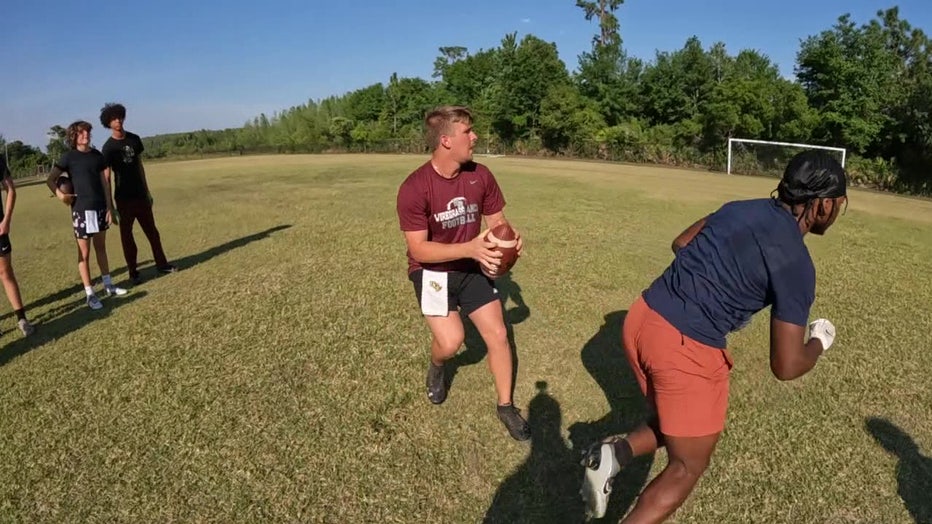 Knight is a welcomed addition to the Wiregrass Ranch Bulls, who missed the playoffs last year for the first time since 2015. His leadership and experience stood out immediately.
MORE: Strawberry Crest baseball player preparing for MLB Draft
"He's like a coach in a kids body," said sophomore wide receiver Bryce Randolph. "He's just like a good leader. What we needed. Like a coach on the field."
Many high school football players heading into their senior year have aspirations of earning a Division I scholarship. Knight is one of those, but he also has his eye on life after playing football.
"My dream is to eventually coach college football," said Knight. " Playing football is a stepping stone in that process. I've got to play college football. I'm going to make it happen, so I just have to make it happen."
For now, Knight is home, settling down to enjoy his senior year.