Facing extinction, captive-reared Florida grasshopper sparrows to be released in the wild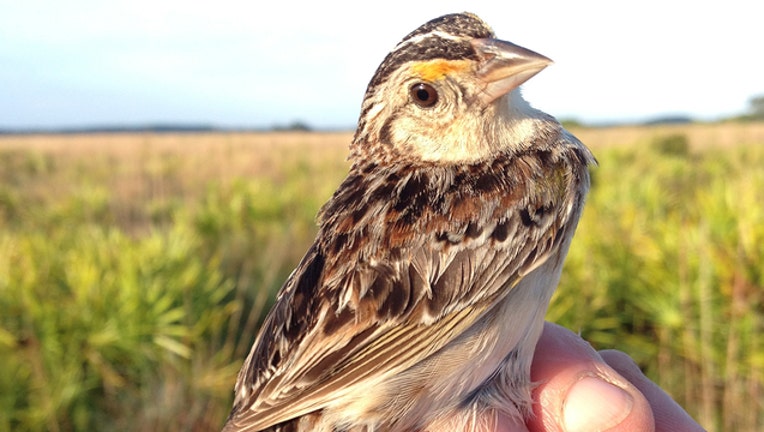 KENANSVILLE, Fla. (FOX 13) - The rarest bird in Florida is on the brink of extinction, and wildlife officials are continuing their efforts to save the little bird's population. 
There are fewer than 80 Florida grasshopper sparrows remaining in the wild, according to the Florida Fish and Wildlife Conservation Commission. Last year, officials said the sparrow could become extinct by 2020.
U.S. Fish and Wildlife Service attempted $1 million worth of conservation efforts, but there were challenges the sparrows faced while living in the wild and in captivity. However, in the coming weeks wildlife officials – on the state and federal level – will partner to release the captive-reared sparrows into prairie areas -- the sparrow's natural habitat -- in Osceola County. 
In 2015, FWC, USFWS, and other conservation partners began the captive-rearing program to prevent the bird's extinction. The hope is they can supplement wild populations with the captive-reared birds. 
"While we recognize that releasing captive animals back into the wild may carry some risk, if we don't add to the wild flock soon, it is very likely this unique little bird will go extinct," said Kipp Frohlich, director of the FWC's Division of Habitat and Species Conservation. "Working with our partners, we have conducted intensive assessments and we are confident the potential benefits are great and outweigh the risks."
PREVIOUS: Florida grasshopper sparrows face extinction
Before the release, the sparrows will be kept in an on-prairie aviary to adjust to the environment. Some of them will be fitted with tracking devices so biologists can monitor their survival through the program.
"A lot of people have worked hard learning how to raise these sparrows in captivity. It is delicate work," said Larry Williams, the Service's Florida state supervisor for Ecological Services. "The eggs are about the size of a marble and the hatchlings are just as tiny. But we are optimistic these first releases will bring some success."
Grasshopper sparrows are small, short-tailed birds that are usually heard before they are seen, and named after one of their calls -- a quiet buzz similar to that of a grasshopper.
There are twelve subspecies of the grasshopper sparrows throughout North America, Central America and the West Indies. There is only one subspecies, the Florida grasshopper sparrow, that breeds and lives in remote, treeless prairies in central Florida. 
The subspecies was first discovered in 1902. However, it faced a population decline in the 1970s as prairie grasslands were converted to improve cattle pastures, sod production and other agricultural purposes. About 19 percent of original dry prairies remain in Florida today.
It was listed as an endangered species in Florida in 1977, and federally listed as endangered in 1986. The Fish and Wildlife Foundation of Florida launched a "Florida Grasshopper Sparrow Fund" to prevent the songbird's extinction.