Fake Publix coupon circulating on internet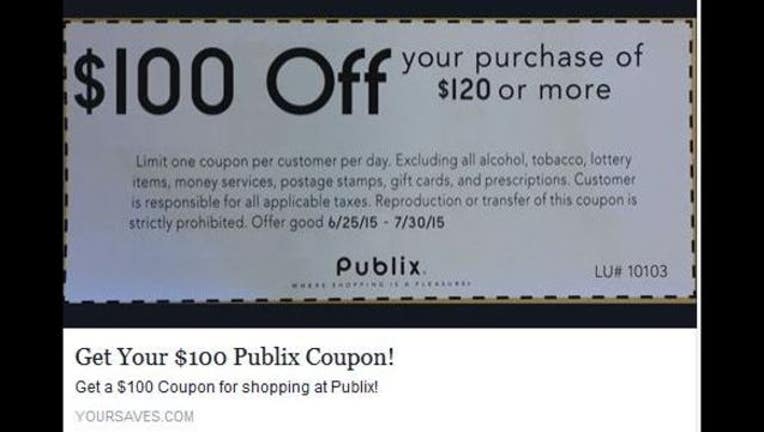 article
A bogus $100-off coupon spread rapidly on Facebook Sunday, prompting Publix to issue warnings to customers on its Facebook and Twitter.
"There is a fraudulent Publix coupon circulating on social media that states '$100 off your purchase of $120 or more.' This is not supported by Publix and this coupon is not valid at any of our locations," the Lakeland-based grocer said on Facebook.
PUBLIX FACEBOOK PAGE: HTTP://WWW.facebook.com/publix
The coupon looks real -- identical to genuine Publix coupons. The counterfeit includes the Publix logo, uses the Publix font, and even includes an expiration date and internal code. As of Sunday afternoon, hundreds of Facebook users had shared it with their friends.
We followed the link and discovered a winding path that might expose consumers' personal information. Step one was to "like" the post. From there, the web page was redirected to a lengthy survey.
Some questions were seemingly innocuous, such as: "85% of Americans have a car. Do you?"
Others raised our eyebrows, including: "What is you political affiliation," and "Would you donate to the Hillary Clinton campaign?"
The final question we saw raises a health privacy concern: "Do you take prescription Nexis?"
Ironically, the start of the survey mentioned a possible reward in the form of gift card (not a coupon) for Aldo (not Publix). Nonetheless, Publix warned customers to bypass the link.
 "We recommend not participating in the promotion or providing your personal information," the supermarket said. "Thank you for your patience as we investigate this situation."