The Latest: Pope Francis' plane departs Cuba for Washington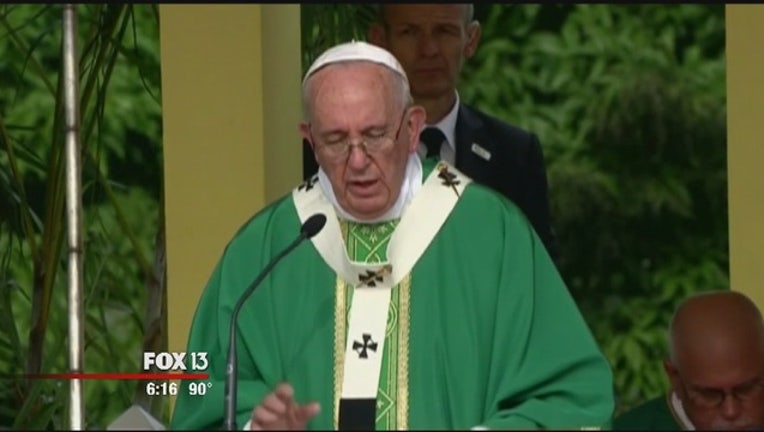 article
SANTIAGO, Cuba (AP) — The latest developments in Pope Francis' visit to Cuba and the United States. All times local:
12:26 p.m.
Pope Francis has departed Cuba for a roughly three-hour flight to Washington after calling on islanders to live a "revolution of tenderness."
His words capped a four-day trip marked by warm interactions with Cuba's leaders and subtle critiques of the system they run.
At Sunday Mass in Havana, Francis urged Cubans to serve one another rather than an ideology. He encouraged them to refrain from "looking to one side or the other to see what our neighbor is doing or not doing." Those remarks resonated in a nation where the government controls most aspects of life.
He held what appeared to be friendly meetings with Fidel and Raul Castro, the former and current presidents of Cuba. Raul Castro has accelerated a warming with the church that began under his brother, and has spoken admiringly of Francis and his critiques of global capitalism.
The pope also spoke in the foothills of the Sierra Maestra mountains where Fidel Castro commanded a guerrilla army that swept to power in 1959.
Francis said Tuesday: "Generation after generation, day after day, we are asked to renew our faith. We are asked to live the revolution of tenderness as Mary, our Mother of Charity, did."
___
11:10 a.m.
In his final formal event in Cuba, the pope has called on Cubans to strengthen the bonds of family, which he calls "true spaces of freedom."
He says the breakup of families fragments societies or makes them uniform. He says that in both cases, "people turn into isolated individuals, easy to manipulate and to rule."
After the remarks at the Cathedral of Santiago, he's heading to catch a flight to Washington to begin the U.S. leg of his trip.
___
10:30 a.m.
Twitter has rolled out special emojis for users tweeting about Pope Francis' visit to the United States.
Tweets with the hashtag "PopeInUS" render an icon of a smiling, white-capped pontiff in front of a U.S. flag.
There are also emojis for (hashtag)PopeInDC — the U.S. Capitol; (hashtag)PopeInNYC — the Statue of Liberty; and (hashtag)PopeInPhilly — the Liberty Bell.
Francis wraps up a four-day Cuba trip today and flies north to the United States.
___
9:25 a.m.
Pope Francis has concluded his Mass at the Sanctuary of the Virgin of Charity of Cobre outside the eastern city of Santiago.
The pope asked the Virgin to give Cubans "what they most desire and most need."
Two children gave him a copy of a century-old letter from islanders to Pope Benedict XV asking him to declare the Virgin the patroness of Cuba.
He now travels to the Cathedral of Santiago to bless families.
___
8:15 a.m.
Pope Francis is calling on Cubans to rediscover their Catholic heritage and live a "revolution of tenderness," highly evocative words in a country whose 1959 socialist revolution installed an officially atheist government that was long hostile to religion.
The pope says: "Our revolution comes about through tenderness, through the joy which always becomes closeness and compassion, and leads us to get involved in, and to serve, the life of others."
___
7:55
Pope Francis has come to the chief shrine to Cuba's patron saint for the final Mass of his visit to the island nation before heading to the United States.
President Raul Castro received the pontiff at the basilica of the Virgin of Charity in the town of Cobre.