Kucherov has goal, 3 assists as Lightning beat Devils 5-1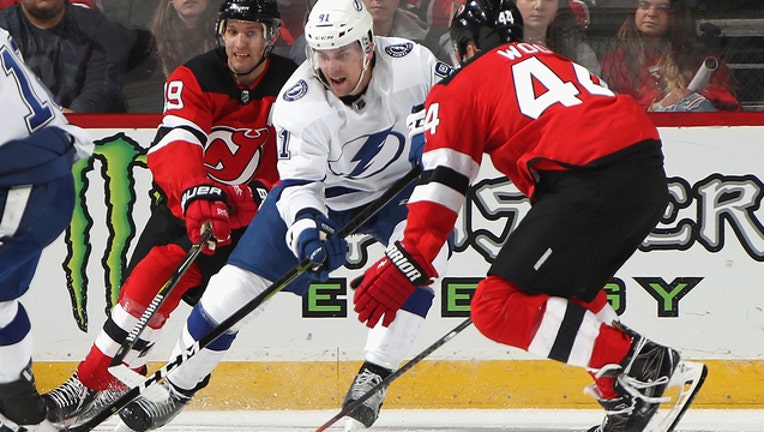 NEWARK, N.J. (AP) - Nikita Kucherov and Brayden Point like playing on the same line, and it's a combination that's working out well for the Tampa Bay Lightnint, too.
Kucherov had a goal and three assists for his first four-point game, Point added a goal and two assists, and the Lightning beat the struggling New Jersey Devils 5-1 Monday night.
"He's a speedy player who is fun to play with," Kucherov said of Point.
Point returned the compliment.
"He's so easy to play with," he said. "He gets the puck to me in easy places. Kuch just works some good passes and I just shoot."
Steven Stamkos had a goal and an assist, and Tyler Johnson and Yanni Gourde also scored to help the Lightning become the first team in the league to reach 20 wins this season. Ryan McDonagh had two assists and Louis Domingue stopped 26 shots as Tampa Bay got its third straight win and sixth in seven games.
Egor Yakovlev scored his first career goal for the Devils, who have lost six straight and eight of nine. Keith Kinkaid started and gave up four goals on 20 shots before he was pulled after two periods. Cory Schneider had five saves in the third.
"You have to give them credit," Devils coach John Hynes said. "They are a heck of a hockey team. They just outworked us. Sometimes, it becomes a slippery slope. We didn't play well enough to win the game."
New Jersey, which lost in regulation at home for only the second time this season, seemed to have the better of the early play, outshooting the Lightning 7-1 over the first 10 minutes, but it didn't take long for league's top offensive team get going.
First, Kucherov extended his points streak to 10 games - one shy of his career high - with a goal with a little more than six minutes left in the first period on a 40-foot shot that seemed to handcuff Kinkaid.
Asked if he's having a torrid streak, Kucherov replied: "Maybe that's something you should say something about. I just play hockey."
Point continued his mastery over the Devils with a power-play goal with less than a minute remaining in the period. It was Point's 20th goal of the season and his sixth goal in nine career games against New Jersey.
"I think at that point, momentum was in our favor," said veteran Steve Stamkos, who added to the cause with a goal and an assist. "I think that goal took a lot out of them."
The Lightning made it 3-0 when McDonagh's wrist shot was deflected in front by Johnson for his 11th at 8:20 of the second.
The Devils crept back into the game with 8:14 left when rookie defenseman Yakovlev got his first goal.
But the high-flying Lightning wasted little time to push the lead back to three when Gourde scored his 10th just 1:13 later off a pretty feed from Stamkos.
Stamkos scored a power-play goal in the first 20 seconds of the third on the first shot that Schneider faced. It was Stamkos' ninth of the season.
Tampa Bay completed a three-game sweep in the season series with the Devils, outscoring them 18-6.
"Maybe the pucks are bouncing well for one team," said Point, who now has five goals and eight assists in his last five regular season games against New Jersey. "They were competing. They were finishing their checks. We just played well. I just think we're getting more familiar with each other. That's helping us get the job done."
NOTES: The Lightning lead the NHL in goals scored (107) and goals per game at 3.9. ... Kucherov had his 84th multipoint game since the start of the 2015-16 season. Only Pittsburgh's Sidney Crosby has more during that span with 87. It was the 100th multipoint game of Kucherov's career. ... Kucherov's scoring streak is just one shy of a career high.
UP NEXT
Lightining: At Detroit on Tuesday night.
Devils: At Los Angeles on Thursday night.
___
More AP NHL: https://apnews.com/NHL and https://twitter.com/AP_Sports