Winston visualizes Week 1 win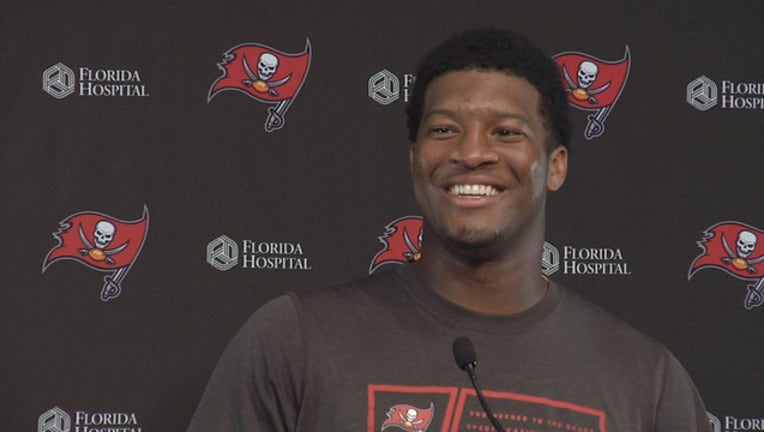 article
TAMPA (FOX 13) - In his mind, Jameis Winston only sees his NFL debut going one way.
"I visualize getting a win -- just making the right decisions," said Winston.
Winston won just once during the preseason. His best game? Against the Bengals in Game 2. He didn't throw a touchdown or an interception. But he did run a score in. His 82.2 percent passer rating as the best of all three preseason games he started.
Still, his offensive coordinator says he's Tennessee ready.
"Absolutely, yup," said Bucs offensive coordinator Dirk Koetter. "Jameis is ready to go and his is foaming at the mouth as you could imagine."
Quickly, Winston has picked up his new playbook, which Koetter says isn't that complicated. With that said, the rookie quarterback spent hours studying it late into the night.
"He's improving on everything," continued Koetter. "We're working on everything. I'd really have to think about that to narrow it down. He's improved across the board and still has plenty of room to improve."
"One thing was getting accustomed to the speed," said Winston. "One thing I always talk about is the rhythm of my drops, being able to set my feet and make a throw on time so I can help the offensive line out, help the running backs out, just help the whole team out."
That's who Winston is -- a team-oriented player. Doing everything he possibly can to lead his team to victory.
"He's done everything I, we've asked him to do," said Bucs head coach Lovie Smith. "I've seen him grown from coming in and not knowing how to get to the facility. He's not using a map right now. Veterans have done this to him. He's moved into that. Even though he's not a captain, the quarterback has to be in the leadership role. He's moving into that."
A leader and a rookie. Winston isn't the only one we'll see Sunday with those two labels. The Titans have Marcus Mariota, and this is the matchup many have been waiting for since the quarterbacks went one-two in this year's draft.
"It's not about us," said Winston. "It's the Bucs versus the Titans. I'd rather the headline be the score than something about individual players."
Winston is right about that.
This game will speak volumes in terms of how the team needs to move forward the rest of the season.
"That's why we need to get to this first game," added Smith. "A lot of questions will be answered after this weekend."
The Bucs and Titans kick off Sunday from Raymond James Stadium at 4:25 p.m.