12-year-old cancer-free after bone marrow transplant from sister works
TAMPA, Fla. - It's the moment 12-year-old Colton King has been waiting for: Ringing the cancer-free bell at AdventHealth for Children in Orlando. 
He's now officially cancer-free after he and his family learning the bone marrow transplant — with his 17-year-old sister Kaylee who turned out to be the perfect donor match — worked.
"They said he is cancer-free. There's no sign of leukemia and I just started bawling like I couldn't even speak," Colton's mom Stacy King said.
RELATED: Sister of 12-year-old cancer patient donates bone marrow for potentially life-saving transplant
Ringing the bell is a moment that wouldn't have been possible without his sister Kaylee. 
"It became such a relief and so much stress was lifted off because the transplant took," Kaylee said.
Colton was a star on the baseball field who celebrated his 12th birthday at the batting cages back in July only to find out the same day he was diagnosed with a rare form of leukemia and would need a bone marrow transplant. Months later, Kaylee learned she was the perfect donor match.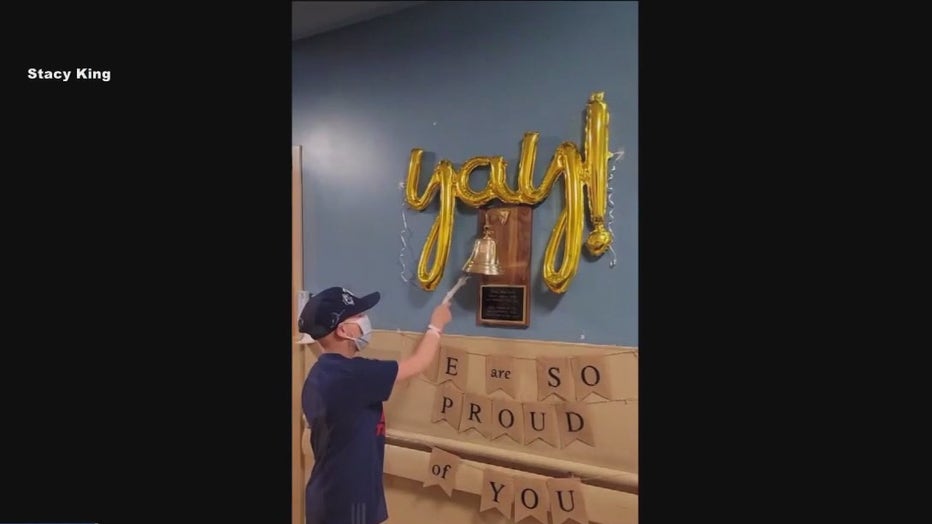 In January, the siblings underwent the operation at AdventHealth for Children in Orlando, but it wasn't until this week they learned it worked. As a result, Colton got released from the hospital and now he and his mom are living at the Ronald McDonald house next door.
READ: Fish Hawk boy with rare form of leukemia cleared for life-saving transplant after sister was found to be match
"I said 'Buddy you have no more leukemia, like your cells are 100% Kaylee's, and you are cancer-free,' and he just kind of broke out into this. You could see the relief in his eyes and on his face and he broke out into a big smile," King said.
His story has touched thousands on social media and has even gotten the attention of the Tampa Bay Rays who sent him personalized jerseys with he and his sister's names along with an autographed bat and baseball.
"We have this amazing community of people supporting him and praying for him and people who are just really rooting for him and are going to be walking next to him and next to our whole family and so it just makes a big difference," King said.
For the next year, Colton will be recovering and working to build up his immune system, so he can return to in-person school next year. Going forward, he has 3 more check-ups one in 30 days, one in 60 days and one in a year to make sure the cancer doesn't come back.
Until then, King says they're celebrating the moment hopeful the rest of the family will get to reunite with him later this week.