DeSantis offers $3,000 bonus to Florida teachers who complete civics training
TAMPA, Fla. - The governor of Florida is keeping the focus on his education reform policies and proposals.
At a news conference Thursday, he explained his push for more civics education, and new insight on why the state is moving to expand restrictions on what teachers can say about sexual orientation and gender identity at every grade level.
But the civics part of his education agenda is so important, he's willing to pay teachers extra.
"Everybody is going to be called upon to exercise the duties of being an American citizen," he said. "If you look at the civics knowledge of the population, it's abysmal."
He highlighted his effort to beef up what Floridians know about how their government works and what ideals the Constitution was founded on.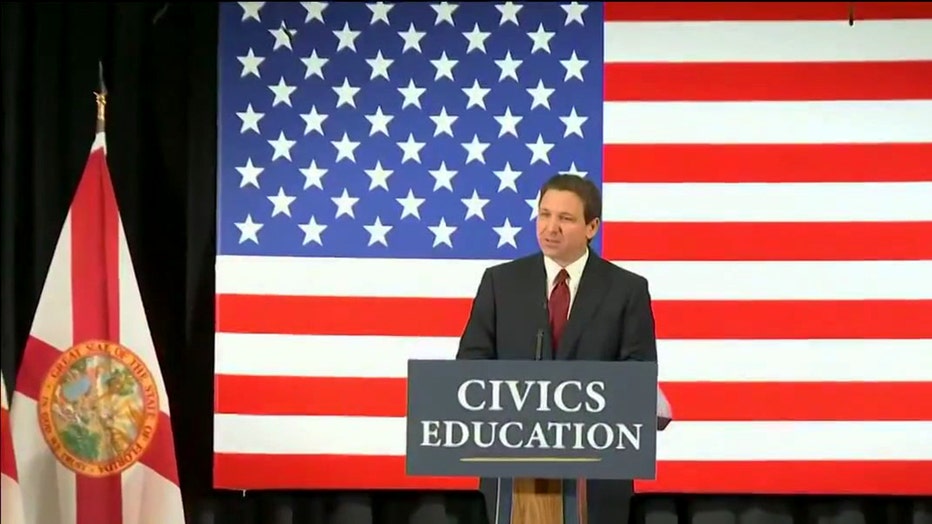 He handed out $3,000 bonus checks to eight of the 4,500 teachers who have completed 50 hours of civics training.
"We probably wouldn't be as divided as we are as a country if everybody had a solid foundation in American civics and understanding the key aspects of what it means to be an American."
But his stamp on education is being felt in more controversial ways, as the state education department is pushing to expand a ban on discussion of gender and sexual orientation in classrooms, from kindergarten through third grade, to cover all grades up to twelfth.
"There were a lot of questions about (what is) age appropriate," said education commissioner Manny Diaz. "Well, this clarifies it for everyone."
If approved by the Board of Education in a vote on April 19th, the rule would only leave exceptions for students in reproductive health classes, which parents can opt their students out of, or for official curriculum already in existence. 
Democrats say making the change through the Board of Ed, as opposed to the legislature is an abuse of power.
"This has become a pattern with the DeSantis administration to where they weaponize state agencies and rulemaking for their own political agenda."
Further, Democrats say that the bill was passed in the legislature partially under assurances that it would only apply to the youngest students.
The governor did not personally weigh in on that issue today.
The state Board of Education will be voting on April 19th.