Gov. DeSantis expected to announce presidential run as controversial laws face new legal challenges
TAMPA, Fla. - Governor Ron DeSantis plans to announce his run for president imminently, even as controversial laws he signed are facing new legal challenges. 
The Florida governor is expected to declare his candidacy Wednesday on Twitter, sources told FOX News. It means he'll be up against former President Donald Trump and others for the Republican nomination in the 2024 presidential run. 
The latest clue DeSantis gave was changing his social media handle from "@RonDeSantisFL" to "@RonDeSantis." Florida's First Lady Casey DeSantis' Twitter handle was also changed to remove  "FL" at the end. 
RELATED: Gov. Ron DeSantis to announce candidacy for president Wednesday on Twitter: sources
He's also visited with locals in New Hampshire and Iowa, two early states on the primary calendar. It comes as the former President Trump leads with an average poll of 56 to 19. 
Sources have told FOX News that DeSantis plans to file presidential paperwork and make his announcement during a discussion on Twitter with Elon Musk. 
Not only will he have to worry about his political opponents, there are also new battles for Florida to fight in court over controversial laws he recently signed off on. Since the legislative session ended, the governor has barnstormed Florida with bill signings, hoping to prove he can deliver results conservatives want. 
READ: Governor DeSantis changes Twitter handle ahead of presumed presidential announcement
But, the legal challenges could shake his political foundation. He is being sued by lawyers representing Chinese immigrants over a bill that bans them from buying land in Florida over fears they could be spies. Hamburger Mary's in Orlando is also suing over a bill he signed in Tampa that bans those under 18 from attending drag performances.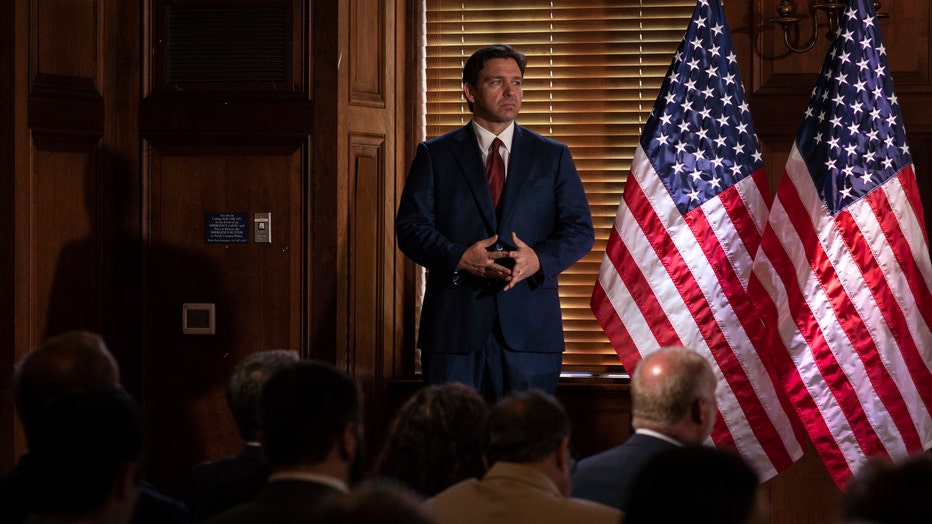 Florida Governor Ron DeSantis listens to other speakers before signing three education bills on the campus of New College of Florida in Sarasota, Fla. on Monday, May 15, 2023. (Photo by Thomas Simonetti for The Washington Post via Getty Images)
"Let's start with the U.S. Constitution, First Amendment, freedom of speech. And that's what this case is all about. It's not about drag. It's not about gays," Gary Israel, an attorney for Hamburger Mary's, said. 
His political opposition in Florida is also about to export their own operation. A group of Democrats held a press call Tuesday warning Americans about Florida's new six-week abortion ban, expanding rights to concealed weapons, its crackdown on certain books in schools and the governor's attack on Disney. 
MORE: Who is running for president in 2024? Meet the candidates
"We need to make sure Americans understand what is at risk if someone like Governor Ron DeSantis gets anywhere near the White House,"Anna Eskamani (D-Orlando). 
There are also pending lawsuits from Disney, publishers over book bans and from pro-choice groups. 
Former President Trump has also called Gov. DeSantis ungrateful over the endorsement he gave him at the beginning of his statewide campaign when he first ran for Florida governor. 
The governor is rumored to follow up Wednesday's Twitter announcement with a rally in his hometown of Dunedin next week.