Preschooler Born with Cleft Lip, Palate 'Thriving' after Surgeries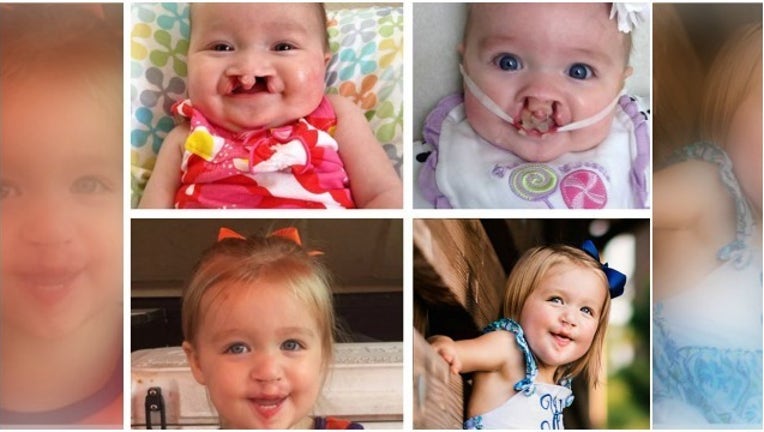 article
ATLANTA - A little girl, born with a cleft lip and palate, is now thriving after undergoing multiple surgeries in Atlanta.
According to Children's Healthcare of Atlanta, Kinley had four surgeries with Dr. Burstein before she was 2-years-old. Wednesday night, the hospital shared incredible before-and-after images of Kinley and said she's a "thriving preschooler."
A cleft lip and palate may be caused from the genes of one or both parents; however, the exact cause is unknown. The term cleft means "split" or "separation."
According to CHOA's website, as a baby's face develops in the womb, a space remains between the nose and mouth.
"As the face nears its final form in the eighth and twelfth weeks of the pregnancy, this space is closed by the joining of the left and right halves of the upper lip and palate (the roof of the mouth)," CHOA says.
When the space doesn't fully close, a baby may be born with a cleft lip and, or, a cleft palate. A cleft lip is a split in the upper lip and base of the nose and a cleft palate is a split in the roof of the mouth and back of the nose.
Following CHOA's post on Facebook, many previous patients have commented and shared their stories which are similar to Kinley's. 
"My son Sam is 19 years old and Dr. Burstein has treated him since he was 7 days old. I thank Dr. Burstein and CHOA for my son's beautiful face and smile. God bless you all at CHOA," said one mother. 
"We LOVE Dr. Burstein in our house. Our daughter had the exact cleft lip and palate as the child above and she looks wonderful! This group of professionals are the best of the best. Muuuaaahhh!," said another Facebook user. 
To learn more about pediatric cleft lip and palate, click here.