St. Pete restaurant upcycles food to cut costs, eliminate waste
ST. PETERSBURG, Fla. - At the Sōl Bistro restaurant in St. Petersburg, they like to give just about anything new purpose, including the lamp skeletons hanging from the ceiling.
"We used them to make beautiful lanterns in the restaurant. We also had our farmer make us planter boxes from his fence that he wasn't using anymore. We use vintage glasses from the thrift store," said owner and chef, Debbie DeVico-O'Neil.
The restaurant also upcycles food.
"Using the parts of food that people would usually discard which often have really high nutrient content. We use onion skins to make nutrient-dense soups and broths," explained DeVico-O'Neil.
The broccoli stems can be turned into rice. 
"Since it's so fibrous it's going to maintain its texture and you only need to cook it for a couple of minutes. I either put it in a pan with grass-fed butter, olive oil, or coconut oil. Sauté it in a little bit of garlic and salt and pepper and it's delicious", said DeVico-O'Neil.
READ: Buy a veteran a beer at this St. Petersburg brewery
Broccoli leaves can add nutrition.
"They're very high in vitamin C and they kind of have the same consistency as kale," said DeVico-O'Neil.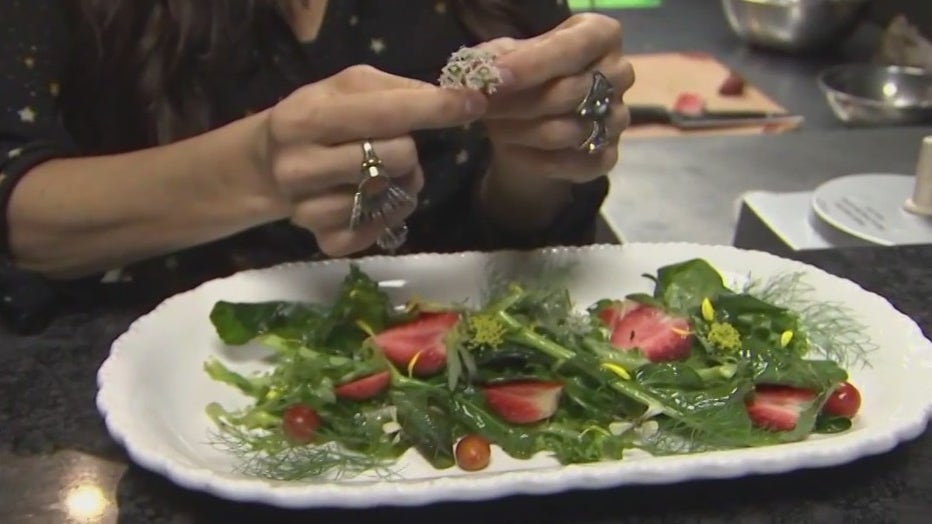 She also uses the whole strawberry, including the leaves.
"The whole thing is really high in Vitamin C and calcium actually," DeVico-O'Neil stated.
READ: These are the worst drinks for your health, according to nutritionists
Even the flowers in the restaurant's centerpieces are edible.
"These are anti-inflammatory. They boost the immune system as well," she shared. 
Upcycling food helps cut costs as well.
READ: Entenmann's gets into ice cream business with new frozen treats
"It does save people money and you're using all the vegetables which I love to do. Try it. It's delicious. There are so many things that you can do. There are many resources out there to figure out how to use different parts of the foods as well," said DeVico-O'Neil.
There are also upcycled food products.
For more information on upcycled food, click here.  
Click here for more information about Sōl Bistro.