Tampa Bay Buccaneers aware of Vikings 'Captain Comeback'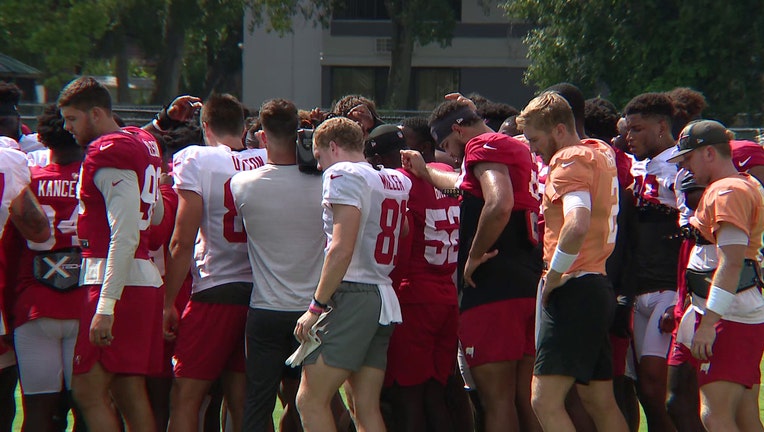 article
TAMPA, Fla. - There are 21 new players that could make their Tampa Bay Buccaneers debut on Sunday, but when it comes to the defense, the team's core is back. 
There are just two new additions to a starting unit that ranked 10th best in yards allowed last season, and they believe this season they'll be even better.
"We're so much more comfortable with each other than we were in previous years," said Bucs cornerback Carlton Davis III. "I just can't wait to go out there and rock out . It's going to be a movie."
READ: NFL Mike Williams, ex-NFL wide receiver, 'fighting for his life' following work accident: report
The Bucs defense is facing a challenging test in the season opener. Vikings' quarterback Kirk Cousin's threw for the fourth most yards last year, leading Minnesota to the NFC North Division title.
"He's not afraid," said Bucs passing game defensive coordinator Larry Foote. "You see he steps up in the pocket. He does a good job waiting for the routes to get open. The main thing is when you see those quarterbacks take those hits, you're displaying that you're not afraid. The good ones, they're not. That's why he's been one of the good quarterbacks in this league for some time."
"He's going to get the ball out of his hands," said Bucs linebacker Devin White. "He's going to make the right throw. Him being a savy, veteran guy he's not going to make many mistakes. We are going to have to get after him and make him make mistakes."
The Bucs are well aware of Captain Kirk and his ability to pull off comebacks. Most saw Cousins bring the Vikings back from a 33-0 halftime deficit to the Colts last season, pulling off the biggest comeback in NFL history. 
MORE: Baker's Bucs ready for the real games to begin
Mike Evans was on the losing side in 2015, his second year in the NFL, when Cousin's rallied Washington down 24-nothing to beat the Bucs.
"The 'You like that game,'" said Evans. "That was crazy, I was having a good game that game too. I remember that. Kirk is a hell of a player, and he's been super consistent throughout his career. So, him Jay-Jets [Justin Jefferson] and their offense."
This Sunday will be a matchup of two strengths. A high-powered offseason vs. team driven to dominated with defense and the Bucs can't wait.
"I like to say, 'Two dogs, one bone,'" said Foote.