Baker's Bucs ready for the real games to begin
TAMPA, Fla. - Baker Mayfield and the Bucs' new offensive coordinator, Dave Canales, have worked side by side, building the foundation for the Bucs offense for the last five months. 
Now, it's time for the fun to begin.
"I think our group truly understands the system that we've put in [and] what we're trying to accomplish," said Mayfield. "To see them fly around and enjoy it and play for each other, that's the best part. Preseason, you've got guys rotating in quite a bit. Now, it's just about getting our guys in, getting them on the same page and letting them have fun. We'll know what to do come time for the game, but it'll be fun when it hits."
Baker won the chance to lead the Bucs in the regular season.
The progress Baker has shown since signing in March has given his teammates reason to believe in him. 
READ: Quarterback competition over, Bucs officially make Mayfield QB
"I think he is getting really comfortable at getting the offensive scheme," said Chris Godwin.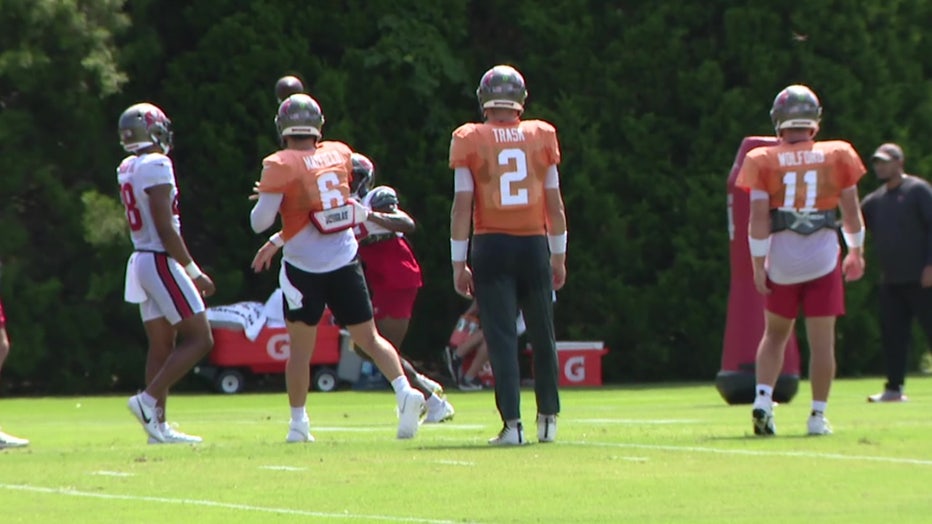 "Getting comfortable with the terminology, and effectively communicating what he is looking for with the receivers, and their relationship growing as a whole. As the weeks and days start, I see him getting more and more comfortable with that."
"I think just Baker's confidence in our offense, being able to make the checks, make the checks at the right time, doing all that sorts of stuff," said Tristian Wirfs. 
"I think he and [Offensive Coordinator] Dave [Canales] have grown together in this offense. Obviously, Dave brought it, but I think it's been great."
Not many Bucs have experienced what it's like to play in U.S. Bank Stadium in Minneapolis.
READ: Mayfield shines in Bucs preseason win over the Ravens
The Bucs lone game in the Vikings' new stadium came in 2017. They lost 34-17.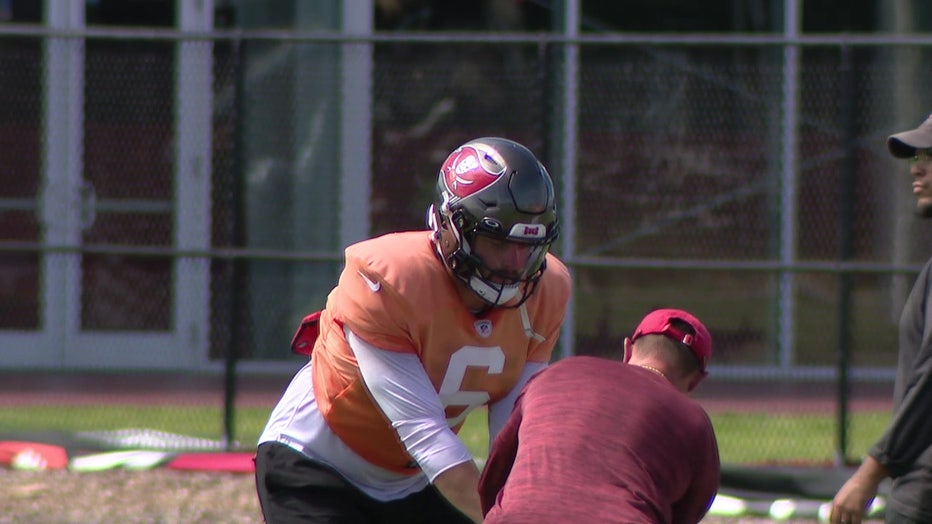 Mayfield, however, is 1-0 against Minnesota.
With the "SKOL" chant, Viking fans make it a loud but fun place to play. 
"The 'SKOL' chant is awesome," said Mayfield. "It's one of those traditions you enjoy as an away team. They're extremely loud on third down and when you're backed up in the red zone or close up, about to score. It's just a fun environment to play in and those are things that you always look back. It's one of those football moments you truly enjoy as an opponent."
While there's a national perception that the Bucs won't win many games this season, Baker has a confident belief.
"For me, it's to cherish that moment, take advantage of the opportunity," said Mayfield. "I know what's at stake here, but it's one game at a time. If I take care of business here, we'll win many football games."