The major Facebook change that affects your post-death digital life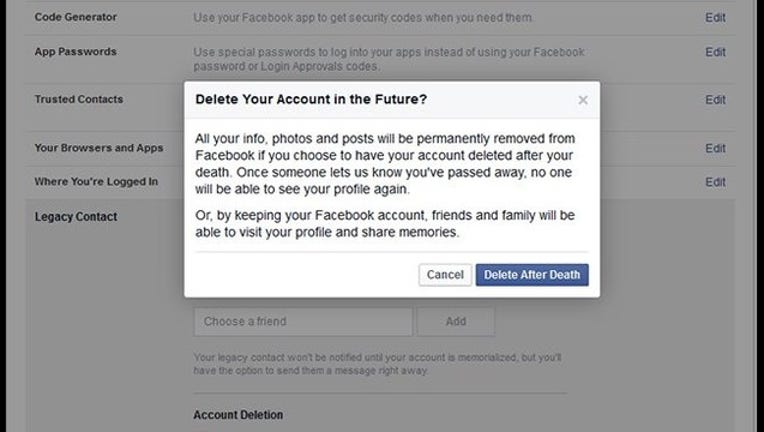 article
It's time to decide what happens to your Facebook account when you die.
On Thursday morning, the social networking giant rolled out a big change to deal with the on-going dilemma of post-death digital life.
It's called a "Legacy Contact," a family member or friend who is in charge of handling your Facebook activity when you pass.
There are several options, and you choose what the legacy contact is allowed to do.

It's a change of heart for Facebook, which for many years has balked at fully diving into the issue. The fine line between a person's right to privacy and a grieving family's access has been a hot-button issue – even bringing-on some lawsuits.
The company hopes this new change will help ensure that your online life is either remembered or deleted in the way you see fit. If you so choose, a legacy contact would be able to:
--- Write a post to display at the top of the memorialized Timeline (for example, to announce a memorial service or share a special message)
--- Respond to new friend requests from family members and friends who were not yet connected on Facebook
--- Update the profile picture and cover photo

If you allow your profile to exist after death, the contact would not have access to things like private chats or messages.

Another option you now have is to permanently shut down your account after death. Prior to this, Facebook simply converted the profile to a "memorial account."
"By talking to people who have experienced loss, we realized there is more we can do to support those who are grieving and those who want a say in what happens to their account after death," Facebook says of the change.
So, how do you do it?

Go into the "security" portion of your settings. You should see the "Legacy Contact" option in that menu now. You can choose a person there, and even send them a message about your decision.

The option to "delete after death" is just below.

Of course, all of this is optional. If you choose to do nothing, Facebook will continue to transition your account to a memorial page, a feature that also received a redesign today.