Rays not ready to commit to St. Pete despite mayor choosing team's own plan to redevelop Tropicana Field site
ST. PETERSBURG, Fla. - Out of four potential developers, St. Pete's mayor said he thinks the proposal put forth by the Tampa Bay Rays (and developer Hines) is the best option for redeveloping the Gas Plant District and Tropicana Field for the future of the city. 
After Mayor Ken Welch announced his favorite proposal during his State of the City address Monday, the Rays held its own press conference, but officials with the team said they've just reached the starting line. 
"Here we are, at the end of the beginning. We made it to the starting line, but we have a long race ahead of us," explained Brian Auld, one of two team presidents.
Among the obstacles still ahead – Auld said — are tax agreements with the city and county, public input, and making sure to honor the history of the Gas Plant District.
It's not clear how long the process to get the Rays to commit to St. Petersburg could last.
What is in the Hines-Rays proposal?
The Rays teamed up with developer Hines to put its own development plan forward. Hines, a Texas company, has a "presence in 314 cities in 28 countries," according to its website, and 65 years in the real estate game.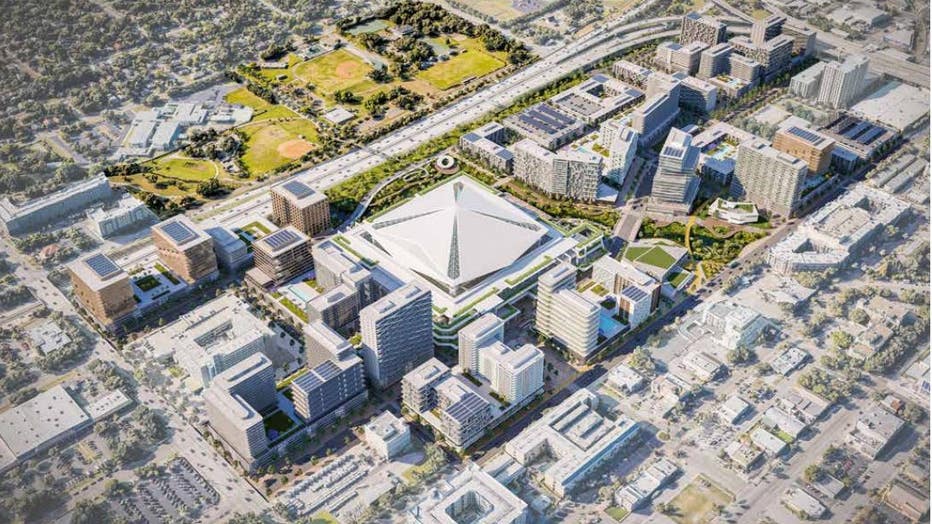 Aerial rendering of proposed ballpark, provided by Hines and Tampa Bay Rays,
The stadium design is a fixed roof pavilion concept, and the facility would be open year-round for events outside game days, such as conferences and meetings in conjunction with nearby hotels and hospitality groups.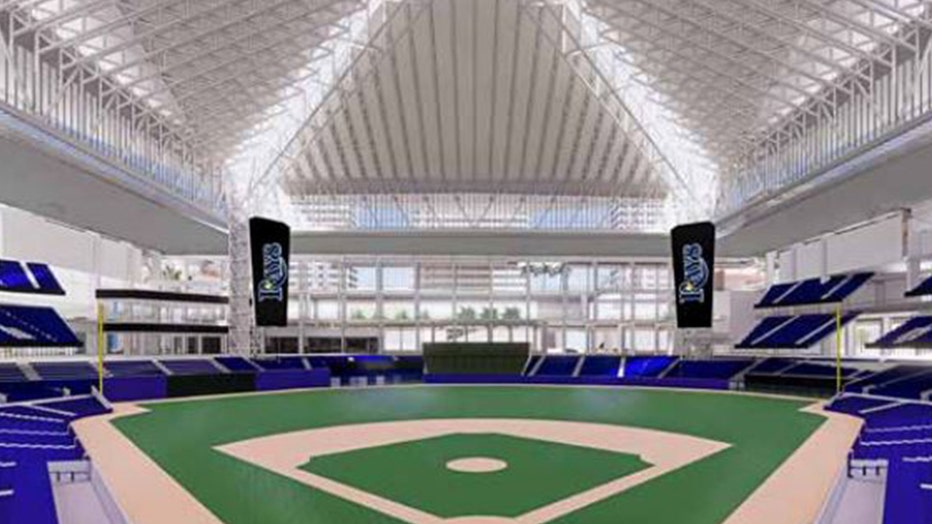 Rendering shows inside pavilion-style ballpark proposed by Hines and the Tampa Bay Rays.
Surrounding the pavilion would be "gameday street experience centers" along 2nd Street, with food and beverage options and with an event plaza. Construction of the new 30,000-seat ballpark would be between 2024 and 2027.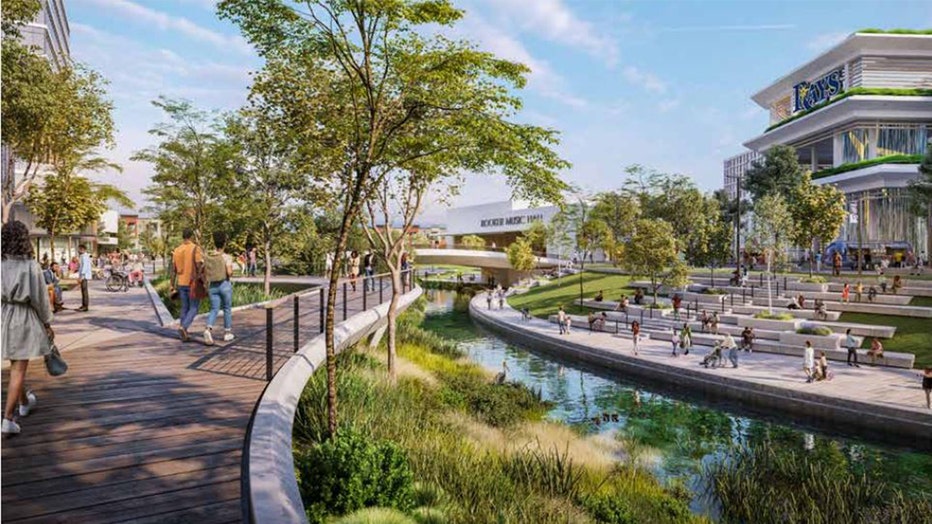 Booker Creek Greenway looking north toward the Ballpark and Booker Music Hall. (Provided by Hines and Tampa Bay Rays)
Hines and the Rays listed the other companies they would work with on the redevelopment project, including Dantes Partners, a Black-owned business in Washington D.C. That company would take the lead with the affordable and workforce housing units. 
Hines and the Rays hope to build senior living, a sports sciences incubator, arts education space, plant a tree canopy, incorporate higher education, connect Woodson African American Museum to the Heritage Trail, Campbell Park, and the Deuces, plus, implement a restoration program for Booker Creek and downstream waters. 
They have pledged 23% of their housing will be affordable, including 850 affordable and workforce housing units on-site, and an estimated 600 off-site residences.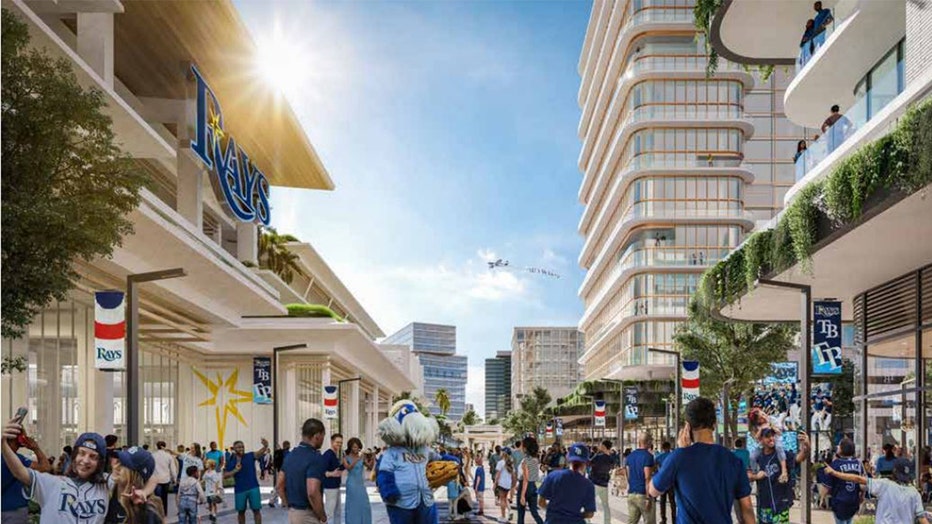 More specifically:
Mixed-Income Housing: 256 income-restricted units will be developed within mixed-income buildings on-site (5% of all units developed within mixed-income buildings, 128 affordable and 128 workforce housing)
Low-and Moderate-Income Housing: 603 low and moderate-income housing rental units will be developed on-site
Hines and the Rays say they will commit $15 million through diverse rental assistance and homeownership programs throughout the south and west sides of St. Petersburg
The ballpark will be the "anchor" for the entertainment and economic areas of the development. They said small and medium storefronts would be the focus and an opportunity to attract new local, independent retailers and for existing St. Pete business owners to relocate to the site.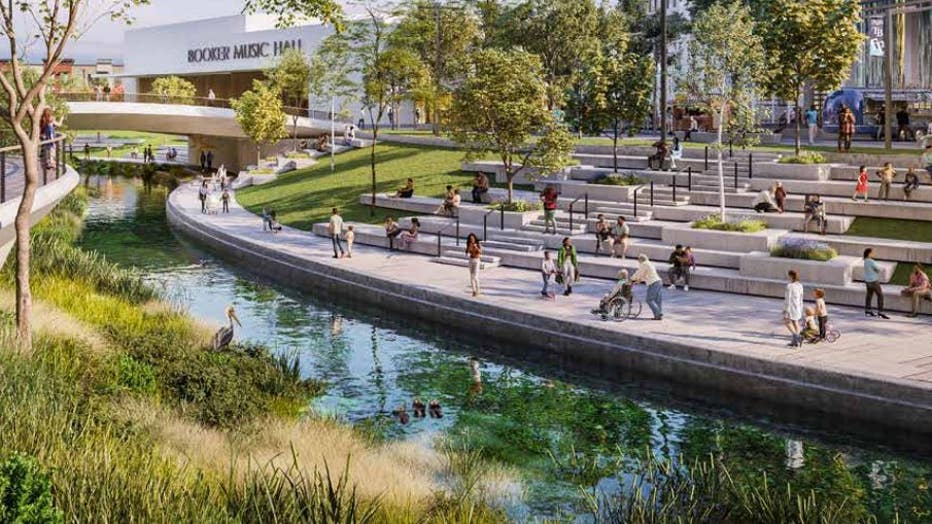 Civic space along Booker Creek (Hines and Tampa Bay Rays)
Plus, they suggest including a 2,500-3,000 seat live entertainment venue, and a "Health, Wellness, and Innovation District Zone" to include mid- to high-rise office buildings for sports medicine, sports science and other life sciences research. It would likely involve Bayfront Health and USF St. Pete to promote public health initiatives. 
Moffitt Cancer Center has apparently expressed interest in developing a new facility at the site.
Hines and the Rays also tapped Tampa Bay Watch and Janicki Environmetal, Inc. as the project's environmental consultants.
LINK: Hines & the Rays' full proposal can be viewed by clicking here
The stadium architect would be Populous, who has created more than 154 ballpark sites. Their designs include the Yankee Stadium, Climate Pledge Arena, and the Field of Dreams. Their relationship with the Rays started 15 years ago with the spring training facility in Port Charlotte. The civil engineer would be Kimley-Horn, who designed the new St. Pete Pier.
The Rays noted at the start of the proposal, that they've "never shied away from using their platform." They went on to list examples, including favoring the Supreme Court ruling on marriage equality and publicly calling for the removal of a Confederate Monument at the Hillsborough County Courthouse.
They also touched on the history of the Gas Plant neighborhood, saying the team spent "hundreds of hours listening, learning, sharing and teaching one another."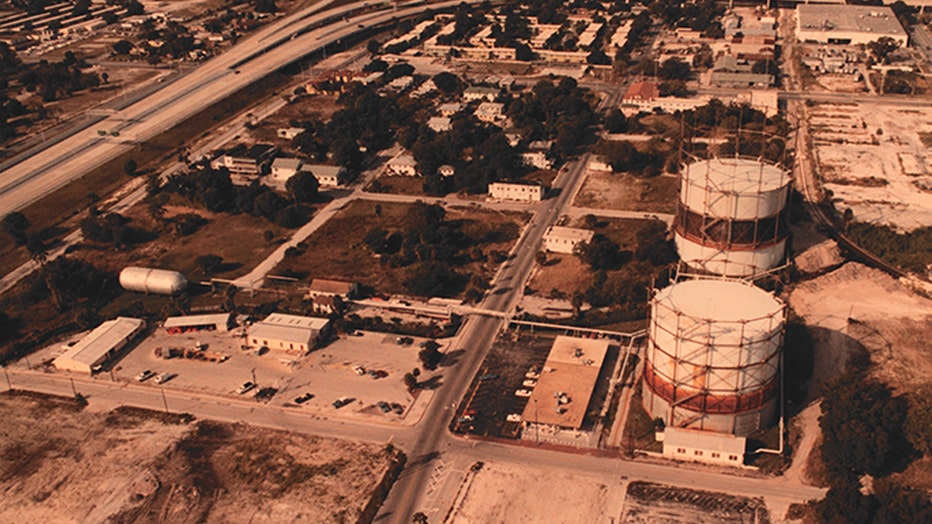 Aerial view of the Gas Plant District with the iconic twin cylinder towers pictured. (Provided by the City of St. Petersburg)
"We are well aware that we cannot undo hundreds of years of racism with one project," the proposal stated. "Our project envisions a $50 million intentional equity commitment in partnership with the South St. Petersburg community, one that aims to produce a rich, urban experience mixing multiple scales of ground-floor retail, multi-generation affordable restorative housing, space for education, recreational play, and bolstering of … job opportunities."
Childcare is also an initiative they hope to provide space for by working with existing preschools in the South St. Pete area to build their capacity and include satellite locations for existing businesses in the Gas Plant District.
In addition, Hines and the Rays say they want to address the Oaklawn Cemetery, which operated from 1905 to 1926. The site is now where a portion of the Tropicana Field parking lot is located. First, they want to identify and remediate any potential environmental issues and honor the families of their loved ones. 
"Efforts will be undertaken to identify descendants and stakeholders connected to Oaklawn Cemetery and a thorough archeological work plan will be created before any additional development is pursued on the site."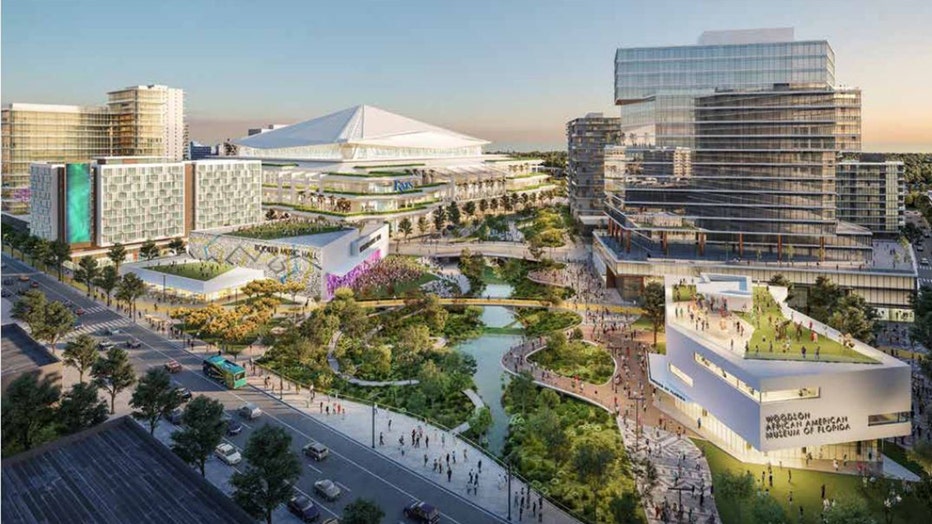 The other development finalists
The three other finalists were Sugar Hill Community Hill, 50 Plus 1 Sports and Restoration Associations.
When Welch entered the role as the city's top leader, he had to play a balancing act that included keeping the Rays in St. Pete and fulfilling a broken promise to the Gas Plant community. Last summer, he restarted the proposal process all over again to find the right fit for the downtown area, saying the city's priorities changed over the years, and he wants to ensure a project of this scale will be in line with future needs.
He also noted the Rays weren't involved in the original request for proposal (RFP).
"It was not a comment on the previous RFP," he said Monday, "but the realization of opportunities for a better path forward."
He requested plans must include 17.3 acres for a baseball stadium, honor the Gas Plant District's history, have green space and office space, economic development that benefits everyone, and affordable housing. 
That area used to be home to hundreds of Black residents, but they were forced to relocate as city officials in the 1980s chose their neighborhood to build a stadium and attract an MLB team.
LEARN MORE: Gas Plant District in St. Pete: One of the oldest Black neighborhoods razed for baseball
Residents were promised an economic return for their sacrifice, but that didn't happen. Mayor Welch previously said that it's not too late.
"The history of the Historic Gas Plant neighborhood is a story of a dream deferred but through my decision today…it will no longer be a dream denied," Mayor Welch said during his State of the City. "As a child of a Historic Gas Plant District, I consider it to be sacred ground. It has a history that predates baseball. It was a community."
What are the Tampa Bay Rays' options?
Almost 40 years ago, St. Pete began its pursuit to bring a professional baseball team to the city. Spring training has been in the city's roots since 1914, and officials thought it was time the community had its own team.
From soil contamination at the Tropicana Field site to building the team from the ground up, plenty of hurdles were in the way before the Tampa Bay Devil Rays played their first game in 1998. 
MORE: St. Pete and baseball: A relationship that spans over a century
Now, the big question looming over all of this is whether the Rays will actually stay in St. Pete. The team hasn't officially given a clear statement, but now that their proposal was chosen, the community is waiting for an answer.
In a statement given to FOX 13 over the weekend, Rays President Matt Silverman said:
"Our goal remains keeping the Rays in Tampa Bay for generations to come, and we are tirelessly working to that end."
Considering he said, "Tampa Bay" in his statement, city leaders across the Bay are hopefully they'll be able to lure the team over to their side in Tampa.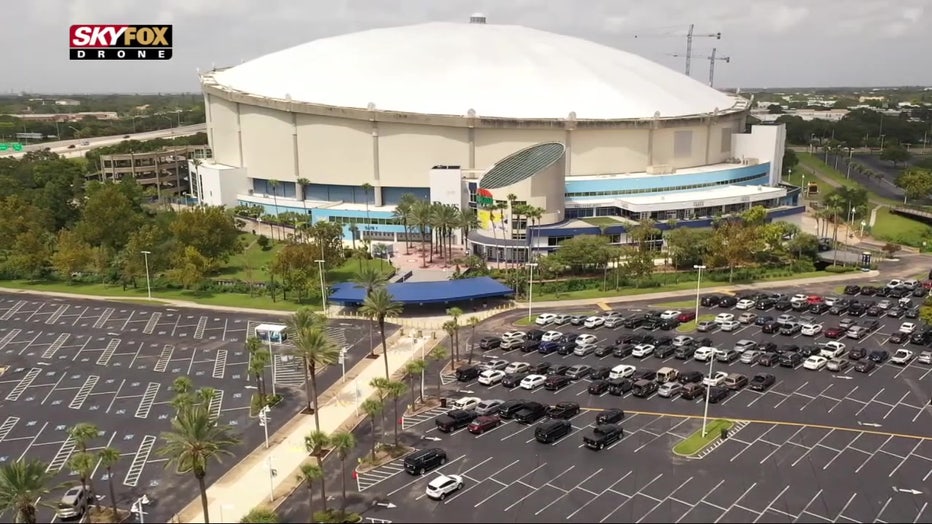 On Friday, Hillsborough County Commissioner Ken Hagan said talks with the Rays are progressing. He said Tampa officials met with the team last week and the Rays have chosen a future stadium site in Ybor City.
"Things are progressing," he told FOX 13's sports director Scott Smith. "We met with the Rays as recently as last week. It's critically important that the Rays remain in Tampa Bay, so I'm confident they will, at the same time, I'm also confident that the Rays will choose Tampa. They've hand-selected a site in Ybor City. We're excited about it and I think the discussions will certainly intensify here in the weeks to come."
That location, according to Hagan, is the Ybor Harbor, a 33-acre piece of land sitting along the Ybor Channel, next to Port Tampa Bay. The property was recently purchased by real estate investor Darryl Shaw. 
So far, he's submitted two sets of renderings for this site – one with and one without a ballpark.
Hagan said after the announcement Monday that he fully expected the Rays proposed plans to be chosen. He said the announcement gets the Tampa Bay community one step closer to securing a long term home for the team, saying "We are on the clock and are prepared to negotiate with the Rays."
"There's a reason why the Rays have been regularly meeting with us, with our most recent meeting taking place about a week ago," Hagan said. "That's because they know attendance will be much higher and the revenue generated will be significantly greater in Tampa."
The team's lease on Tropicana Field ends in 2027.
Who will pay for the Historic Gas Plant redevelopment project?
"How do you base a plan for a new stadium when there is no funding for it," asked William Henry, manager of Restoration Associates. "So, we've been saying show me the money, and no one has been able to show us the money."
St. Pete officials say funding sources for a new ballpark will be up to the Rays and the city, adding that negotiations on how to fund it will eventually begin this year. At the moment, the city is unable to identify a source.
PREVIOUS: How will St. Petersburg pay for a new Tampa Bay Rays ballpark? It's still unclear, city says
To what extent and how much funding is still uncertain, according to the city. So, will enough money come from the city, county, and state? Will voters have to approve a tax referendum?
The city says it's all on the table but nothing is certain yet.