How will St. Petersburg pay for a new Tampa Bay Rays ballpark? It's still unclear, city says
ST. PETERSBURG, Fla. - The cost of a new ballpark on the allotted 17 acres of land in St. Petersburg's Gas Plant District redevelopment has a price tag in the billions, and it is uncertain how it is going to be paid for, according to a spokesperson with the city.
Mayor Ken Welch is expected to decide on which proposal he'll be moving forward with on Jan. 30 during his State of the City address. Residents had until Jan. 23 to submit their feedback on each proposal.
Out of the four proposals that are on the table, two proposals were recommended by the consultants hired by the city. They believe Sugar Hill Community Partners and Hines/Tampa Bay Rays provided a detailed plan that best met the city's needs.
50 Point One and Restoration Associates are still being considered but fell short of the endorsement. Now, the manager of Restoration Associates, William Henry, says there's a big question about the redevelopment's future: Who is going to pay for it?
PREVIOUS: St. Petersburg consultant favors Sugar Hill, Hines-Rays' Tropicana Field plans
"How do you base a plan for a new stadium when there is no funding for it," Henry said. "So, we've been saying show me the money, and no one has been able to show us the money."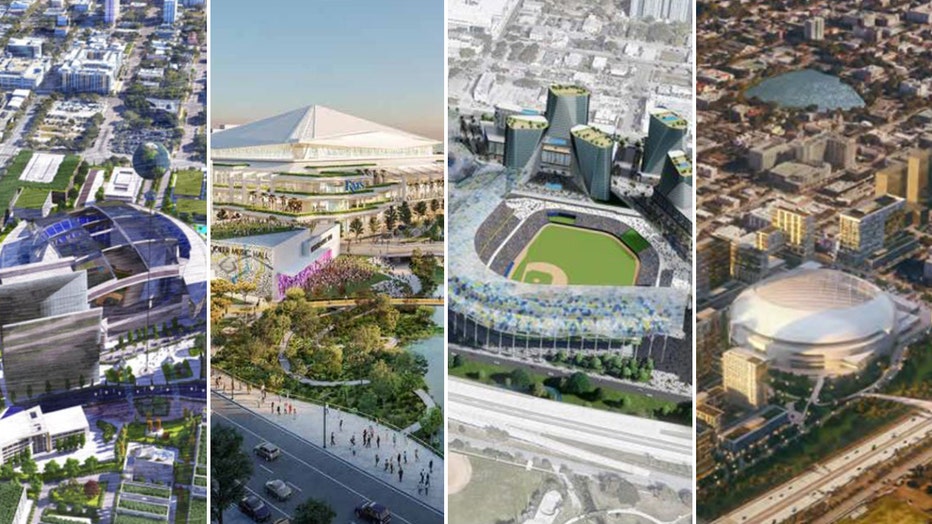 Henry says his proposal is unique to the other three because it includes a "Plan B," in case there isn't enough funding for a new ballpark.
IN-DEPTH LOOK: What's in the final four proposals for the Gas Plant District?
"We've identified $600 million which sounds like a lot of money, but that's not going to pay for a brand-new stadium, anywhere close, because we're talking in the billions of dollars," he explained. "So, what about fixing up Tropicana Field? We think we can make a major impact on Tropicana Field with $600 million by opening it up and creating a park around it."
St. Pete officials say funding sources for a new ballpark will be up to the Rays and the city, adding that negotiations on how to fund it will eventually begin this year. At the moment, the city is unable to identify a source.
To what extent and how much funding is still uncertain, according to the city. So, will enough money come from the city, county, and state? Will voters have to approve a tax referendum?
The city says it's all on the table but nothing is certain yet.
Last summer, Mayor Ken Welch restarted the proposal process all over again to find the right fit for the downtown area. He said the city's priorities changed over the years, and he wants to ensure a project of this scale will be in line with the city's future needs.
To that end, he asked developers to submit proposals with a greater emphasis on affordable and workforce housing. Mayor Welch said his vision is to create an 86-acre neighborhood that's more than just a stadium. Right now, the space is mostly black asphalt parking lots that surround the Trop.
Mayor Welch says the plans must include a baseball stadium, it must honor the Gas Plant District's history, have green space and office space, economic development that benefits everyone, and affordable housing.
LEARN MORE: Gas Plant District in St. Pete: One of the oldest Black neighborhoods razed for baseball
That area used to be home to hundreds of Black residents, but were forced to relocate as city officials in the 1980s chose their neighborhood to build a stadium and attract an MLB team.
They were promised an economic return for their sacrifice, but that wasn't exactly fulfilled.
Last month, Tampa city officials released renderings of a one-of-a-kind baseball stadium in the proposed GasWorx District, which would link Ybor and Channelside. Tampa developer Darryl Shaw plans to turn 25 acres of industrial land into a so-called "GasWorx" District. The renderings show a stadium amidst the mixed-use development.
MORE: Plans to redevelop Ybor Harbor doesn't include a baseball stadium for the Rays
However, Shaw recently filed a rezoning request for Ybor Harbor and the renderings show no sign of a baseball stadium.
Unless there's a location the Rays haven't revealed to the public, it appears – at this time – that St. Pete will most likely remain their home.