1980 Sunshine Skyway Bridge disaster video
The gleaming, brightly-lit Sunshine Skyway Bridge is an icon of the Tampa Bay area, but many new arrivals to Florida may be unaware of the tragedy that befell the span's predecessor.
It was on May 9, 1980 when the unthinkable happened: The freighter M/V Summit Venture collided with a support column during a blinding thunderstorm, knocking a 1,200-foot section of the roadway into the water below.
Six cars, a truck, and a bus plunged 150 feet into Tampa Bay, killing 35 people.
WTVT's crews covered the tragedy for hours from the land, the air, and even from the water -- a rare event in the days of limited news-gathering technology.
The video above is our only surviving footage of the disaster.
The current bridge opened in 1987 and has become an symbol for the Tampa Bay area. Portions of the old span remain, though, in the form of the fishing piers at each end of the 'new' bridge.
WHAT HAPPENED
Just after 7:30 a.m. that morning, a sudden storm blew across the mouth of Tampa Bay just as the 600-foot-long Summit Venture was maneuvering through the shipping channel.
Blinded by the rain, harbor pilot John Lerro realized the ship was being swept out of the channel and tried to recover, but the freighter hit one of the concrete bridge supports. When it collpased, a section of the southbound span fell onto the freighter's deck but most of the structure wound up in the water 150 below.
Six cars, a truck, and a Greyhound bus sank into the water. In all, 35 people were killed.
Richard Hornbuckle's car was left dangling over the edge. Moments after escaping, he talked to a WTVT news crew.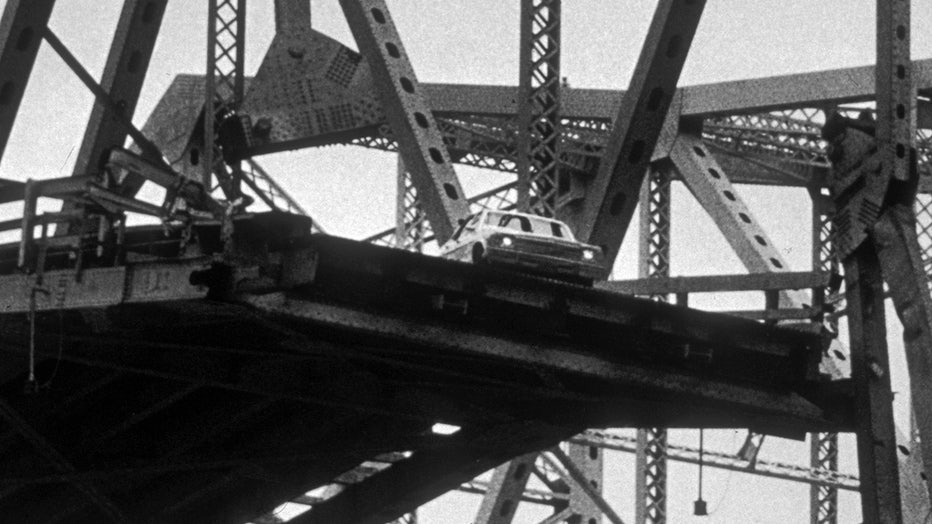 A car precariously balanced, just 14 inches short of plummeting 140 feet into Tampa Bay, Florida, after the freighter 'Summit Venture' rammed into the Sunshine Skyway Bridge during a thunderstorm, killing 34 people. (Photo by Keystone/Getty Images)
"It was raining cats and dogs, it was dark, the wind was blowing like a hurricane. I was driving at about 20 or 25 miles per hour. A Greyhound bus or some type of bus passed me doing about 30 or 35, very slow," he explained. "As I came to the very top of the bridge here, I saw the rest of the bridge was out and I applied the brakes immediately and I stopped within about two feet of going in."
Lerro was later exonerated of any blame at a trial that featured one of the first uses forensic meteorology. But his role in the tragedy haunted him until his death in 2002.
RELATED COVERAGE:
2017 REPORT: 'New' Sunshine Skyway Bridge turns 30 years old
2019 REPORT: For first time, Skyway disaster divers recall unforgettable role on tragic day
MORE: Tampa Bay History story archives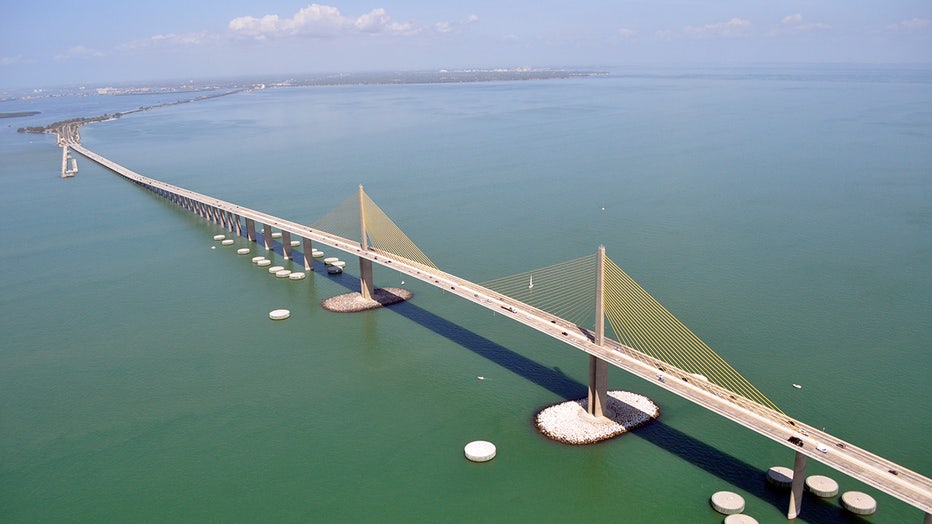 The current Sunshine Skyway Bridge