Here are the most popular national parks for birdwatching this spring
Spring is here and with temperatures rising, bird watchers across the U.S. are gearing up for one of the most awe-inspiring times of the year – spring migration.
The spring migration is a relatively short period of time between February and June when birds leave their winter homes in the south and begin their journeys north.
And with this exciting time of year upon us, experts with the birding app Birda have revealed the top national parks you can travel to in order to check out the beauty of spring migration.
7 FACTS ABOUT US NATIONAL PARKS
Arizona: Grand Canyon National Park
Birds at Grand Canyon National Park in Arizona include the Peregrine falcon, California condor, Common raven, Steller's pinyon, Red-tailed hawk, Scrub jay and Canyon wren.
Birda says that the park hosts at least 370 bird species, and while some species are of a more common there are also rare birds, like the California condor, Yuma clapper rail, and Mexican spotted owl.
7 WEATHER EXTREMES EXPERIENCED AT NATIONAL PARKS
California: Pinnacles National Park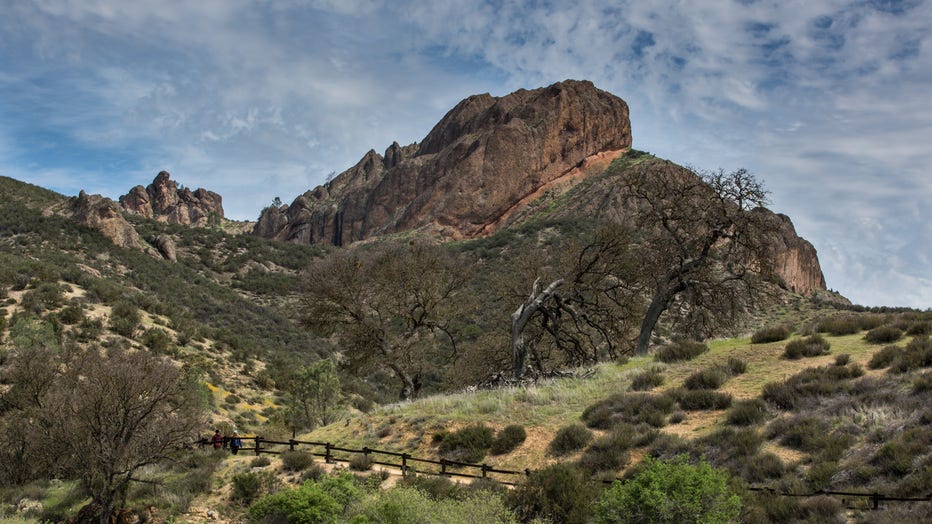 Unusual rock formations and oak and pine trees dot the western edge of Pinnacles National Park as viewed on April 12, 2018, near Soledad, California. Pinnacles National Park is a designated wilderness protecting a mountainous area located east of the
Birds within Pinnacles National Park in California include the California quail, California condor, Turkey vulture, Golden eagle, Prairie falcon, Acorn woodpecker and Steller's jay.
Birda says that although Pinnacles National Park is small and less visited, it is a great birdwatching location with more than 160 bird species.
There are several woodland birds and birds of prey within the park, and it's also one of few parks where you can see the California condor, a species released at the park after it was bred in captivity.
WHY THE HOTTEST PLACE ON EARTH IS BEING USED TO UNDERSTAND ALIENS
Florida: Everglades National Park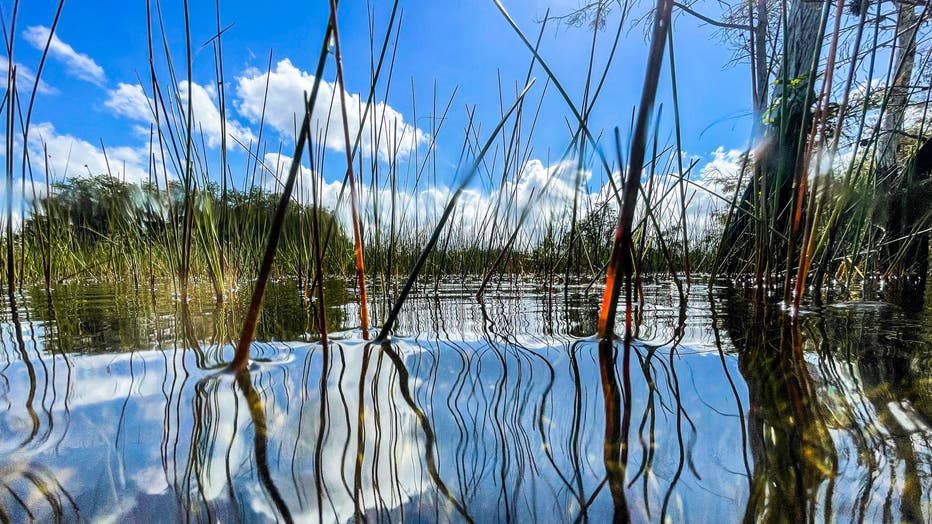 Water vegetation is seen under the water in Everglades wetlands in Everglades National Park, Florida on September 30, 2021. (Photo by CHANDAN KHANNA/AFP via Getty Images)
There are more than 300 species of birds within Florida's Everglades National Park, including the Wood stork, Roseate spoonbill, White ibis, Green-backed heron, Snowy egret, Red-tailed hawks, Anhinga, Indigo bunting and Red-bellied woodpecker.
Birdwatchers at the national park can observe birds of prey, land birds and wading birds within the Floridian wetlands, according to Birda.
Millions of birds live in the Everglades, so the chances of seeing your favorite bird species are high. Birda says the best birding spots include the Homestead, Anhinga Trail, Paurotis Pond, Nine Mile Pond and Mrazek Pond.
7 THINGS TO KNOW ABOUT EVERGLADES NATIONAL PARK
Hawaii: Haleakala National Park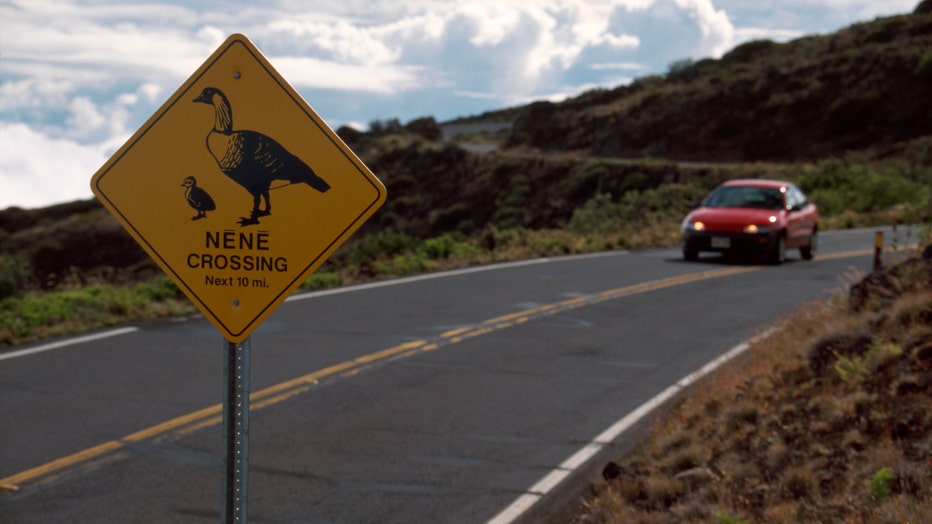 Haleakala National Park 38-mile Haleakala Highway, Nene goose crossing sign. (Photo by: Jeffrey Greenberg/Universal Images Group via Getty Images)
The birds in Hawaii's Haleakala National Park include the Hawaiian short-eared owl, Nene goose, Honeycreeper, Maui petrel and Mauri Parrotbill.
Hawaii is one of the most remote archipelagos in the world, and the birds found there are unique, according to Birda. Many birds are native to the area, endemic, and have ancestors who landed on the island millions of years ago.
Birda added that the best birding spot is on Hosmer Grove Trail, right near the campground of the same name.
THE MOST POPULAR NATIONAL PARK SITES VISITED DURING THE SPRING
Indiana: Indiana Dunes National Park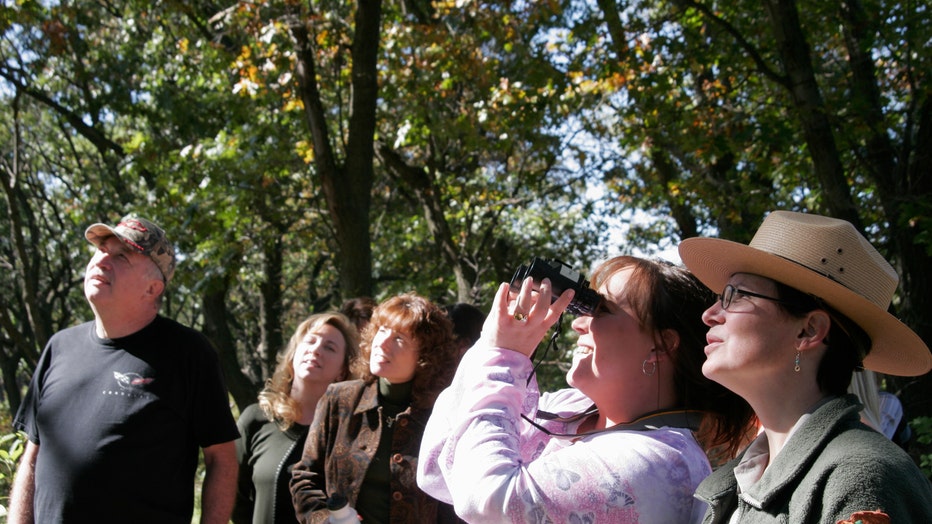 A ranger giving a guided tour of Miller Woods at Indiana Dunes National Lakeshore. (Photo by: Jeffrey Greenberg/Universal Images Group via Getty Images)
Birds at Indiana Dunes National Park include the Virginia rail, Red-throated loon, Green heron, Great blue heron, Waterfowl and warblers, according to Birda.
The national park is home to about 285 species of birds, as well as the endangered Karner blue butterfly.
Birda suggests the best time to visit is during spring and fall, when thousands of birds migrate through.
THESE ARE THE DAYS NATIONAL PARKS WILL HAVE FREE ADMISSION IN 2023
Maine: Acadia National Park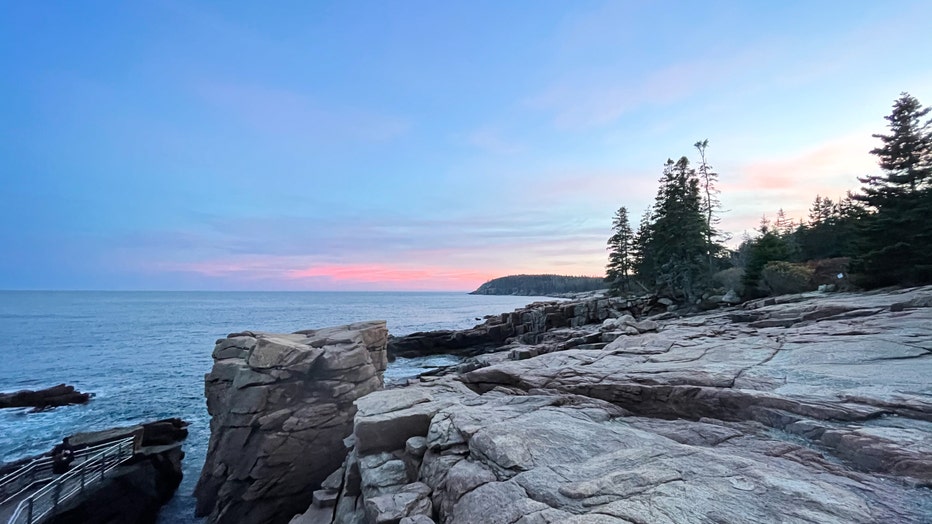 Thunder Hole, Acadia National Park, Maine (Photo by Karla Ann Cote/NurPhoto via Getty Images)
According to Birda, Acadia National Park in Maine boasts 261 species of birds, including the Bald eagle, Atlantic puffin, peregrine falcon, Blackburn warbler and the woodpecker.
The variety of birds is what draws many people to the park, with birds of prey, seabirds and boreal birds all in abundance.
Birda added that many of the birds live there all year, but some species stop at Acadia on their treks north and south every year.
WATCH: ROCKFALL IN YOSEMITE NATIONAL PARK CRASHES DOWN THE SIDE OF EL CAPITAN
New Mexico: Carlsbad Caverns National Park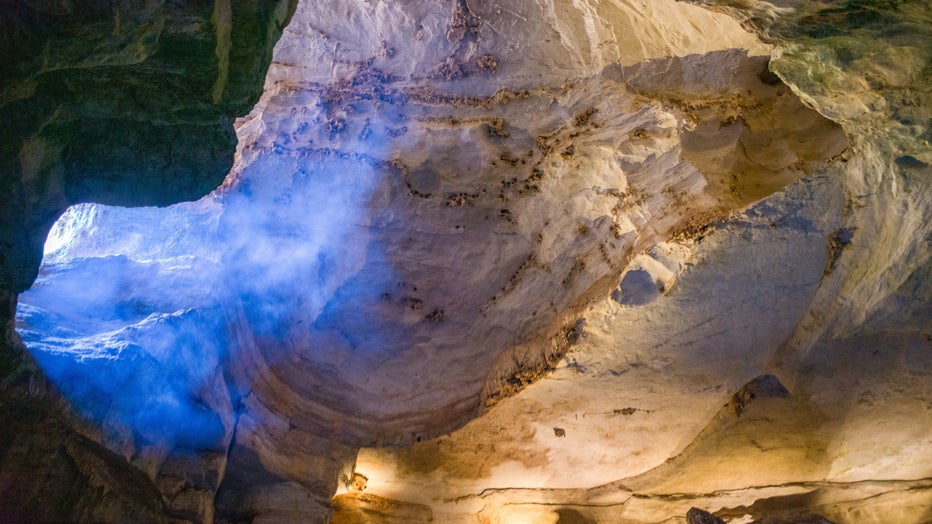 Carlsbad Caverns National Park - New Mexico. (Photo by: Edwin Remsberg/VW Pics/Universal Images Group via Getty Images)
According to Birda, Gray and Bell's vireo, Vermillion flycatcher, Cactus wren, Ladder-backed woodpecker and varied bunting are the birds to be on the lookout for at New Mexico's Carlsbad Caverns National Park.
Birders report anywhere from 310 to 357 bird species at the Carlsbad Caverns. Birda says more than 300 of those species have been seen at Rattlesnake Springs Park.
THE TOP 10 MOST VISITED US NATIONAL PARKS AND MEMORIALS
Texas: Big Bend National Park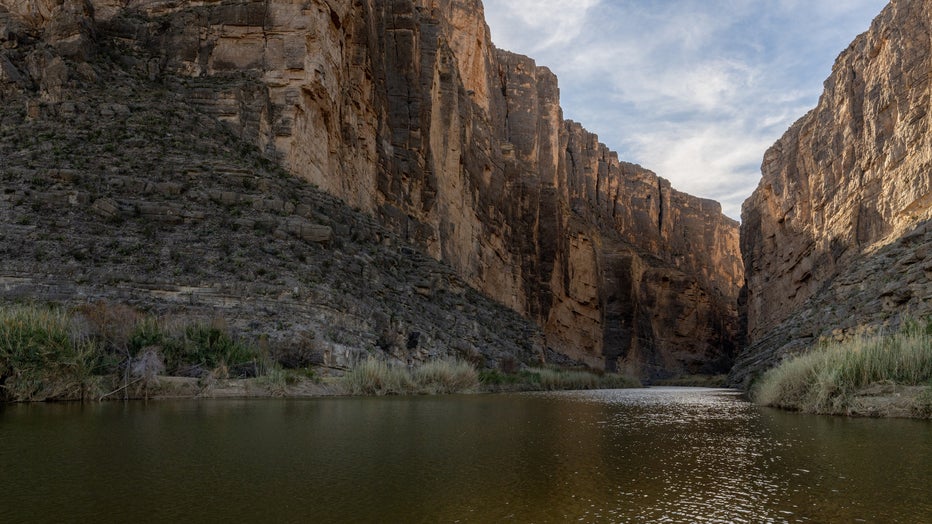 The Rio Grande flows through the Santa Elena Canyon in Big Bend National Park on January 27, 2023 in West, Texas. (Photo by Brandon Bell/Getty Images)
Big Bend National Park in Texas is home to several bird species, including the Vermillion flycatcher, Colima warbler, Mexican jay, Lucifer hummingbird and Green kingfisher.
Big Bend National Park borders Mexico, so Birda says it presents a unique opportunity to see birds rarely seen in northern parks.
This is especially true of the Colima warbler, which you can't reliably find anywhere else in the USA, according to Birda.
There are more than 450 different bird species at Big Bend National Park.
HERE'S WHY THERE COULD BE PINK SNOW AT YELLOWSTONE THIS SUMMER
Washington: Olympic National Park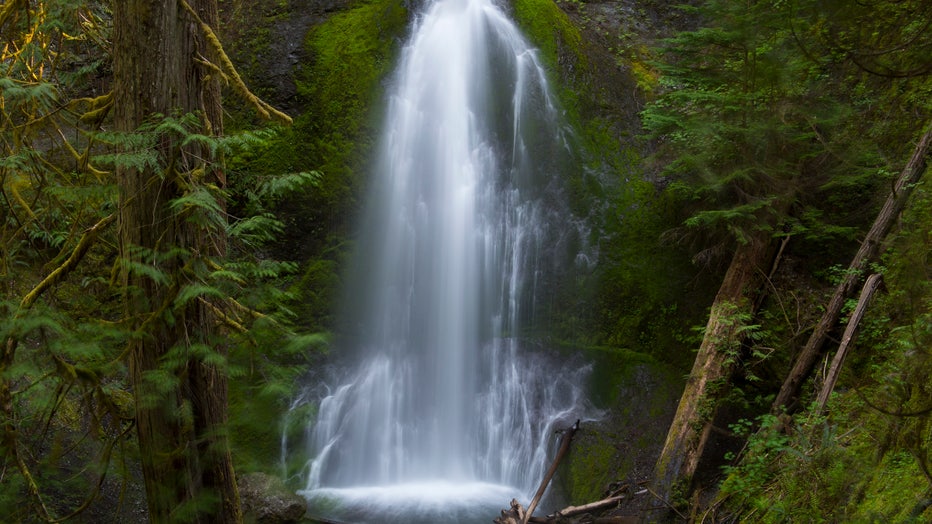 Marymere Falls on the Olympic Peninsula in the Olympic National Park in Washington State, USA. (Photo by Wolfgang Kaehler/LightRocket via Getty Images)
The Bald eagle, Western gull, Red-breasted sapsucker, Woodpecker, Belted kingfisher, Steller's and Gray jay, Blue grouse, Peregrine falcon and Northern pygmy owl are all birds found in Olympic National Park in Washington state.
Birda says you can find diverse scenery and even more variety while birdwatching. Located east of Seattle, the national park is full of beaches, forests, waterfalls, moss, ferns and mountains.
There are more than 250 bird species at the park, according to Birda.
7 THINGS TO KNOW ABOUT YELLOWSTONE NATIONAL PARK
Wyoming, Idaho, Montana: Yellowstone National Park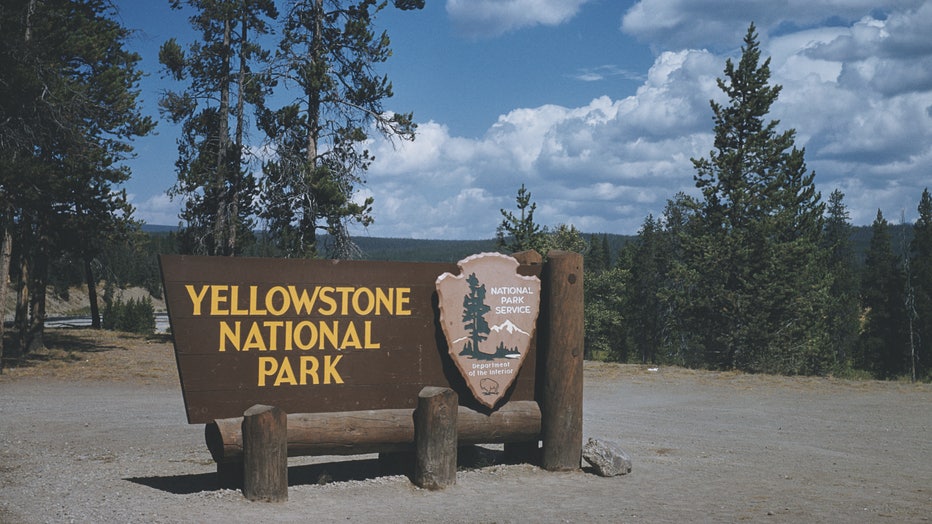 A sign at the south entrance to Yellowstone National Park, Wyoming, courtesy of the National Park Service, Department of the Interior, USA, circa 1965. (Photo by Archive Photos/Getty Images)
Yellowstone National Park is one of the most popular national parks in the U.S. and is home to the Bald eagle, American white pelican, Canada geese, Common loon, Osprey, Sandhill crane, Trumpeter swan and American dipper, according to Birda.
There are nearly 300 bird species in this park.