Chick-fil-A celebrates Valrico grand opening, will give away year supply of meals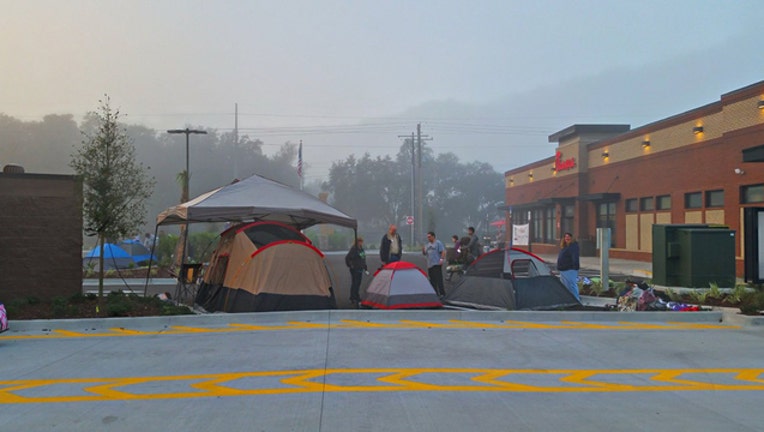 article
VALRICO (FOX 13) - Campers pitched tents in front of Valrico's brand new Chick-fil-A location a full day before the restaurant's grand opening on January 26. 
The chicken-loving campers aren't just excited to be the first customers at Valrico's first Chick-fil-A location, they are also hoping to win a big prize. The restaurant will be awarding the first 100 customers with a year's supply of Chick-fil-A. 
Chick-fil-A says they expect the parking lot to be completely filled with campers the evening before the Thursday opening. Campers began filing into the parking lot as early as 7 a.m. Wednesday. 
But this isn't just a contest, it's a party. 
Not only will the first 100 receive a year supply of food, but also they will have the opportunity while camping out Wednesday to improve their lives as well as others in the community during the restaurant's family-friendly overnight "First 100" party.
Guests camping out will have a chance to move their feet with a Zumba class, drum to the beat wth 100 drums provided for a drum lesson, and prepare food to treat those in need at local charities including Meals on Wheels, while also putting together 10,000 meals to support Feeding Children Everywhere.
The event, however, is only open to residents in specific zip codes near the restaurant location. A list of eligible zip codes and rules can be found at https://thechickenwire.chick-fil-a.com/News/Future-Openings.