Class action notice? 7 steps to get paid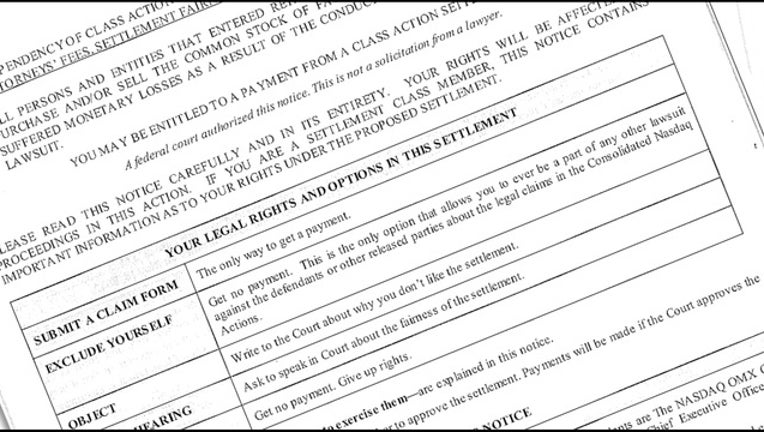 article
TAMPA (FOX 13) - Class action lawsuits are increasingly common. But what should we do when the letter arrives?

1. DO NOT THROW IT AWAY

Very few class action lawsuits will pay you automatically. So, dismissing one of these letters is as foolish as throwing away your money. The case is real and so it the settlement.
It's true that some lawsuits settle for coupons, vouchers, or less. But many offer cash. You'll never know which settlement you're entitled to if you toss the letter as soon as the U.S. mail delivers it.
Recently, I received one stemming  from one share of Facebook stock that I bought as an experiment during its 2012 IPO. The letter is laced with jargon, but it is nonetheless important.
2.  READ IT
While thick when printed (mine was 11 pages long when), class action notices follow a standard format that is surprisingly easy to read. Be sure to look for sections that outline why the suit was filed, what you are due, and instructions for filing a claim. Once you get past the lawyers' mumbo jumbo, much of what you want to know is written in everyday English.
3. DO THE MATH
While it's true that my Facebook settlement amounts to a mere $1.55, that's only because I own a single 'experimental' share. If I had owned a more reasonable amount (say 100 shares), the letter would be worth $155. Before you agree to anything, make sure the figures in the letter match your records.
4. SEEK HELP
If you don't understand part of the notice, don't hesitate to ask for assistance. Many class actions include a help line. Use it. Otherwise, you can ask for legal help (see part 7).
5. FILE ACCURATELY, ON TIME
The letter you received is part of a bona fide court case – often a federal filing. Treat it that way. Carefully complete the forms, make copies or scans for your records, and be sure to meet the court's deadline. Judges don't like tardiness. Late claims are likely to be denied.
6. ASK FOR MORE
Class actions generally give consumers several options, including the ability to file your own lawsuit. If you think you were particularly damaged by the company's alleged wrongdoing, you could possibly recoup more by opting out of the class action. Scrutinize these options before you sign up or opt out.
7. HIRE YOUR OWN ATTORNEY
Confused? Concerned that the class settlement isn't enough? That's when it's time to hire your own lawyer. Some attorneys might even review the notice free of charge. You can start by calling around. Alternatively, ask friends or colleagues for names of lawyers they recommend. You can also locate an attorney via the Florida Bar's member directory:
https://www.floridabar.org/wps/portal/flbar/home/directories/MBR