Clearwater mayor suddenly resigns during city budget meeting
CLEARWATER, Fla. - Clearwater Mayor Frank Hibbard abruptly stepped down from his job during a budget workshop Monday, noting his concern over where the "city is going."
His resignation came about 50 minutes into the meeting. City council members were discussing the funding for a new City Hall, which would cost $90 million on a project that was $60 million in deficit. Hibbard was the only member of the council who was against the move.
The council took a five-minute recess before returning to the chambers. During that time, Hibbard said he called his wife, telling her he planned to resign.
"This is probably one of the toughest things I have ever done in my entire life," he said, "But I know it's right because I'm not a quitter. I'm not the right leader for this council anymore. And I'm concerned where the city is going because this is simple math, and we're not doing very well on the test."
READ: Coachman Park announces name for new concert venue
After resigning, Hibbard, over the phone Monday evening, pointed to the same concerns about a possible quarter billion dollar deficit as part of his reasoning for stepping down. 
"There clearly has not been a separation between wants and needs," Hibbard said. "I don't think you can say you're being fiscally responsible when we would have to burn an incredible amount of money and also get back to our reserves to a level that I think is irresponsible."
Hibbard recommended that former councilman Hoyt Hamilton be named as interim mayor, but no council member has commented on it as they await for additional direction from the city attorney.
Hamilton told FOX 13, "I appreciate his confidence in me. I thought he did a great job and would love to see him stay on and complete the things we got going."
Afer announcing his resignation, Hibbard packed up his briefcase and walked out of the room at the conclusion of his short speech. 
"We always have bumps in the road and as people say, 'If it weren't for people everything would be easy,'" he said. "Thank you all and God bless you and this city. I wish you all the best. Thank you for all you've been to me."
The remaining city council members appeared stunned and called for a 10-minute break. After, the vice mayor, Kathleen Beckman, said she felt "surprised, saddened, and shell-shocked."
"People make significant decisions about their life or work every single day. A lot of factors weigh in on that," she said. "I have no idea why Mayor Hibbard chose to resign today. I'm just as surprised as anyone, but the work goes on and there's work to be done today."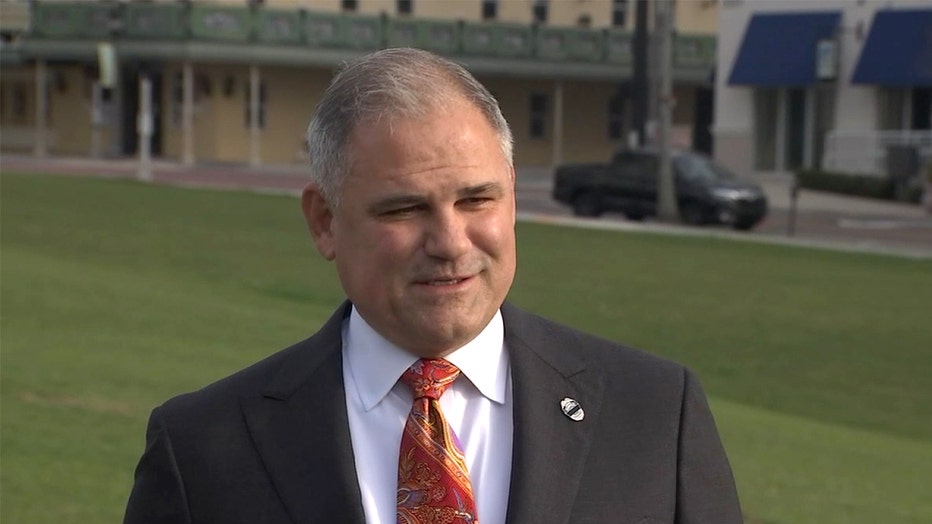 City council members said they expect to move forward with the new City Hall, and still believe Clearwater is moving in the "right direction."
Clearwater City Manager Jennifer Poirrier said the four council members had made it clear by their votes that they wanted to move forward with the projects.
"That was the purpose of our strategic planning process, was to go over and publicly vet what priorities the council wanted staff to focus on and so that's what we did," Poirrier said. 
As for the now-former mayor, Hibbard was in the last year of his final term as mayor. He was elected in 2020.
Previously, Hibbard served on the city council for three terms – between 2002-2012 – two of those terms were as mayor, according to his online biography.  After his first two stints as mayor, he served as the chairman for Ruth Eckerd Hall and Clearwater Marine Aquarium, as well as a board member of the Homeless Empowerment Program and Calvary Christian High School.
Hibbard told FOX 13 during a phone call that he plans to return to his full-time job in wealth management, and wants to play more golf.