Critically endangered Sumatran tiger finds new home at Busch Gardens Tampa Bay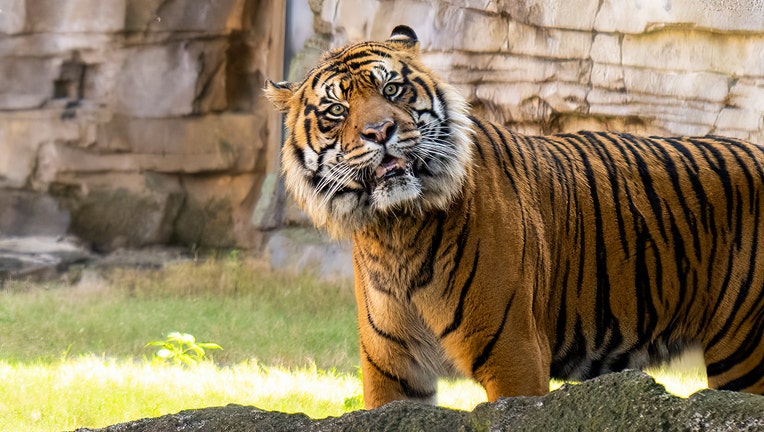 article
TAMPA, Fla. - Busch Gardens Tampa Bay has become the new home to a critically endangered Sumatran tiger.
The 9-year-old tiger, named Bandar, is the park's first Sumatran tiger — a species on the brink of extinction. There are less than 400 known Sumatran tigers remaining in the wild.
Busch Gardens says Bandar is part of the park's participation in the Association of Zoos and Aquariums' Species Survival Plan which helps manage threatened species populations within accredited facilities.
RELATED: Busch Gardens announces new 'Serengeti Flyer' swing ride opening spring 2023
Bandar was transferred from the Point Defiance Zoo and Aquarium in Tacoma, Washington. He will join Rukayah, a Malayan tiger, and Zahra, a Bengal tiger, in his new habitat in the Jungala section at Busch Gardens.
Bandar, a 9-year-old critically endangered Sumatran tiger that now calls Busch Gardens home. (Photo: Busch Gardens Tampa Bay)
"We are very thrilled to provide him with a home for him to thrive, share his story with our guests, and have our zoological facilities serve as a building block for the prosperous future of all tigers," said Jenny Mendoza, Vice President-Zoological for Busch Gardens Tampa Bay.
WATCH: Rescuers form human chain to save dolphin from Clearwater creek
According to National Geographic, the species is threatened by habitat loss due to the expansion of palm oil plantations and deforestation, as well as poachers who seek the tigers for their bones, teeth and skin. 
Sumatran tigers are the smallest of the tigers, reaching up to 300 pounds. They have distinctive beards and manes, and their stripes are closer together. Sumatran tigers also have darker orange fur than other subspecies, which allows them to better blend into their tropical rainforest habitat.