Rescuers form human chain to save dolphin from Clearwater creek
CLEARWATER, Fla. - Rescuers got creative to save a dolphin that had been foraging alone in a creek in Clearwater for more than two weeks.
Brittany Baldrica, a senior rescue biologist with Clearwater Marine Aquarium, said neighbors called about a dolphin swimming alone in the creek on Jan. 1.
A team from the aquarium monitored the dolphin for about 18 days and he didn't leave the creek.
"He was behaviorally ok at that point and then upon talking to other people within the residency, they had said the animal may have been there for at least four days, so we were just concerned separated from other animals," Baldrica said.
"Being in such a small area with a residence around, so it was in a neighborhood, so we were concerned for the potential of human interaction and harassment, so just like with Izzy's story, she was in an area for a prolonged amount of time. People started learning that she was there and then she started dealing with a lot of different harassment issues," she said.
MORE: Baby dolphin injured after getting caught in crab trap now thriving at SeaWorld Orlando
NOAA and its partners rescued Izzy the dolphin in June from Texas after a few years of human interaction caused her health to decline.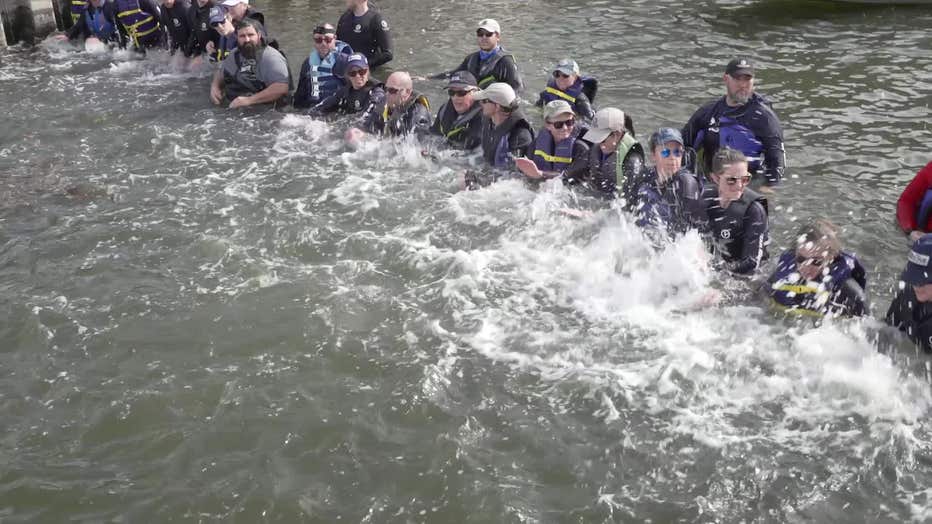 Dolphin rescued from Clearwater creek (Courtesy CMA)
She now lives at the Aquarium. The staff said Izzy got hit by boats and relied so much on the public for food that she didn't know how to find her own food, things they were concerned may happen to this dolphin. 
 
NOAA Fisheries Service decided they needed to intervene. Wednesday, a team of 28 biologists from the Clearwater Marine Aquarium, NOAA and FWC created a human chain that created a visual and sound barrier for the dolphin to help guide it out of the creek and towards Tampa Bay.
Dolphin rescued from Clearwater creek (Courtesy CMA)
"The goal was to not put hands on the animal. The goal was to just be a barrier that was novel to the animal, so we wanted to create a physical barrier as well as an auditory barrier, so we had somebody behind us that was banging on a boat, revving their engine and then we were splashing the water and moving forward towards the animal, so we were giving the animal the option to swim through the bridge on its own," Baldrica said.
"We're thankful to the residents in the area who worked with us to help protect the animal from harassment and provided access to their property while we monitored and rescued the animal," CMA said in a press release.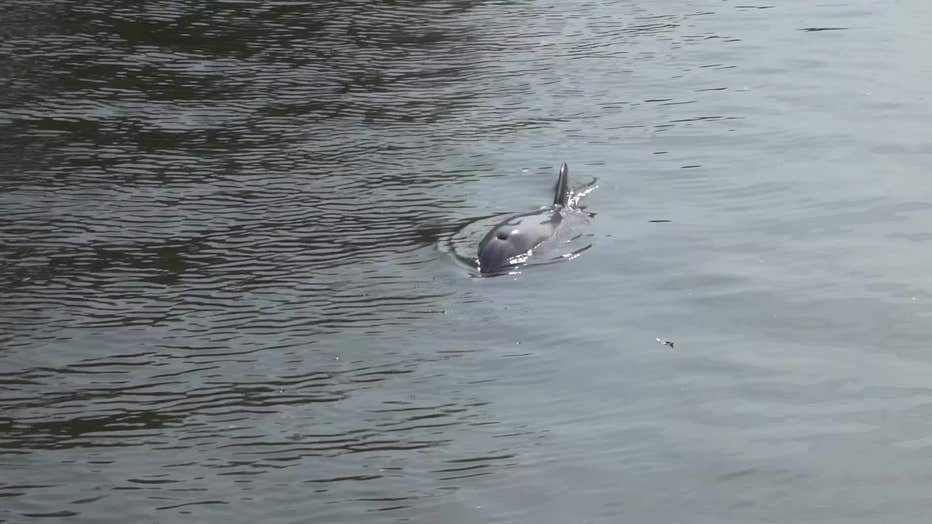 Dolphin rescued from Clearwater creek (Courtesy CMA)
CMA said dolphins are federally protected under the Marine Mammal Protection Act, and harassment, attempting to feed them is illegal. Penalties for interacting with marine mammals include fines up to $100,000 and prison for up to one year.
Anyone who sees an animal in distress is asked contact a local wildlife rescue organization or CMA's 24-hour rescue line at 727-441-1790 ext. 1 in Pinellas, Hillsborough, Pasco, Hernando, Citrus, and Levy counties.