Deadline for unused FSA dollars looms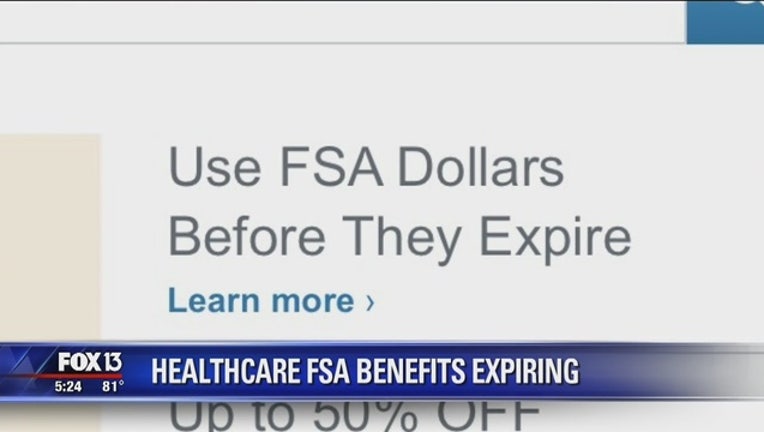 TAMPA (FOX 13) - Your crotchety old boss might be jumping for joy on New Year's Eve. All thanks to your oversight.
Companies nationwide are poised for a year-end windfall worth millions as consumers forfeit funds in their Flexible Spending Accounts.

The FSA is a fringe benefit that allows workers to deduct as much as $2,500 from their paychecks, tax-free, to pay for medical expenses throughout the year. The catch is: most programs require account holders to use it or lose it by December 31.

And when workers lose it, the boss gets to keep your leftovers.

Human Resources firm Mercer estimated that typical abandoned balance is $60.

Some savvy consumers are aware of the pending loss. And, as a matter of savvy tradition, they've flooded one of the easiest places to spend health care dollars: the eyeglass shop.

"We always have a busy December," said Scott Idziak, of Optics Soho in South Tampa. "Flex dollars that are lost at the end of the year… we see more of that."

Idziak acknowledged that many late-December shoppers are being strategic with their FSAs—after all it is their money.

"It's definitely getting in before the insurance re-ups the following year," he said.

The IRS has granted employers latitude in the 'use it or lose it policy,' including the option of grade periods and carryovers up to $500 into the new year. However, many companies remain strict on the December 31 deadline.

New to us this year: dedicated FSA sections on retailers' websites. Walgreens, for example, has outfitted its site with a division that includes only FSA-eligible items. It's genius, and makes it easier than ever to spend that final few dollars.

We recommend exhausting your balance before the ball drops at midnight – so as to prevent an unexpected donation to your company's V.P. of finance.