Dog revived after near-drowning at Tampa dog park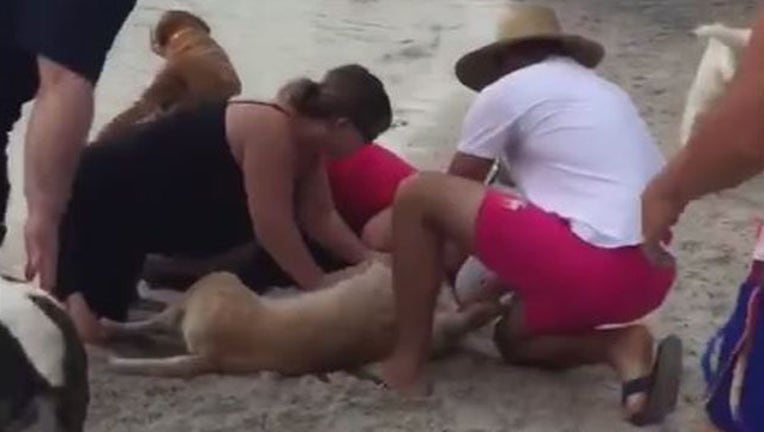 article
There were some scary moments at a dog park on Davis Islands Sunday when bystanders came together to rescue a dog that was drowning.
It happened around 11 a.m.
One of the witnesses, Ignacio Torano, 28, who lives on Davis Islands, said the dog drank too much water. "I was far away when I heard someone yell, 'Can you get the dog, get the dog'," he said. "This dog barely had his head above water," said Torano, who frequents the dog park.
The dog's owner ran into the water with her clothes on, Torano said, and lifted the dog out of the water, then brought her back to shore.
She wasn't breathing.
In the video taken by Torano, you can see a crowd around the pup while someone is seen giving her chest compressions. It was her owner, Torano said, who was giving mouth-to-mouth, trying to revive her. A voice could also be heard yelling, "Come on, Xena! Come on my girl!"
Torano said he turned off the camera when he saw Tampa Firefighters in a firetruck pulling out of the parking lot, and he chased them down to help.
"They came out and sort of took over the situation," said Torano.
After a few minutes, the dog was revived. "She's sitting up! She's sitting up!" someone yelled. Xena sat up and someone carried her away, while the crowd thanked each other for jumping into action so quickly.
Torano said he didn't know the dog's owner, but it appeared the dog would be OK...and he was right.
The owners, Regina and Bill Pugh, have since reached out in response to the story. 
They said they took Xena to the vet immediately, where she was examined and said to be in perfect health. 
"If I had not told [the vet] something had happened, she would have never known."
The Pughs were beyond relieved to hear that Xena was given a clean bill of health, as well as thankful to those who helped rescue her. 
"Our Xena is a sweet and lovable girl who loves belly rubs and swimming, and we are so grateful to live in a community where people are willing to help," they wrote in an email. "Thank you all for everything you did for Xena. I saw the light of God through each and everyone of you."