Expert shows how Bay Area could 'crush' COVID-19 by April with safety measures, vaccine
TAMPA, Fla. - An expert in the spread of infectious diseases hopes to guide the way for Bay Area residents through what could be the final months of the coronavirus pandemic.
University of South Florida Epidemiology professor Edwin Michael created a model to predict COVID-19 trends at the local level. He says even the smallest shift in behavior can make a huge difference, pointing to the late June mask mandates across Tampa Bay as an example.
"By 12th of December, 1.5 million cases would have been infected if there were no facemasks mandate," said Michael. "Once again showing the importance of the social measures."
That means simply wearing a face covering the last six-months may have protected about 1.4-million people in Hillsborough, Pinellas, Pasco, and Polk counties from contracting COVID-19.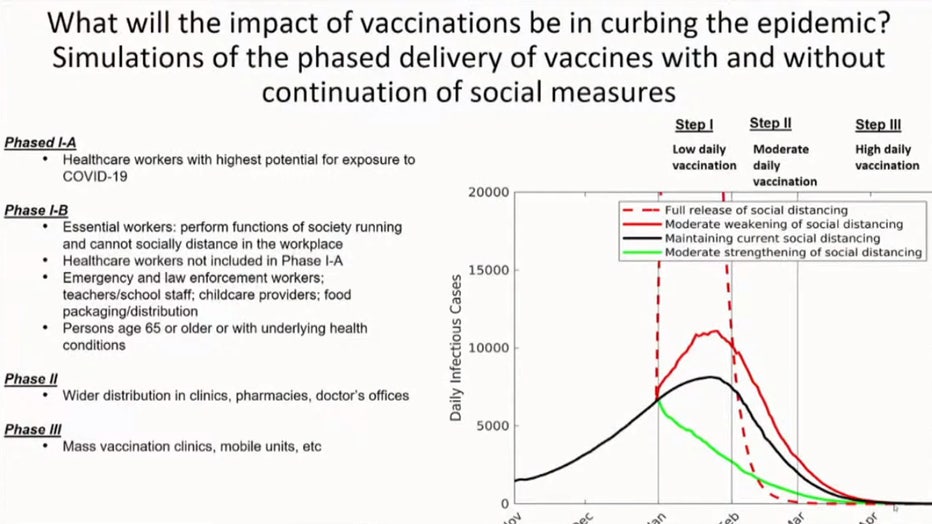 From a presentation to the Hillsborough BOCC by USF epidemiologist Dr. Edwin Michael.
He says masks, social distancing and avoiding large gatherings are now the only real weapons we have to change the trajectory of this latest surge in cases.
The problem is, only doing what we are now may not be enough in our area.
RELATED: Bay Area medical providers prepare for vaccine storage, distribution
The coming wave, it will peak around the end of January and at that point, you will hit 10,000 daily infectious cases," said Michael. "I mean, this is a serious problem."
Because at that rate, the data shows our hospitals will be overwhelmed.  If we relax those precautions even just 10%, cases are forecast to peak at 18,000 new infections daily, and it is estimated that about 5,000 people will not have a hospital bed.
Even with the release of a coronavirus vaccine, the models show it is too late to have an impact on this current surge.
That is why medical experts say it is up to us to flatten this curve and, best-case scenario, we could crush this pandemic by the end of April.
Meanwhile, there are now two new COVID-19 testing sites in Hillsborough County: Vance Vogel Sports Complex in Riverview and the William Owen Pass Sports Complex in Dover. Both testing sites will be open three days a week. Appointments are required.
The county's emergency management director indicated some testing sites may be at least partially transitioned into vaccine distribution sites in the future.