Family begging for missing dog's return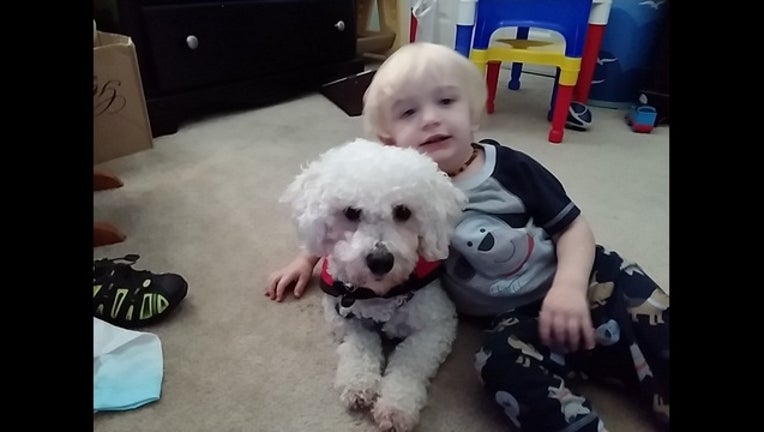 article
Lucas Riley has gone through so much at such a young age.
He was born a healthy baby, but six months later he was diagnosed with a rare form of Epilepsy.
He began having seizures, strokes and then he was diagnosed with Cerebral Palsy and sleep apnea.
"I literally used to sleep with my hand on my son's chest to make sure he would stay breathing through the night," said his mom Jenna.
His parents Jenna and Matthew turned to doctors for help.
"There is no medicine, there is nothing that medical science can do to help my son right now. This is the last resort that we went to," explained Jenna Riley.
She learned a service dog could help keep an eye on his breathing at night. Immediately the family noticed Lucas bonding with the dog named "Flash."
"I was encouraged by him using his motor skills and interacting with the dog. I felt like that was going to be a really positive bonus," said Mathew Riley.
Last week the family's newest addition disappeared.
"He got out literally like his name -- in a flash, in a brief second. He must have escaped out the front door and we need him to come home," Jenna told FOX 13.
Flyers now line their street. One remains on the pole outside their home.
"We searched every avenue, ever trail, every area in the neighborhood," Jenna added.
The Riley's believe someone must have picked up their dog.
He is microchipped and was wearing his tags and harness when he disappeared, but their phone has remained silent.
"We haven't had a crumb of information yet. Not one sighting," said Jenna Riley.
Now they are begging anyone for help.
"This dog is really integral our son. We would really go to any length to get him back," pleaded Matthew.
They hope he is home soon before their son needs him.
"He is our son's four-legged angel. He could literally be the difference between life and death for him," said Jenna Riley.
If you have seen "Flash" you can contact the Riley's at (727) 612-8351.