Florida reports record tourism numbers ahead of busy summer travel season
TAMPA, Fla. - Florida's tourism is booming as new numbers show that between January and March 2023, Florida saw a record 37.9 million visitors, the largest volume of visitors ever recorded in a single quarter.
"The Q1 estimates show that 2023 is on track to continue Florida's outstanding performance in welcoming visitors," Dana Young, VISIT FLORIDA President and CEO said in a release. "Each quarter shows that Florida is the most sought-after destination for visitors, and we are excited to continue our efforts in welcoming more throughout the year."
TSA reported record-setting levels this past weekend since the pandemic started with over 2.6M travelers at airports across the country on each of the Thursday, Friday, and Sunday travel days.
READ: Customer hits Frontier flight attendant with intercom phone, airline says
Tampa International Airport said it's a trend they're seeing here locally as well, even ahead of the busy summer travel.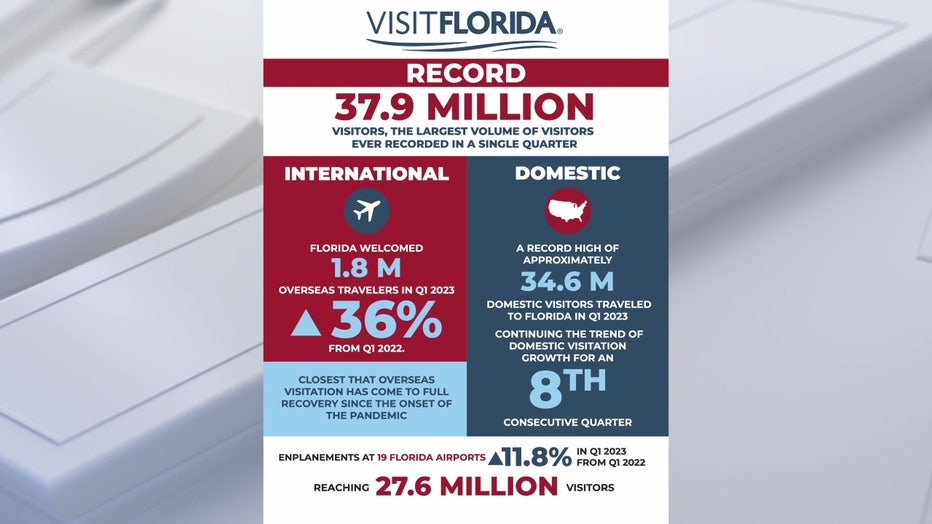 VISIT FLORIDA reports that the state has broken tourism records.
"We've had a very busy year already. We're seeing traffic trending about 5% over the same period in 2019. So, 2019 was a record year for us. We're going to surpass that this year. We already saw about seven days during spring break that were record days," Emily Nipps, TPA Spokesperson said. "And we expect summer to be very, very busy, starting with Memorial Day weekend and running through mid-August."
READ: Walt Disney World to loosen theme park reservation requirements in 2024: What you need to know
Many visitors are making Florida and the Tampa Bay area a top travel destination because of all it has to offer.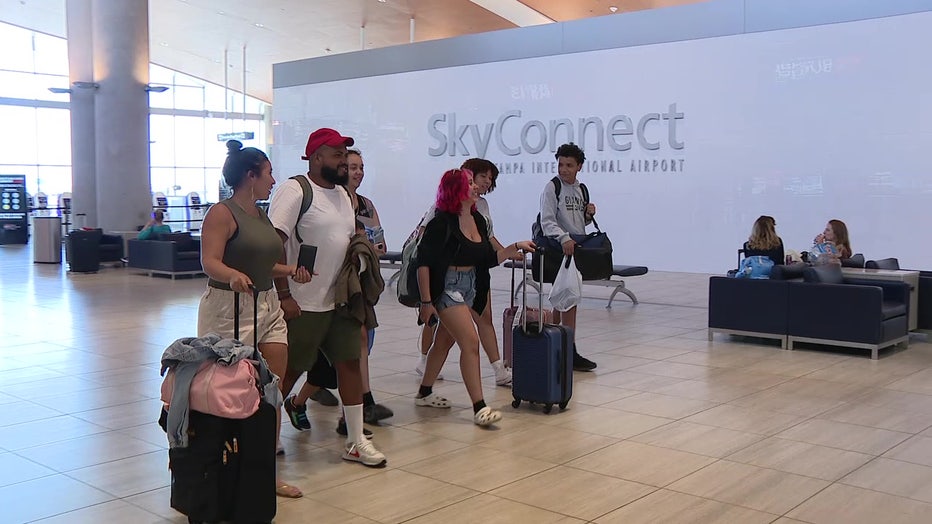 TPA suggests that travelers arrive early and book parking online during the holiday weekend.
"You know, family time visiting the beach. We don't really have a beach up there. You know, the sun, the temperature. The dolphins. You know, a little bit of everything. We went to the aquarium. We just came back from it. It's nice family time," Jose Dones said.
The new tourism numbers also found total enplanements (total number of revenue passengers boarding an aircraft) at 19 Florida airports rose 11.8 percent in Q1 2023 from Q1 2022, reaching 27.6 million visitors.
If you're traveling for the holiday weekend, TPA says to arrive early and book parking online in advance.