Giant alligator nabbed in Florida panhandle weighs nearly 1,000 pounds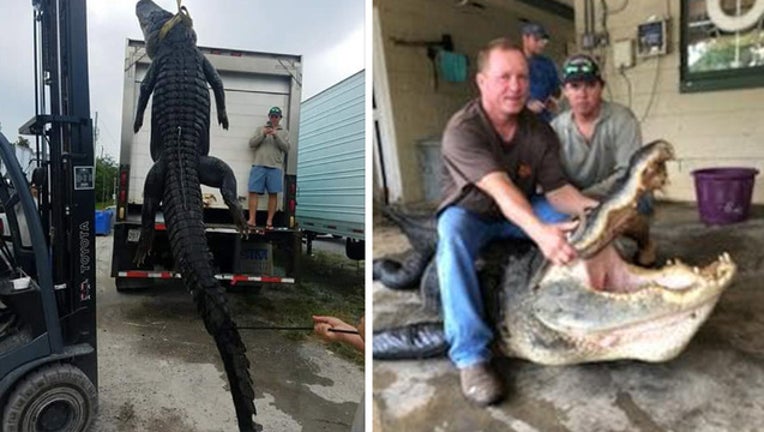 article
FREEPORT, Fla. (FOX 13) - It took about seven men, and a young boy, to carry a captured alligator in the Florida panhandle.
The giant gator is believed to be about 1,000 pounds and measured at 13 feet, 6 ¾ inches. In Freeport, the locals and fishermen have been watching the massive reptile around the Basin Bayou all summer long, according to the News Herald. The bayou empties into Choctawhatchee Bay and eventually into the Gulf of Mexico. It is roughly 70 miles east of Pensacola.
It was finally caught by two men and a boy on August 24. Dalton Morrison, a gator and hog-hunting guide, told the newspaper he was out there with his father, Tilton, and a family friend, 11-year-old Cade Nick. He explained that Bass Pro Shops reached out to him about purchasing the gator's skin for display. The meat will then be vacuum packed and eaten.
Dalton explained the trio initially hooked the gator around 1 a.m., then lost it after a 45-minute struggle. 
"We were all depressed and aggravated," Morrison said to the Herald. "There was a little bit of yelling going on. Finally Cade said, 'Let's go look for another one. I don't even care if it's a little one. I just want to get one.' "
They spotted the large alligator in about two feet of water, and after a couple of hours, they hooked it again.
"He drug us all over the bayou," Morrison said. "We wore him down. (Wildlife officials) want to make sure you got the gator completely in your control. With a 14-foot creature, they're never really in your control."
Five other men chipped in and helped pull the alligator from the water and into the freezer truck.
A Florida Fish and Wildlife Conservation Commission officer came to see the gator, and said it probably weighs somewhere between 900 and 1,000 pounds, Morrison said.
Gator harvesting season in Florida runs until November 1.