Heinz recalling gravy due to allergy concerns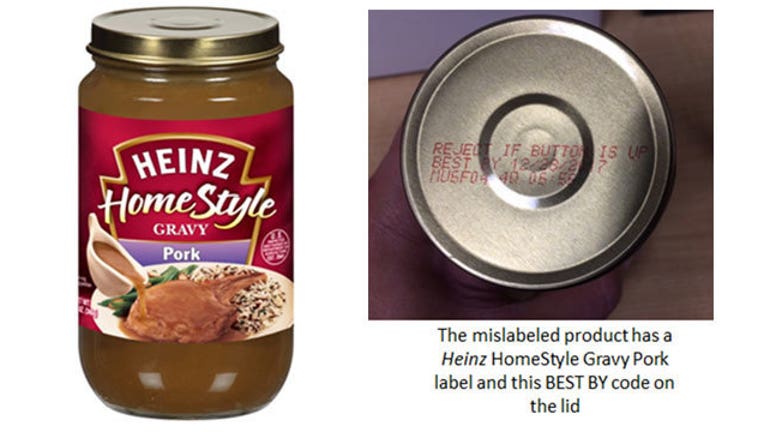 article
Heinz is recalling about 500 cases of its HomeStyle Bistro Au Jus Gravy because some of the jars may be mislabeled as Heinz Pork Gravy and so they're not labeled as containing milk and soy.
The company is issuing the voluntary recall because those who have an allergy or severe sensitivity to milk or soy can run the risk of a serious or life-threatening allergic reaction if they eat the gravy.
There are no reports of any illness or consumer complaints.
The following is being recalled:
For Retailers
Heinz HomeStyle Gravy Bistro Au Jus
Cases of 12oz glass Jar (Packaging Description)
MU6F04 Best By 12/28/2017 (Case Unit Best By Code Date)
10013000798508 (Case UPC)
For Consumers
Heinz HomeStyle Gravy Pork
Individual Packages 12oz glass Jar (Packaging Description)
Best By 12/28/2017MU6F04 4Q XX:XX (Individual Package Best By Date and Manufacturing Code. XX:XX designates the time stamp)
013000798907 (Individual Package UPC)
No other size, varieties or code dates of Heinz Gravy are including in this recall.
Consumers who purchased this product should not eat it. They should return it to the store where purchased for an exchange or full refund. Consumers with questions may contact the company at 1-866-572-3808 Monday through Friday, 9 a.m. to 6 p.m. Eastern, for a full refund.
More information on the recall can be found here.