Hillsborough County program available to help high school students pay for college
TAMPA, Fla. - Paying for college is very expensive, but there is a program that is helping to pay the cost for high schoolers.
Nate Lezama, a high school junior, said he has been learning a lot from his mentor Dave Amis, who works at the Economic Club of Tampa. 
"He's given me real-world solutions to my problems  – not only in school but also out of school," Nate explained. "He's really been a big help for me." 
Dave said the goal is to help students make sure they stay on track in school and have goals.
"I'm just trying to keep his eye on the goal is the process of making sure that he understands the importance of getting good grades, of staying out of trouble and graduating," Dave stated, "and going on to college." 
Nate knows he wants to be an architect, but the cost of college is an issue.
"It's going to be a lot of money for us if it comes out of our pocket, and we don't really have the funds for that," he explained.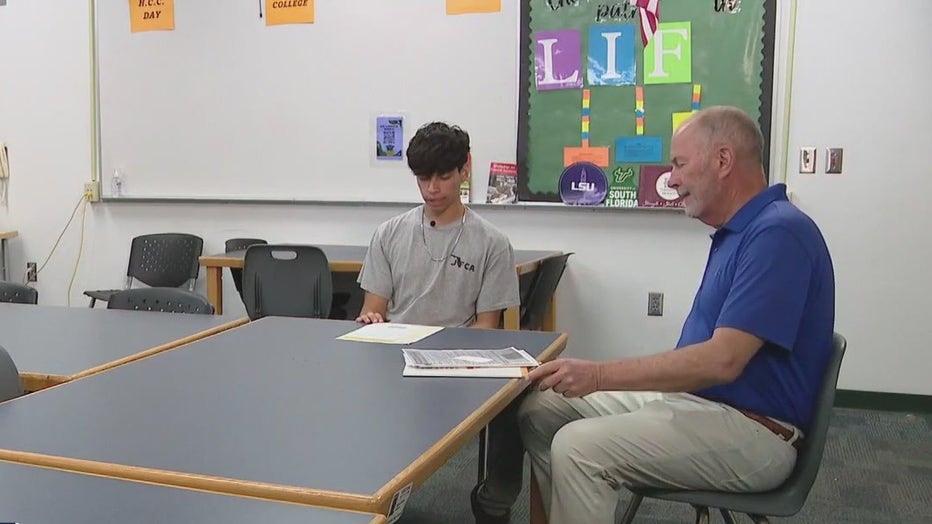 But he's getting help. His mentor Dave is with the Hillsborough Education Foundation's "Take Stock in Children" program. They team up with the Economic Club of Tampa, a group of civic leaders who give back to their community. They host the Mayoral Inaugural Ball to raise scholarship money for kids who are in Nate's situation. 
"It's matched dollar for dollar by the state," Dave explained. "You get a double whammy there." 
READ: Sarasota school board rejects consultant company with ties to Christian conservative college
The program has raised more than $400,000 in scholarships for low-income students. 
"I've had two other mentees, and I'm still in contact with both of them. One of them graduated from Florida State, works for a brokerage company. The other one is still in college," Dave said. 
For Nate, the mentorship is an experience he will never forget. 
"I'm going to remember this for the rest of my life. And these skills that I'm learning now will help me later on," he said. 
According to the program officials, more than 300 students a year benefit from the scholarship. If you are interested in going to the Mayoral Ball, it will be held on May 5. For more information on the event and the Economic Club of Tampa, head over to the organization's website: econclubtampa.org.