Jonchuck attorney asks for new trial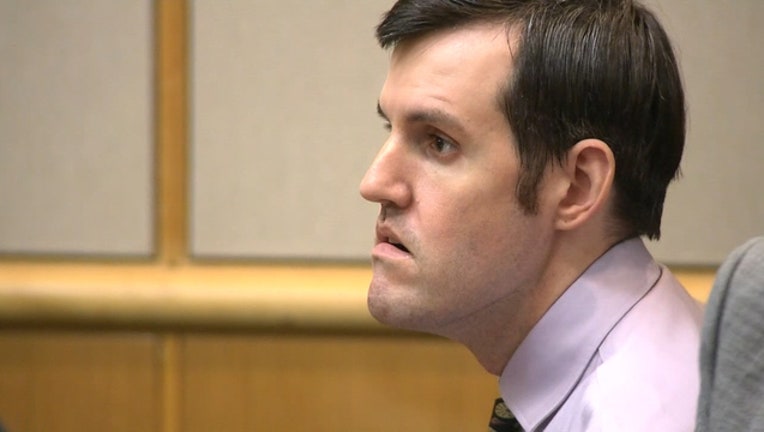 LARGO, Fla. (FOX 13) - The lawyers for John Jonchuck have filed a motion for a new trial. 
In a document filed in Pinellas County, his attorneys say the court should have granted a mistrial in Jonchuck's case.
Prosecutors list 10 ways the court erred during the weeks-long trial, in which Jonchuck was found guilty April 16, 2019.
It was back in January of 2015 when Jonchuck, then 25, pulled his PT Cruiser over along the Dick Misener Bridge, not far from the Sunshine Skyway. With a St. Petersburg police officer just out of reach, Jonchuck grabbed 5-year-old Phoebe from the car and threw her over the side of the span. 
She drowned after the 60-foot drop into the chilly waters of Tampa Bay.
After years of legal hearings over his mental competency, Jonchuck's murder trial finally began last month. His attorneys did not dispute the crime; instead, they argued that he believed he had to murder his daughter to save the world.
Now, 10 days after his conviction. Jonchuck's defense is asking for a new trial. 
First, the defense says prosecutors made prejudicial statements without providing evidence to back up their claims. 
According to the document filed Friday, prosecutors committed misconduct by telling the jury about aspects of his relationship with Phoebe's mother, about Social Security payments Jonchuck received for Phoebe, and that Jonchuck committed the murder of Phoebe to punish the little girl's mother.
The defense says the jury should not have been told about certain pieces of evidence, such as previous "bizarre" statements made by Jonchuck, or that Jonchuck defaulted on payments for his condo and spent money on drugs. 
The document also says an expert witness seems to have changed his mind about Jonchuck's mental state between the time when the doctor was interviewed and when he testified.
Defense attorneys also take issue with the court allowing the jury to hear a statement Jonchuck made when he was 12 years old. 
Melody Dishman said Jonchuck told her, "If I ever get in big trouble, I am going to claim insanity."
Finally, the defense says one of the case's controversial expert witnesses, Dr. Lazarou was dressed inappropriately during her evaluation of Jonchuck, but the court refused to let the jury decide whether that was true and if it may have played a role in his behavior.
"The errors made by the trial court denied John Jonchuck, Jr. the right to a fair trial, and [Jonchuck] respectfully requests this court grant his motion for new trial," the court document ends.
A date for a hearing on the motion was not set.