Report: Pinellas County is the most dangerous place to be a bicyclist in the U.S.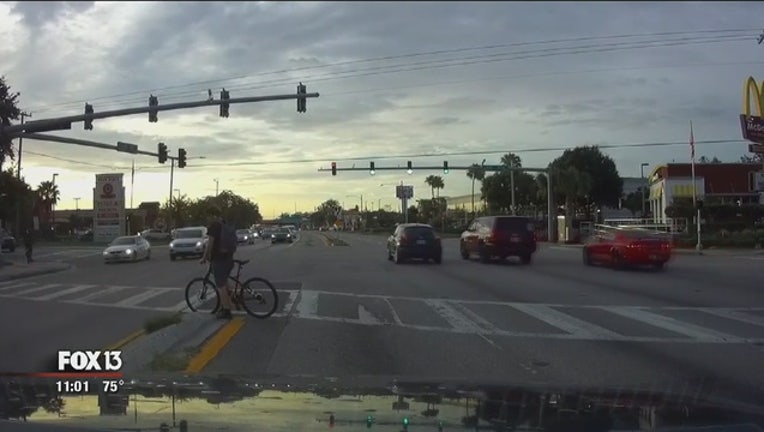 article
PINELLAS PARK (FOX 13) - Tampa Bay is considered to be the worst place in the nation to ride a bicycle, according to a report from the Wall Street Journal. However, among four Bay Area counties, Pinellas County was cited as the deadliest.
WSJ reports that in Florida, 108 bicyclists died on roads in 2017, which is a decline from 140 in 2016. However, in 2018, Florida is on track to be the deadliest state for bicyclists having 95 fatalities through September. Six deaths of those deaths occurred in Pinellas County -- with Park Boulevard seeing the most fatal accidents. 
According to the National Highway Traffic Safety Administration, cyclists killed in a motor vehicle crash across the country was 840 in 2016, which is a 35 percent increase from 2010. In Florida, the fatality rate for cyclists were 6.2 deaths per 100,000 residents, which is 59 percent higher than the next highest state.
Esther Gay, who regularly bikes on Park Boulevard, said she isn't surprised by the statistics. 
"Horrible. It's horrible. I watched people die," she tells FOX 13. "There's very little respect for cyclists."
WSJ reports one factor could be a lot of tourists behind the wheel who are unfamiliar with the roadways, as well as drunk driving and distracted driving.
"Florida's population is older and more densely packed, and the state gets a steady influx of tourists unfamiliar with local roads," transportation-safety consultant Pam Fischer said to the Wall Street Journal. "You kind of mush it all together, and it helps us explain as best we can what's going on out there."
The next three deadliest regions are also in Florida: Jacksonville, Orlando and Miami, according to WSJ. 
This year, the Pinellas County Sheriff's Office received more than $20,000 from the Florida Department of Transportation to put more officers on the roadways to crack down on offenders. The Florida Department of Transportation also plans on building three mid-block crosswalks on Park Boulevard that will feature a red light that pedestrians or cyclists can activate. 
Florida law states that even if a paved bicycle lane isn't visible, drivers are required to remain three feet away from a cyclist.