Several injured after elderly driver's car crashes through Bradenton bank
BRADENTON, Fla. - Three people have been injured after a 90-year-old man drove his car through a Bank of America. Troopers say the accident happened around 1:45 near U.S. 41 and Bayshore Gardens Parkway. 
As the car veered forward, bystanders jumped in to help. 
"It didn't sound like a crash so much but it sounded like garbage cans," recalled Mary Wyatt, who sat outside Scarpino's Family Restaurant eating a late lunch when it was interrupted. 
"I got up and looked and I saw a woman jumping up and down. It was terrifying," said Wyatt. 
Inside the Bank of America, customers began running. 
"People were running out of it and there was a lot of yelling, a whole lot of yelling, it didn't take long before sirens," she told FOX 13.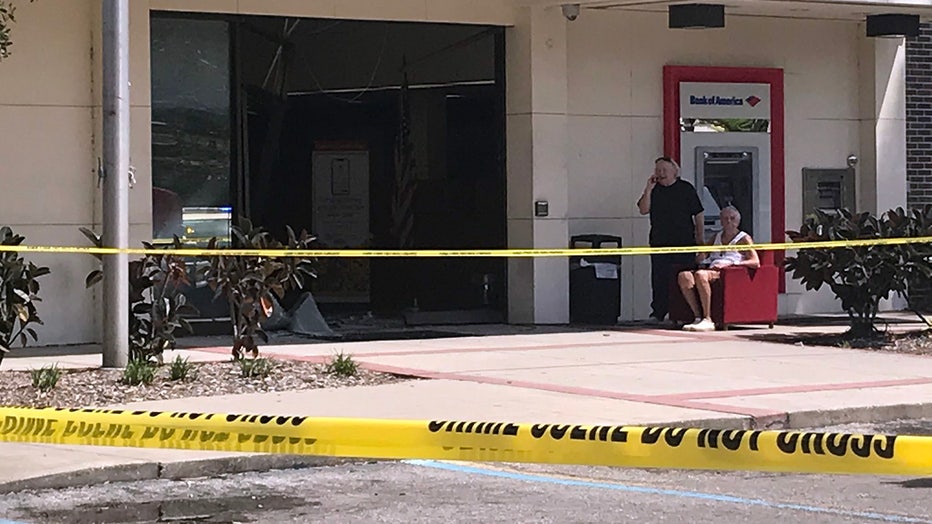 Troopers with the Highway Patrol said a 90-year-old man drove his Toyota inside and hit three people. 
"Him going into the lobby, it's a surprise. It's a surprise there aren't causalities, to be frank," said Wyatt. 
Troopers said the driver ended up 75 feet into the bank and stopped right outside the vault. They are investigating and working to determine if the driver had a medical episode or if his foot hit the accelerator. 
"It made its way deep into the bank. It had an opportunity to hit a lot of folks," said Manatee County EMS District Chief Sean Dwyer.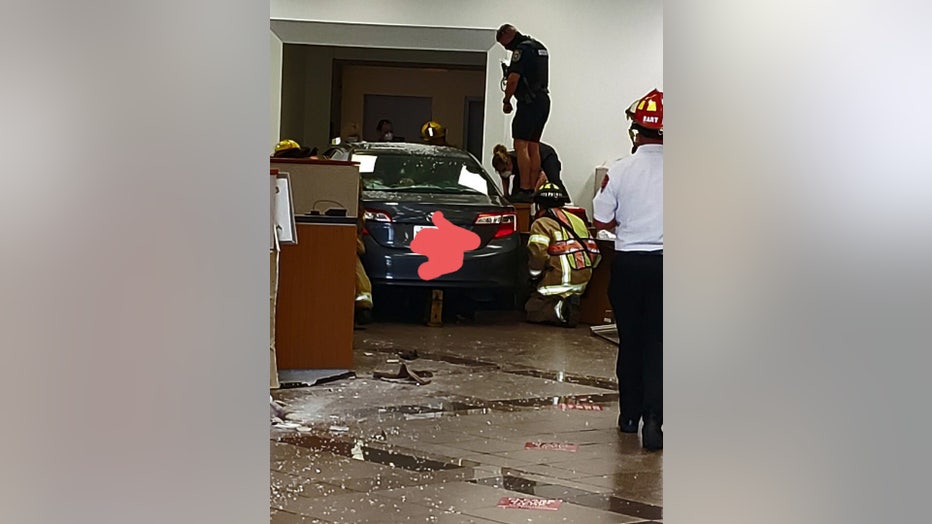 Dwyer said customers turned into heroes. 
"We are getting some reports that one individual saw the accident coming and alerted some of the other folks inside," said Chief Dwyer. 
There was more than one stepping up to help. 
"We did have one person in the store who had his life saved by his caregiver. He was in a wheelchair unable to quickly move, fortunately someone was able to push him out of the way, saving his life," said Trooper Ken Watson. 
Watson said one customer remains critical at Blake Hospital. 
After seeing the site, first responders know many tonight are lucky. 
"We do have a few folks that were inside and had that good situational awareness and they realized something was happening and they were able to alert several of the folks who were inside, saving several people from being struck from that vehicle," Watson added.