Swedish Fish latest treat to get an Oreo flavor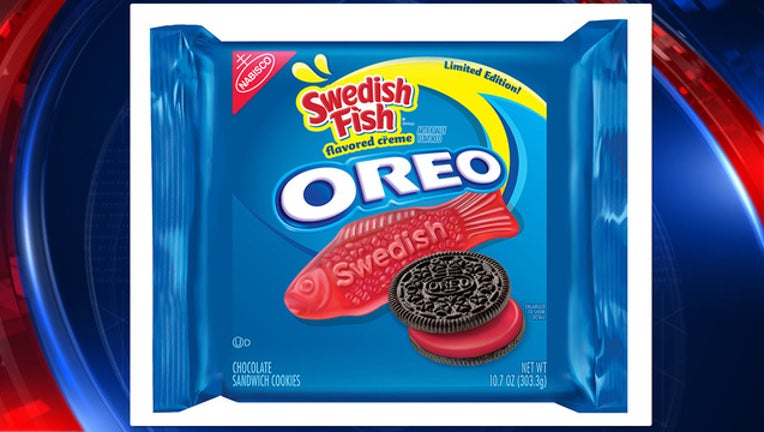 article
(FOX 13) - The makers of Oreo cookies are making a new name for the brand as the "cookie flavored as other desserts," and its latest offering has some wondering if they've run out of ideas. Swedish Fish Oreos are now available on a very limited number of store shelves - and the internet - and reviews are mixed.
The newest in Oreo's long line of special flavor offerings is only available at Kroger grocery stores, but can also be found on Ebay. 
Jason from Tasty Test on Youtube, his adorable family and the family's neighbors reviewed the cookies in a video uploaded August 8. The panel included parents Jason and Anna, their two daughters, plus their neighbor and her two young daughters.
In a departure from Oreo's typical flavor combos, the Swedish Fish Oreos have the traditional chocolate cookie instead of a vanilla cookie. Mom, Anna commented on this in the video, and followed after tasting the cookie that she was "fairly certain they actually put Play-Doh in between these." Not a stellar review. 
One of the younger girls on the panel said the cookie was better after being dipped in milk. 
In spite of some dismal reviews of the cookie version, Swedish Fish enjoy a cult following. Fans of the gummy treat will likely rejoice in seeing their favorite treat recognized on Oreo's elite flavor twist list. 
It's a list that continues to grow. Past flavor offerings from Oreo include many fruit and fruit-themed flavors - berry, watermelon, fruit punch, limeade, watermelon, fruity crisp (think Fruity Pebbles), strawberry shortcake, pumpkin spice, caramel apple and blueberry pie. The flavor creators at Oreo also seem to love remakes on traditional dessert favorites - Reese's Peanut Butter Cups, candy corn, cinnamon bun, s'mores, peppermint, chocolate chip cookie, red velvet and Key Lime pie.
The pairing makes sense when you consider Oreos and Swedish Fish are both distributed by the same company, Mondelez International.
In an Instagram post, Oreo asked fans what flavor they would like to taste next with its #wondervault campaign, a take on the snack's "Wonderfilled" branding. 
Meanwhile, the Girl Scouts of America followed a previous Oreo flavor version in honor of s'mores day (and month), announcing the graham-chocolate-marshmallow treat was the inspiration for its newest offering. That's right, Swedish Fish Oreos and S'mores Girl Scout Cookies in the same week. 
No matter what your preference, there's a cookie out there for everyone.