The Incredible Duck Race returns to Tampa
TAMPA, Fla. - Ten-thousand rubber ducks floated down the Hillsborough River Saturday afternoon, and it was all for charity. 
It was part of the Kiwanis Club of Tampa's annual Incredible Duck Race in Curtis Hixon Park. People adopted the ducks for $5.00 a piece, and all the money went to the Kiwanis Club of Tampa to help local children's programs and charities.
"This year, we sold out of our pre-sale ducks two days before we were expecting to, so I think it really goes to show the enthusiasm that the community has about supporting the kids here in Tampa," Amanda Malinowski, Chair of the Incredible Duck Race, said.
This year, the event raised more than $30,000 for charity.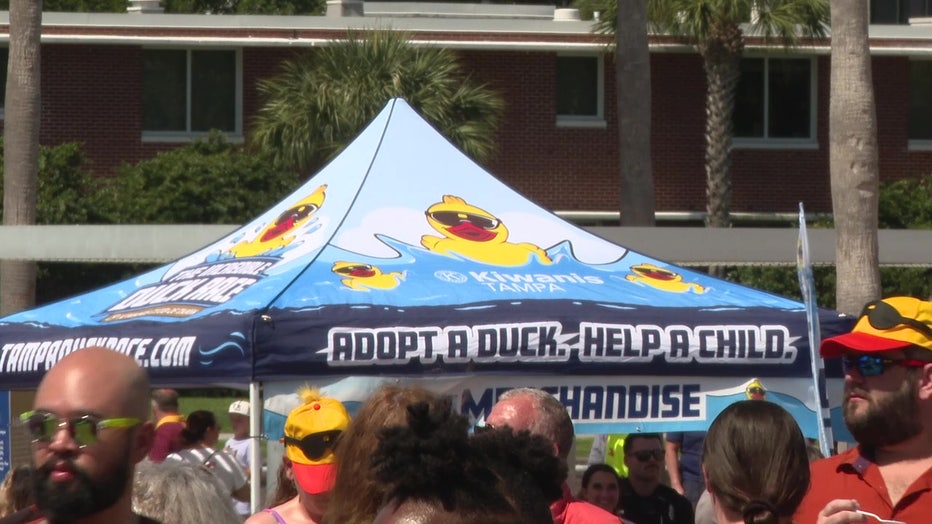 The Incredible Duck Race makes seventh appearance in Tampa 
READ: City of Tampa offers residents e-bike vouchers in hopes of easing traffic, reducing carbon emissions
However, the ducks needed a little help Saturday because Mother Nature didn't supply any. The wind was blowing in the opposite direction, and the ducks became stagnant. Organizers picked up a net full of ducks at random and brought them toward the finish line.

The first three ducks to cross the finish line won cash prizes, including $5,000 for first place, $1,000 for second, and $500 for third. Local businesses sponsored gift cards for fourth through tenth place. Even last place got a prize: tickets to Bush Gardens.
The event's sponsors took care of the event's costs and paid for the cash prizes. The event also included games, entertainment, and food leading up to the race.

"It's great to be able to do something that the kids are into and still give a little bit to help out their [the Kiwanis Club] cause and help out to improve the Tampa area a little bit,"  Rita Oliva said, whoattended the event with her kids.
MORE: City of Tampa supervisor using his experiences with bullying to help others
And why ducks?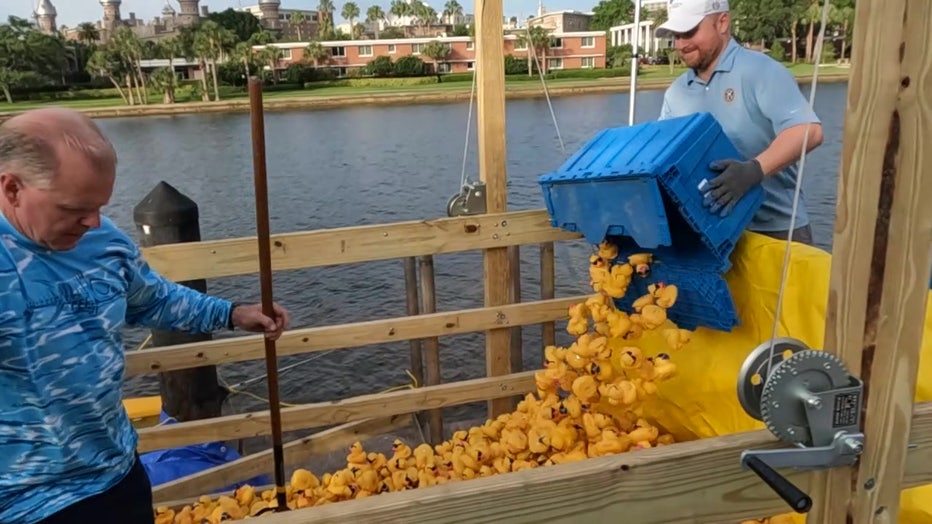 Rubber ducks raising money for charity 
"Why not? It's just it's fun," Malinowski said. "There's nothing more family friendly, kid friendly than the rubber ducks and letting them loose in the river and having them compete for those cash prizes are just a lot of fun for the families out here. When we're done with the race, we scoop them all out, and we try to leave the river cleaner than we found it," she said.
This was the event's seventh year in Tampa.