Tyre Nichols: Video from Memphis officers' body cameras released
MEMPHIS, Tenn. - The arrest and death of Tyre Nichols in Memphis on January 7 sparked investigations at the state and federal level – and outrage across the country.
Below is a timeline of events starting with a traffic stop on Jan. 7, Nichols' death, reaction from his family and the community, charges being filed against five officers, and the release of body and dash camera footage from Memphis police.
The videos have been released by Memphis PD in four parts. The first video, titled "Video 1," shows a portion of a traffic stop, where Nichols is outside his car, on the ground. Officers are trying to handcuff him and a struggle ensues. Nichols breaks free from officers and runs away.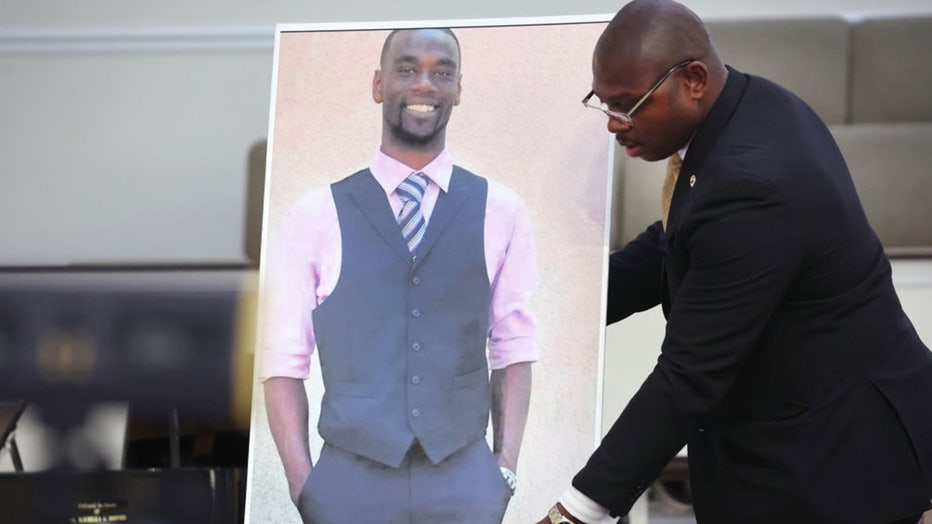 FILE - A photo of Tyre Nichols is positioned prior to a press conference on Jan. 27, 2023 in Memphis, Tenn. ( Scott Olson/Getty Images)
Videos 2, 3 and 4 show multiple officers restrain, threaten and beat Nichols. Due to the graphic nature of the three videos, FOX 13 is only displaying a portion of Video 1 at this time. Links to the videos may be found within this article.
The timeline of events leading up to the release of the videos starts with the traffic stop on January 7.
- Jan. 7: Tyre Nichols is pulled over by police for an alleged traffic violation after photographing a sunset, according to accounts his family would give later. A confrontation ensues, and he is brutally beaten by five Memphis police officers in an encounter that is recorded by police body cameras. 
- Jan 8: Memphis police say in a statement that officers attempted to stop a man for reckless driving on Jan. 7 and he was taken to a hospital in critical condition after two confrontations. The first description of what happened says one confrontation occurred when officers approached the vehicle and the suspect fled on foot. Officers pursued, and another confrontation occurred when they took him into custody, police said. The subject complained of shortness of breath and was taken to a hospital. Due to his condition, police contacted the Shelby County District Attorney General's Office, which asked the Tennessee Bureau of Investigation to conduct a use-of-force investigation.
- Jan. 10: The Tennessee Bureau of Investigation says the man involved in the altercation with Memphis officers has "succumbed to his injuries" and identifies him as 29-year-old Tyre D. Nichols, a Black man.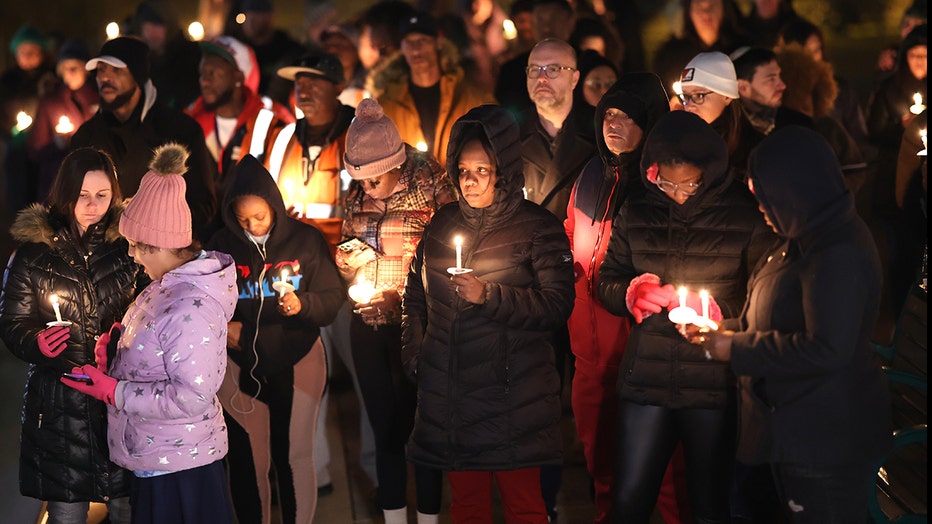 MEMPHIS, TENNESSEE - JANUARY 26: People attend a candlelight vigil in memory of Tyre Nichols at the Tobey Skate Park on January 26, 2023 in Memphis, Tennessee. 29-year-old Tyre Nichols died from his injuries three days after being severely beaten by
- Jan. 14: Family, friends and supporters of Nichols protest in front of a Memphis police station and call for police to release body camera video of the arrest. Nichols' stepfather, Rodney Wells, tells local media that his stepson suffered cardiac arrest and kidney failure because of a beating by officers.
MORE: Tyre Nichols' mother urges peaceful protest: 'I don't want us burning up our cities'
- Jan. 15: Police Chief Cerelyn Davis says she has reviewed information on the encounter and has decided to take immediate action by serving notice of policy violations to the officers involved. 
- Jan. 16: Civil rights attorney Ben Crump announces he is representing Nichols' family and calls on police to release body camera and surveillance video from the traffic stop. Meanwhile, protesters gather at the Civil Rights Museum to push for the release of police video and call for officers to be charged.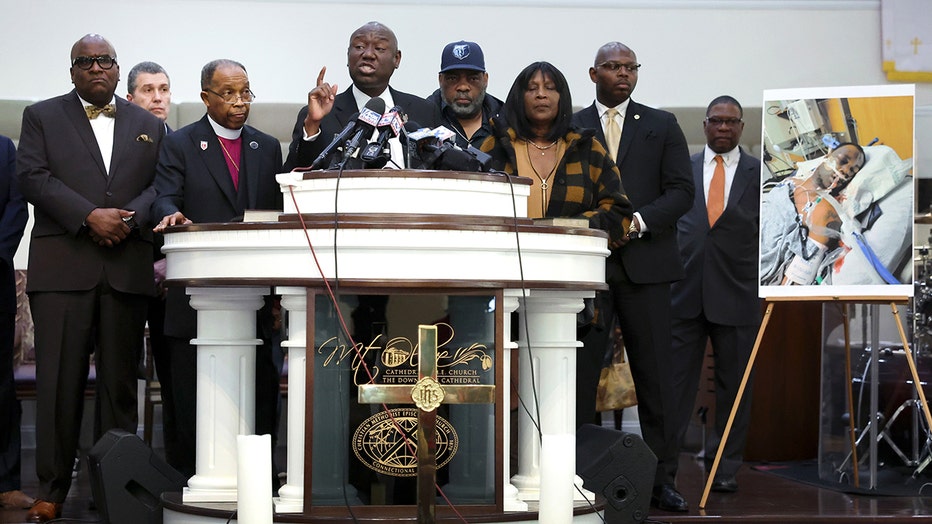 MEMPHIS, TENNESSEE - JANUARY 27: Flanked by the parents of Tyre Nichols and faith and community leaders, civil rights attorney Ben Crump speaks next to a photo of Nichols during a press conference on January 27, 2023 in Memphis, Tennessee. Tyre Nicho
- Jan. 18: The U.S. Justice Department announces that it has opened a civil rights investigation.
- Jan. 20: The five officers involved in the arrest are fired after an internal investigation finds they used excessive force, failed to intervene and failed to render aid. They are identified as Tadarrius Bean, Demetrius Haley, Emmitt Martin III, Desmond Mills Jr. and Justin Smith. All five are Black. 
MORE: 5 Memphis officers charged with murder of Tyre Nichols
- Jan. 23: Nichols' family views the police video with their attorneys, who say it shows Nichols being beaten for three minutes in a "savage" encounter reminiscent of the infamous 1991 police beating of Los Angeles motorist Rodney King. The video shows Nichols was shocked, pepper-sprayed and restrained after he was pulled over minutes from his home while returning from a suburban park where he had taken photos of the sunset. Crump says the family has agreed to investigators' request to delay making the video public so as not to risk compromising the criminal investigation.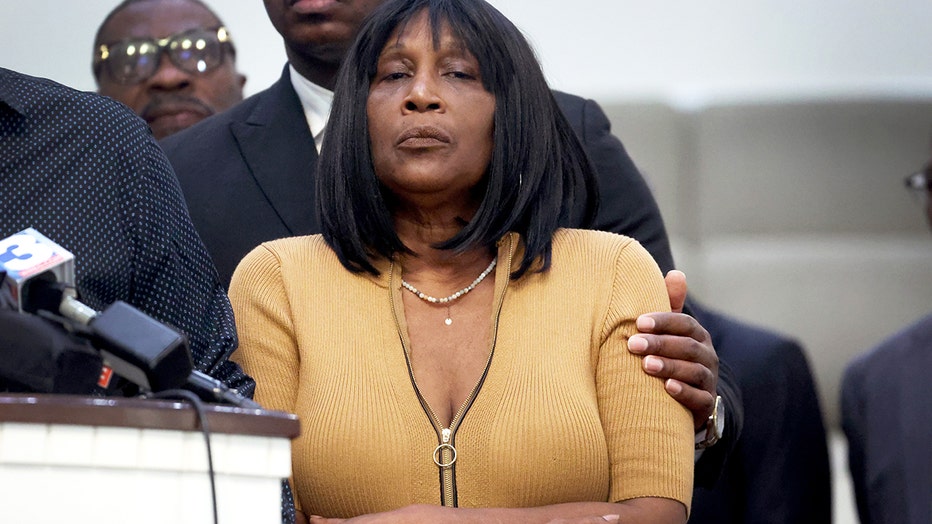 MEMPHIS, TENNESSEE - JANUARY 27: RowVaughn Wells, mother of Tyre Nichols, is comforted during a press conference on January 27, 2023 in Memphis, Tennessee. Tyre Nichols, a 29-year-old Black man, died three days after being severely beaten by five Mem
- Jan. 24: Shelby County District Attorney Steve Mulroy says the release of police video will be carefully timed to avoid the chance that suspects or witnesses tailor their statements to what they saw in it and asks the public for patience. The timetable rankles activists who had expected the video to be released after Nichols' family viewed it. Meanwhile, the Memphis Fire Department says two employees involved in the initial care of Nichols the night of his arrest have been removed from duty while the agency conducts an investigation.
- Jan. 25: Davis, the police chief, calls the officers' actions "heinous, reckless and inhumane" and makes a plea for people to protest peacefully when the video is made public. She says in a statement issued on social media that other officers are still being investigated for violating department policy and that "a complete and independent review" will be conducted of the department's specialized units.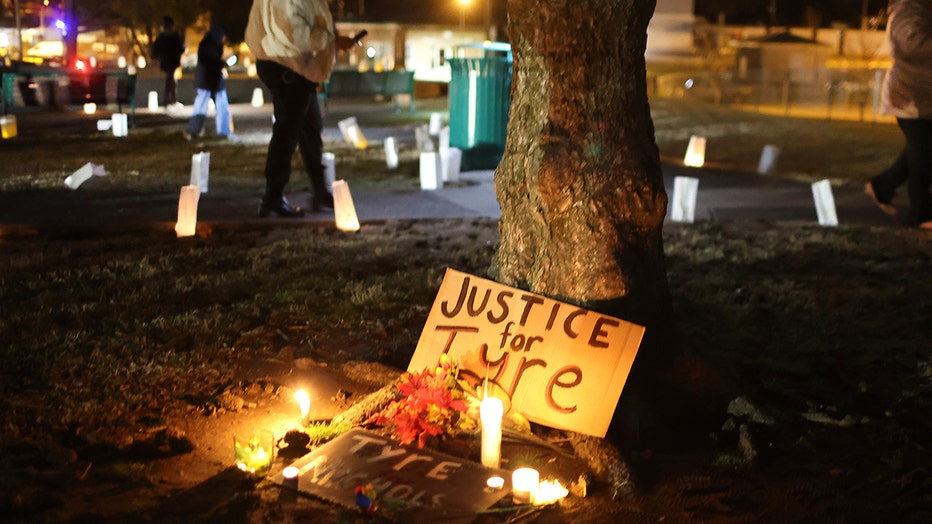 MEMPHIS, TENNESSEE - JANUARY 26: People attend a candlelight vigil in memory of Tyre Nichols at the Tobey Skate Park on January 26, 2023 in Memphis, Tennessee. 29-year-old Tyre Nichols died from his injuries three days after being severely beaten by
- Jan 26: The five officers are charged with murder, aggravated assault, aggravated kidnapping, official misconduct and official oppression. Mulroy says they each played different roles in the killing but "they are all responsible." Mulroy also announces that video of the traffic stop will be released to the public the following evening. Nichols' parents say they are satisfied with the charges against the officers. At an evening candlelight vigil, Nichols' mother pleads with supporters to "protest in peace" when the "horrific" video footage is released.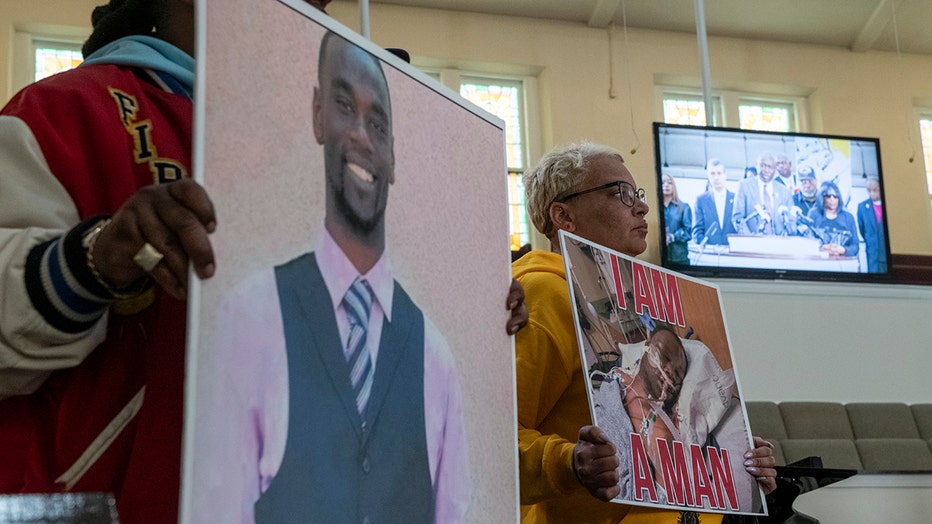 MEMPHIS, TN - JANUARY 23: Activists hold signs showing Tyre Nichols as attorney Ben Crump is seen speaking on a monitor during a press conference at Mt. Olive Cathedral CME Church addressing video footage of the violent police encounter that led to N
- Jan. 27: In the hours before video is to be released, the police chief says she has not been able to substantiate the reckless driving allegation that prompted the stop. The community takes steps to prepare for the release, including school cancelations of after-class activities and early closures of places such as the Memphis power company's community offices and the University of Memphis. 
FOX 13 News staff contributed to this report.