Second plane in deadly Winter Haven collision removed from Lake Hartridge
WINTER HAVEN, Fla. - Both planes involved in a midair collision Tuesday have been retrieved from Lake Hartidge in Winter Haven, one of which was submerged 21 feet underwater.
NTSB officials will be looking at the bodies, the planes, and the environment as part of the investigation. Thursday, investigators said they reviewed radio transmissions from the Piper PA-28 Cherokee fixed-wing plane. 
On Tuesday afternoon, it appears the pilot was announcing its location and "intentions." Thirty seconds later, the pilot announced will perform a "short approach" to Winter Haven Regional Airport. Another transmission indicated they were making a left descending turn, essentially gliding.
"A short approach is an emergency maneuver that is routinely taught and instructed for pilots where you pull off the power," explained Lynn Spencer, an NTSB spokesperson. "A plane doing a short approach is going to be coming in tighter, closer to the runway, and at a steeper angle because they have no power."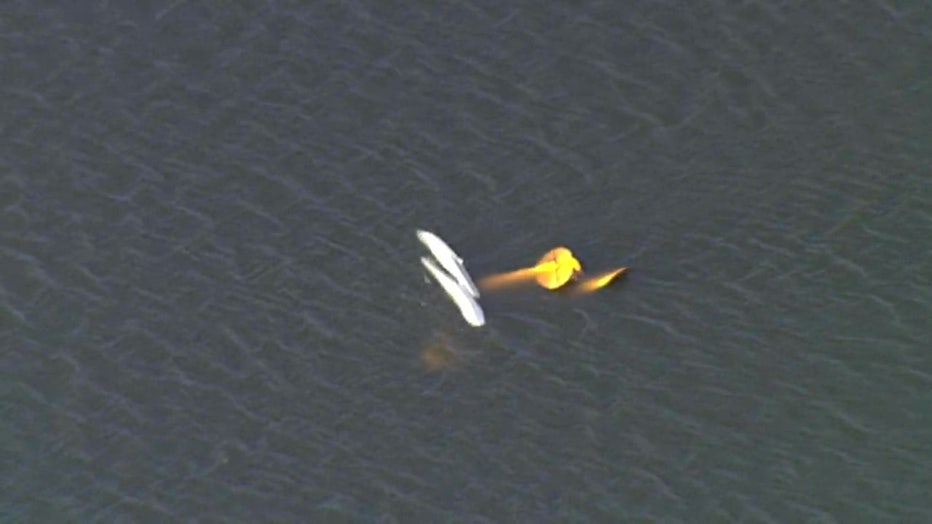 Crews search for survivors of Winter Haven plane crash
She said it was a normal emergency maneuver taught to all pilots. At the last minute, the pilot adds power and climbs back up. 
During this time, it appears the seaplane attempted to dive to the right before the collision.
Four seconds later, an emergency locator transmission took place, indicating the time the crash occurred, severing the right wing of the Piper PA-28 Cherokee. According to Spencer, no transmissions were heard from the yellow Piper J-3 Cub high-wing seaplane. In the airspace and altitude where the planes were located, transmissions are not required.
It appears the seaplane was on one of its normal courses as it headed toward Lake Jessie, where Jack Brown's Seaplane Base is located.
It's unclear what abilities each plane had to see the other. Preliminary evidence shows neither plane had any kind of avoidance system or radar. 
"All initial evidence indicates the Cherokee was self-announcing its location and its intention and the Cub was not," Spencer explained. "This might indicate that the Cherokee was unaware of the Cub and that the Cub could not hear what the Cherokee was announcing. They may not have been aware of the Cherokee."
Previously, officials said the pilot – who was working to receive a commercial pilot certification – was practicing touch-and-go maneuvers. However, they issued a correction, saying the pilot was practicing "one full-stop landing, and two go-around maneuvers."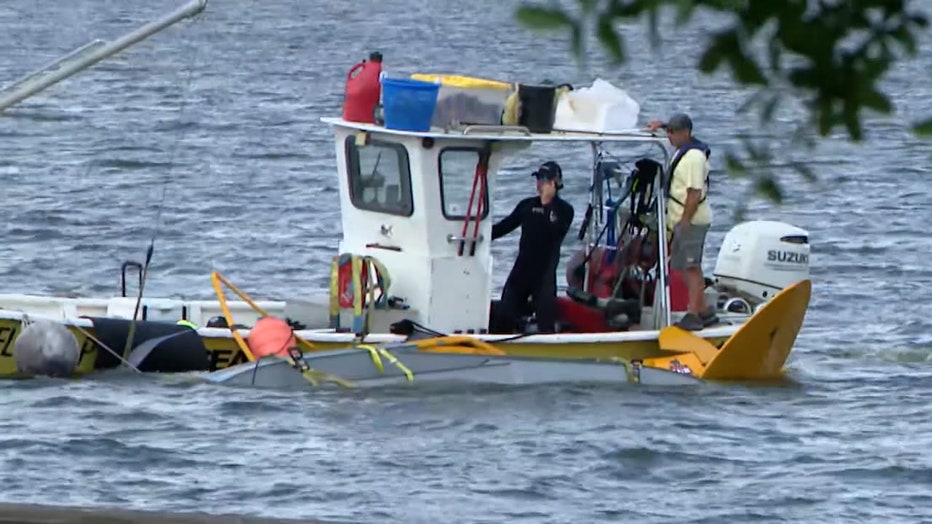 Seaplane removal on Wednesday, March 8.
MORE: Winter Haven plane crash victims identified as loved ones pay tribute
The victims were identified the day after the crash: 78-year-old Lou DeFazio of Texas and 67-year-old Randall Ebert Crawford of Pennsylvania were operating the seaplane. 
Jack Brown's Seaplane Base honored the men in a Facebook post, saying DeFazio was an instructor and dear friend while recognizing Crawford as a seaplane enthusiast and long-time customer.
Officials said 24-year-old Faith Irene Baker and 19-year-old Zachary Jean Mace were in the second plane. Investigators with the Polk County Sheriff's Office said the plane was being operated by Sunrise Aviation on behalf of the college.
Baker's church honored her in a social media post on Wednesday morning asking people to pray for her husband and parents as they navigate through this difficult time. Baker is the one in the middle with a plaid shirt and black jeans.
Boaters are being asked to avoid Lake Hartridge until further notice. Spencer noted Thursday that most of the Piper PA-28 Cherokee's right wing was recovered. Once NTSB retrieves the entire wreckage, investigators will head to Jacksonville for examination.
A full preliminary report from NTSB is expected to be released in the coming weeks. A full and final report could be completed in 12-18 months.
They are asking any witnesses to contact them by heading to NTSB.gov or call 1-844-373-9922.