Former Sunlake High football player, Tyler Gaffalione leads War of Will to Preakness Victory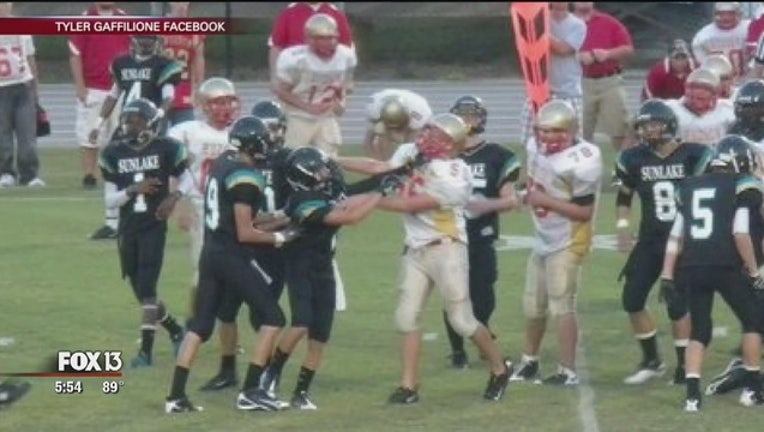 LAND O' LAKES, Fla. (FOX 13) - It's been only six years since Preakness Stakes-winning jockey Tyler Gaffalione graduated from Sunlake High School and played football for Coach Bill Browning. Winning the Preakness riding War of Will has instantly made Gaffalione the most famous alumni.
"I'm probably the only head coach in the state of Florida that can say I coached a Preakness winner," said former Sunlake High head football coach Bill Browning.
Gaffalione gave up on football after his junior year (2011), but he left a strong impression for an undersized backup. It's pretty poetic that he won with War of Will because that describes the way he played. 
"He was playing corner for us against another team and they were making fun of him on the sidelines, recalled Browning. "Guy from the other team actually came out and gave him a shove. He was by far the tiniest guy out there. He was about 100 pounds, dripping wet. When that happened our team rallied around him. Kind of brought us closer together."
Tyler was part of Sunlake's very first postseason appearance in 2011 but at 5-foot 2-inches tall and maybe 100 pounds, this wasn't the sport where he was going to make his money.
It was at the horse track where Tyler made it big. Even though Tampa Bay Downs is just a few miles south from his high school, Tyler made is home track Miami at Gulfstream Park, where he developed into one of the best jockeys in the country. 
"This is a dream come true," Gaffalione said after the race. "Never really thought I'd get here, but now that I'm here I just want to enjoy the moment. I'm so thankful."
Gaffalione has won nearly 1,100 races in his short career. At 24 years of age, he has over $42 million in earnings.
"He just really persevered, said Browning. "He's living the dream."
This is just the first year Tyler has competed in the Triple Crown, so this is not likely the only and last time we'll see in the victory circle.